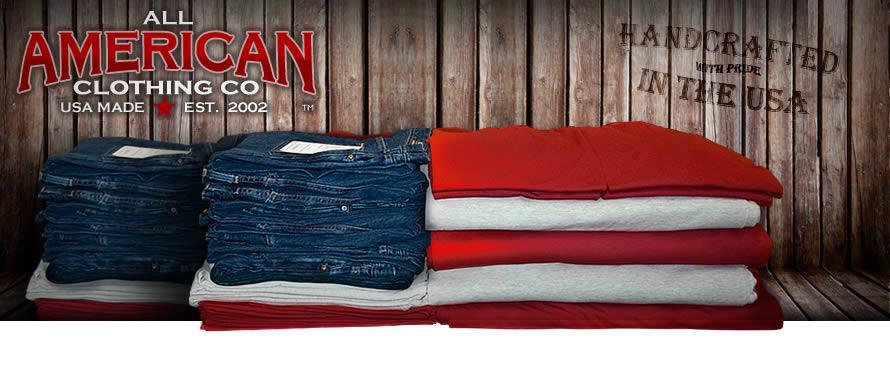 By: Elizabeth Peterson, BusinessNewsDaily Contributor 
Lawson Nickol, founder and president of the 
All American Clothing Company
, doesn't talk about business in terms of profit and loss. Instead, he measures his success as a businessman by how well he sleeps at night. And lately, he's been sleeping really well.His online retail and manufacturing company, based in Arcanum, Ohio, is one of the only clothing companies in the country to manufacture all of its products within the United States, using exclusively American raw materials. The cotton in a pair of American Clothing Company jeans is grown in the United States. The denim is woven here as well. The buttons and zippers are made here, too. And despite the fact that American labor is significantly more expensive than foreign labor, the All American Clothing Company manufactures all of its apparel in the United States.
In an age where approximately 98 percent of all clothing worn by Americans is produced overseas, Nickol's company is a true rarity. Furthermore, his ideas about how to run a clothing manufacturing company are a far cry from modern industry standards. No pep talks about profit and productivity here. Nickol's company mantra is: "Creativity, implementation and progress."
Inspired by a shocking discovery
Nickol co-founded the American Clothing Company with his son, B.J., in 2003. Prior to this venture, Nickol was employed by another blue jean manufacturer, who he declined to name. After decades of working as a salesman of American-made jeans, Nickol discovered that the company he had worked for had begun outsourcing its production to another country. That hallmark of American identity, the beloved blue jean, was now being made in Mexico.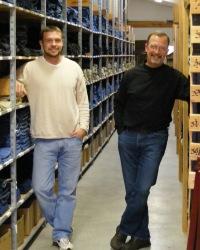 That was all it took for Nickol to leave his job and strike out on his own. This was in 2002. The American apparel industry has since all but fled the country. It is an industry which has steadily diminished in size over the last ten years and is continuing to do so. Its demise means an end to thousands of jobs for Americans, including factory workers, seamstresses and farmers.In starting the American Clothing Company, Nickol's hope was to reemploy at least a small fraction of those 
American workers
 displaced by foreign labor. By keeping his company all-American, he is forgoing the profit gained in the use of cheap labor for something more important: a decent standard of living for his employees. Nickol, a family man and a self-proclaimed homebody, values his own quality of life, as well as that of his employees, above all else.
"It's about people and the enjoyment of a standard of living. We eat well and we know our job [is] going to be there tomorrow," Nickol said.
Nickol predicts that he could be making 25 to 50 percent more profit if he were to outsource clothing production to Mexico or some other country. But outsourcing is not an option for his company, whose clientele appreciates the patriotism and ingenuity that the All American Clothing Company represents. Many of All American's customers are veterans over the age of 50, a demographic that is nostalgic for the more self-sufficient America of decades past and wary of the outsourcing of so much American industry. His customers are as concerned with buying from a company whose emphasis lies not only in providing its customers with quality products but in caring for its employees.
Investing in America
Nickol said he wishes other companies would follow his lead and move production back to the United States. He added that he wouldn't even mind the competition.
"We're all here to help each other get through this," he said."I have a passion for the U.S., and I am so terribly sick of the situation we have right now, and what happens to honest, hard-working people."
According to a recent study by the nonpartisan think tank Economic Policy Institute, the outsourcing of manufacturing and other jobs to China alone has cost the United States approximately 2.8 million jobs in the past decade. Many of these jobs come from within the apparel industry
Nickol said he considers this dependence on foreign labor to be unhealthy for the U.S. economy for many reasons, including the destruction of an income tax base to provide funding for public schools and other necessary services. He said his goal is to help restore health to the American economy through his role as an innovator in the apparel industry. To this end, he is often reminding himself and his employees that the time to fix the U.S.'s broken economy is now.
While others measure their progress in dollars, he tends to think of progress in terms of how well he can accomplish his goals. His advice to other entrepreneurs considering trying to change the way American businesses run: "Don't let things happen to you," he said. "Go make something happen."
Made in USA – All American Clothing Company, thank you for staying true to your name!
---
https://www.themadeinamericamovement.com/wp-content/uploads/2017/08/Made-in-America-Movement-Logo_340x156.png
0
0
MAM Team
https://www.themadeinamericamovement.com/wp-content/uploads/2017/08/Made-in-America-Movement-Logo_340x156.png
MAM Team
2012-04-03 12:10:25
2012-04-03 12:10:25
Made in USA – All American Clothing Company Keeps True to Its Name