LionDesk REVIEW AND COMPARISON

LionDesk is a robust CRM with transaction management, marketing text message, video marketing, and a host of other functionalities. The best part is that it is affordable for almost any serious agent.
Some (often paid) review sites incorrectly say that you get everything for only $25. While that is not true, LionDesk's entry-level price is $25 and you only have to pay more for either access to things like a power dialer or for the ability to send more text messages/drips/videos.
There are ONLY two real estate specific CRMs that we recommend and LionDesk makes the list for one simple reason: it has repeatedly shown to help real estate agents grow their businesses when combined with a real estate website powered by Showcase IDX.
Check out our in-depth review of LionDesk below to learn more.
LionDesk Advantages
The Price: Between $25 / month to $99 / month. For what it can do, that's a bargain.
Access to drip campaigns: You have access to free drip campaigns from the company and some created by other LionDesk users.
Email marketing: Most CRMs do not have email marketing built-in. LionDesk provides a basic service that will work for many agents. This is great for re-engaging clients.
Behavioral automation: It allows you to automate communication with leads based on their individual behavior (e.g. if they view a certain amount of properties in a certain amount of time, send an email, etc.).
Stunning integration with the ONLY IDX chosen over Zillow: LionDesk does not have lead capture capabilities themselves – landing pages, squeeze pages, etc. However, their integration with Showcase IDX gives you the best-in-class option that outperforms anything else out there when setting them both up properly. When combined, you get something that outperforms Real Geeks, kvCore, and others at a fraction of the cost.
LionDesk Disadvantages
Unreliability: Users regularly report bugs, and this is more of a problem since the company has rolled out v2 of the product from what we heard about the posts in their user group. Although, some issues have been fixed since the company rolled our V2 of Liondesk, such as leads not transferring from Facebook lead capture are all in V1.
Email reporting and image/video support: The reporting is basic, which is not a problem for most agents as if you're using LD for email campaigns, you're likely not expecting the a full marketing automation experience. Setting up images and videos for text campaigns can be taxing too, although the functionality is there and it does work well. It is super simple to add images in emails though.
Team reporting: The reporting for an individual agent will be more than adequate for 98% of agents. Now, the one con we've heard is their team reporting. If you manage a team, make sure LionDesk will give you what you need to coach and help improve the everyone's processes.
May reach start plan send limits quickly: This is a con because you can easily reach the limits of the entry-point product but by moving to only the $49 per month plan, you get a custom phone number, 2,000 texts per month, and video texting. We only list it as a con because some agents in the forums like Lab Coat Agents did not realize this when signing up. However, as clarified by LionDesk CEO David Anderson to us, the majority of agents do not hit their limits and in fact there are no hard "limits" as the system "automatically continues to send the emails and just charges a small overage". You can see this small overage in the pricing section below.
LionDesk Overview
LionDesk was built with a mission of helping agents and teams get organized, stay connected to past clients, and help nurture clients through both the sales funnel and repeat referrals.
Too many companies have tried to create an "all-in-one" that offers CRM, IDX websites, AI chatbots, digital ads management, transaction management and more. In the end, agents end up with bloated, expensive tools ($250 – $2000 per month) that underperforms point solutions in all categories. LionDesk took a different approach that has made tens of thousands of agents smile.
Serial entrepreneur David Anderson brought his extensive experience from the travel industry to solving one set of problems for agents and then partnering/integrating with the best point solutions for other parts of a real estate agents' marketing stack.
Unless you're willing to invest (time and money) in a marketing automation platform like ActiveCampaign or ClickFunnels, you cannot go wrong with LionDesk. It is a well-rounded real estate focused CRM that will make your business work better.
Tip: Make sure to set up whitelisting so the emails come from your own domain. This improves deliverability.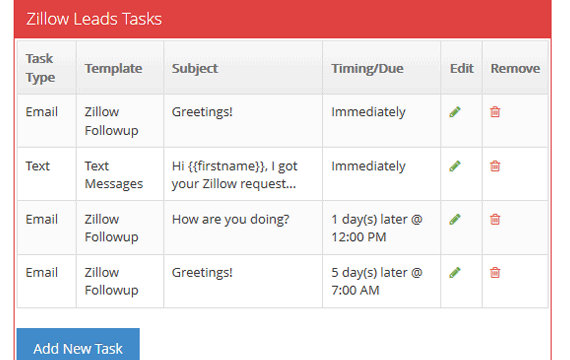 Video Texts and Autoresponders
The company built a solid bulk text and email video functionality that sets it apart from most CRMs. Yes, BombBomb may have a more robust video messaging platform and pure marketing automation platforms have more capabilities, but those are overkill for agents and add significantly to your monthly overhead.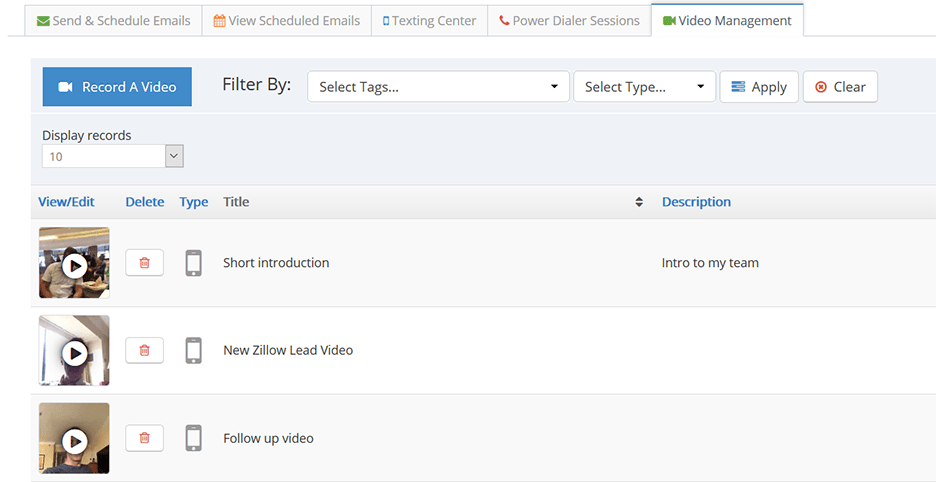 Every real estate and marketing conference for a few years has talked about how the future of the internet is video, and people will talk your ear off about how you will get higher engagement rates if you use it. With simple video messages in LionDesk, you do NOT have to be a Youtube or TikTok star to use video to grow your business.
Simply record a video of a welcome message or maybe an open house walk-through straight from your CRM, save it, then send out a blended campaign to your best leads.
LionDesk has added what you need and included it in their core product. If your business does need another solution, they work with them through Zapier.
Their smart texting AI, Gabby, engages your clients with real-life conversations so do not have to have canned templates or respond yourself. Research shows that 1) responding to a client or lead within 2 minutes after they message you drastically increase your close rate and 2) many agents take hours and frequently days (on average) to reply to every message.
This is one of those places where LionDesk stayed focused on what they do best and partnered to offer you the best-in-class marketing stack you need. The company partnered with Structurely to provide its AI chatbot.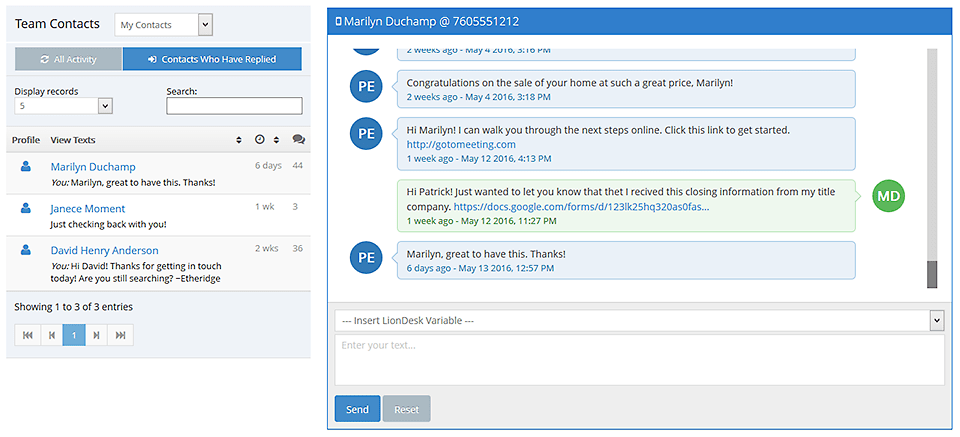 Power Dialer
We looked at lots of marketing solutions as part of our recent real estate marketing technology report series and spoke to 25,000+ Realtors, agents, and small teams let us know what they actually use and what actually works. We saw the ROI of using expensive suites like BoomTown and dedicated power dialers like REDX.
There are times when a more complete dedicated power dialer like RedX, Mojo Dialer, or Vulcan7 makes sense but it's hard to beat LionDesk's own click-to-call power dialer that's already tightly integrated with their CRM. For 99% of agents, the $49 per month additional cost to add LionDesks dialer is the right call.
LionDesk Integrations
Many agents pay too much for the sales promises behind all-in-one platforms like BoomTown, Real Geeks, and others, when they should choose LionDesk and others they have deep integrations with to build a truly modern real estate marketing system at a fraction of the cost.
The standout integration for LionDesk is the company's direct integration with Showcase IDX. It's the ONLY home search chosen by consumers over Zillow and has a client retention rate 8.5x more than IDX Broker and 4x more than iHomefinder, according to the largest IDX and Home Search Report ever done.
For most other integrations LionDesk replies on setting up a Zapier account that gives you access to thousands of other applications. Zapier has a free plan that will work for most agents too.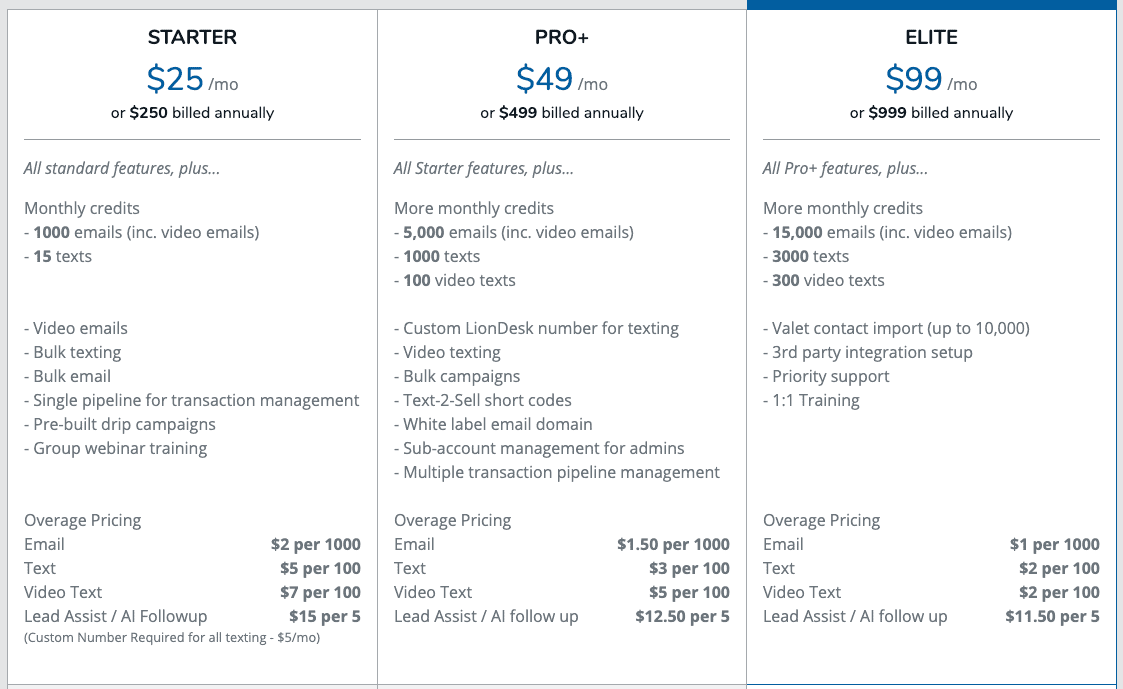 LionDesk Pricing:
This is why most people choose to LionDesk initially and why many agents stay – the price. You really cannot find a CRM with LionDesk's capabilities at $25 – $49 per month for most users.
Starter: $25 / month or $250 billed annually
Pro+: $49 / month or $499 billed annually
Elite: $99 / month or $999 billed annually
Additional fees:
All texting requires an additional $5 / month for a new, unique text number (what an outsider vendor likely charges them)
Power dialer: $49-$59 / month depending on your package
Overage pricing for email, text, video text, and Lead Assist Followup: depends on the base month you pick but they are transparent on their website about the pricing.
LionDesk Reviews from Others
Jaime offers some great overall feedback as a previous LionDesk user and one that sure appears to have a business and client base that is growing. The main reason he gives for not using LionDesk anymore is that he is using the kvCore all-in-one offering that is offered from his brokerage. It should be noted though that we heard from many eXp Realty and Compass agents that are using a Showcase IDX + LionDesk bundle to build their own website to get significantly better results than they were receiving with kvCore, CINC, or an in-house solution.
Just because something is "free" or already paid for doesn't mean you should use it. Make sure you are looking at what is best for your business and will help you reach your goals the best.
Why LionDesk was chosen over Realty Juggler and kvCore
LionDesk Summary
LionDesk is a great CRM for most real estate agents, teams, and even small brokers.
As we saw in our real estate study of 135,000+ consumers and 25,000+ agents, the single biggest factor in an agents' success is having a real estate website powered by a modern IDX that their clients will actually use versus going to Zillow or Trulia where your competitors will get your clients' info and budget info. LionDesk has wisely chosen to NOT attempt to build a "check the box" IDX and instead have partnered with the best-in-class.
Using LionDesk, Showcase IDX, and a modern marketing plan is almost guaranteed to grow your business this year. It's ready to go the moment you login.
We recommend Liondesk for newer agents who are working phones or agents doing video. For more advanced agents that grow past the team level, you will likely look for a bigger CRM solution.
Need help with your website or other parts of your marketing? Here is the Top 17 Real Estate Marketing Agencies in the United States.
Want an IDX with higher consumer retention, better SEO, and that our test show is the only home search chosen over Zillow, consider Showcase IDX. Click here to see our review of it.
Looking for in-depth reviews on