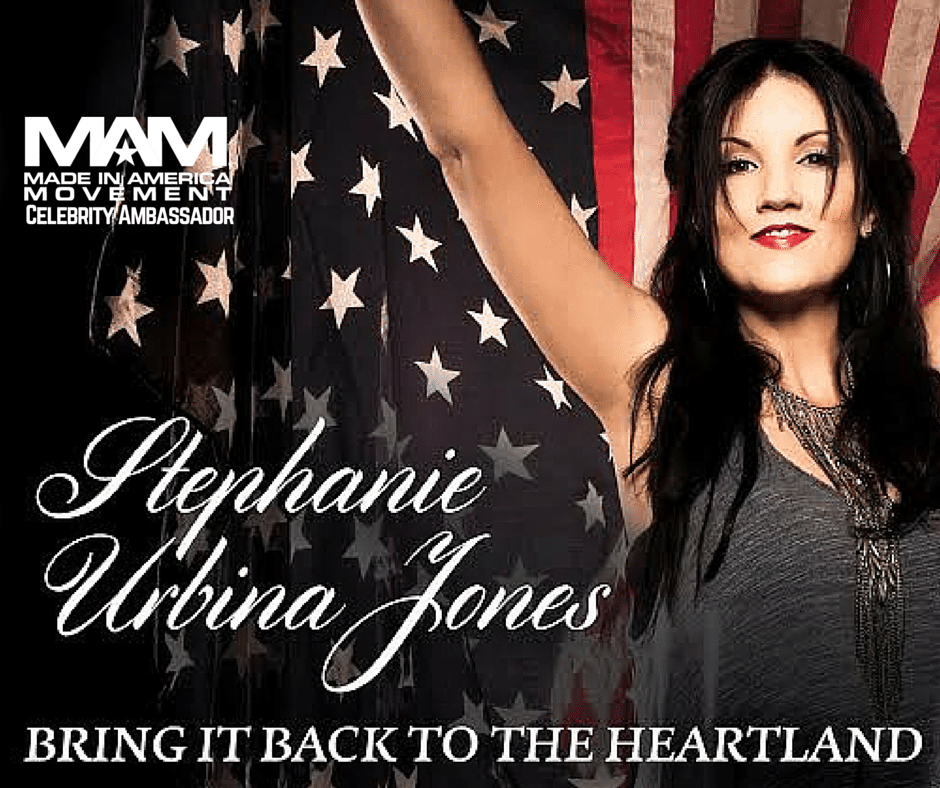 Made in America Movement Celebrity Ambassador Stephanie Urbina Cracks International Market
It's rare for an act unsupported by a major record label to crack the international market, but country Americana singer and songwriter Stephanie Urbina Jones has done it in a big way. Over the past year and a half, she's performed to enthusiastic audiences in Mexico, Japan, Spain, Germany, Switzerland, France, the United Kingdom and the Netherlands.  All the while, she's been expanding the American base for her compelling blend of Latin-infused country music.
Among the high-profile stages Urbina Jones played on her globe-trotting circuit were the Montreux Jazz Festival (Switzerland), the Magic Town Music Fest (Mexico), Craponne Country Rendezvous (France), Country Gold (Japan) and Americana Cavalcade (Scotland).  At each venue, she mingled with existing fans while cultivating droves of new ones.
Naturally enough, the music press has begun taking notice of the dynamic San Antonio native.  Nash Country Weekly ran an appreciative "On The Edge" feature about her in its Feb. 4 issue:  On the Edge:  Nash Country Weekly
It is complete with a photo of her latest album, Fiery Angel, and an embedded video of her performing "Help Me Make It Through The Night" with the Grammy-nominated supergroup, The Time Jumpers.  Urbina Jones covers the Kris Kristofferson classic in Fiery Angel.
Texas Music Magazine and The Nashville Scene have also joined the parade of Urbina Jones' media admirers, chronicling her journey from barrio roots to Music Row triumphs: Jones wants Music Row to embrace Hispanic culture.
#CMCHAT, 24/7 Country Music Chat currently features a Q&A, spotlighting Urbina Jones as an artist to watch:  #OneToWatch.
Her dossier includes a period as a staff writer for the mighty Sony/Tree Music Publishing.  And just last year, she celebrated her first No. 1 hit as a songwriter when The Voice winner Craig Wayne Boyd took her "My Baby's Got A Smile On Her Face" to the top of Billboard's Hot Country Songs chart.  What set this achievement apart from other hits—which ordinarily take months to climb the chart—is that "My Baby's Got A Smile" debuted at No. 1.
Robert K. Oermann, perhaps country music's most exacting critic, had nothing but praise for Urbina Jones' current single, "Bring It Back To The Heartland."(To listen: Click here) "I have long been a fan of this lady's work," he wrote in Music Row magazine.  "Her voice is as throaty and emotive as ever in this topical single.  The lyric yearns to bring the nation back to its better years when we had mom-and-pop stores, products made in the U.S.A., family farms, good jobs and the American Dream."
Oermann was not alone in his enthusiasm for the song.  The Made In America Movement (MAM) has embraced the song as well and designated Urbina Jones as its first celebrity ambassador.
Fiery Angel, Urbina Jones' fifth independent album, was the first of two released last year, the other being the sprightly Christmas collection, Feliz Navidad Y'all.  Fiery Angel also yielded the music video, "I Wanna Dance With You," (Click here for Video)  which the singer shot in northern Spain.  Her Christmas video, "One Little Boy," was programmed on Great American Country (GAC).
To top this cascade of good news, Urbina Jones "Back To The Heartland" is Top 25  on the Texas Regional Radio Chart.
So look out world, this Fiery Angel is on fire.
https://www.themadeinamericamovement.com/wp-content/uploads/2015/11/FB-MAM-Celebrity-Ambassador.png
788
940
The Made in America Movement Team
https://www.themadeinamericamovement.com/wp-content/uploads/2017/08/Made-in-America-Movement-Logo_340x156.png
The Made in America Movement Team
2016-02-19 11:57:48
2023-09-22 15:49:00
Made in America Movement Celebrity Ambassador Stephanie Urbina Cracks International Market