The 7 Best Real Estate Tools for Top Producing Agents in 2021 + 12 More to Consider
Welcome to the ultimate list of real estate tools that you should be using to grow your business in 2021.
We did our first real estate tools and software report in 2019 by asking more than 10,000 top producing agents what they were using to grow their businesses.
For our 2021 list of the best real estate tools, we worked with real estate marketing coach Kurt Uhlir to reach out to even more Realtors, agents, and small teams. Keep reading to find out why this isn't just any other list or one that only includes brands that paid for inclusion (like many major real estate publications do). Here's who contributed to this list of tools and software:
25,000+ Realtors, agents, and small teams let us know what they actually use and what actually works
125,000+ consumers showed us that there's ONLY one home search they use over Zillow/Trulia and their thoughts on the relationships from agents using various tools/software
75,000+ personal agent websites were analyzed to see both what they're built with but also if they're successful in growing agents' two most valuable assets 1) their personal brand and 2) their contact/client database.
Why did The Made in America Movement do this survey?
Buying a home is often the greatest source of wealth and savings for many U.S. families, and real estate plays an integral role in the U.S. economy. In 2018, real estate construction contributed $1.15 trillion to the nation's economic output. That is 6.2 percent of U.S. gross domestic product.
"We're passionate about anything that affects so many Americans, and we all need a place to live. As MAM has grown to more than 500,000 consumer members in the past few years, we've spent more time talking with our consumer members and many told us about how much help their local real estate agents and Realtors were in guiding them through wise decisions", said Margarita Mendoza, CEO and Founder of The Made in America Movement.
We quickly learned that while many agents and brokers are associated with larger brands (e.g. Keller Williams, eXp, Coldwell Banker, Century 21, RE/MAX, etc) that these agents and local offices are actually contractors (or franchisees) with these larger brands and that they are actually small business owners.
There are a lot of "list" style articles of the best real estate websites, the best real estate marketing tools and tactics, top real estate apps, etc., but we noticed that almost ALL of these list style articles are written by people that are NOT Realtors, are not on a real estate team, have never run a brokerage, do not work in real estate day in and day out. Instead, the people writing most of those articles are content writers trying to drive traffic to their sites where they sell ads or collect emails/leads that they sell to vendors.
"With 1.3 million Realtors and real estate agents in the United States, that's a lot of small businesses, and our mission is to help U.S. based businesses grow.", Mendoza continued. This survey let us go directly to thousands of top producing agents and others that are seeing their businesses grow and find out what real estate tools and software they're using to grow their real estate businesses.
The role of a real estate agent has shifted
The role of Realtors and agents has shifted from gatekeeper to trusted advisor.
Most consumers do not realize that Zillow and Trulia make money by referring customers to independent real estate brokers (and then selling your information over and over again), yet people have flocked to these sites.
In recent years, as some incredibly innovative, modern home search and consumer engagement tools are now available for Realtors and agents to put on their own sites, top producing agents are truly able to "help clients find the RIGHT home for their needs and future", while protecting consumers from the onslaught of sales calls that typically follow signing up with a large real estate portal.
This role as a "trusted advisor" helps guide clients through making the right choice, navigating common mistakes, and taking the lead in negotiations. Consumers are waking up to realize that the For Sale By Owner and disruptors in real estate are actually costing them much more money.
"Typically, the research tells us, that a high-quality real estate agent that really knows what they are doing will add more to the equation than they cost. Because people make mistakes when selling their own home – the mistakes are costly…" – Dave Ramsey, American Radio Show Host and Personal Finance Expert
Are all of the real estate software and tools Made in USA?
Several of the companies behind these real estate tools and marketing software are made entirely in the United States but not all of them.
Our survey allowed for agents to recommend the top software products they use from anywhere. While we at MAM know that both physical products as well as software products have higher quality and value for consumers when they see the Made in USA label versus Assembled in the USA. However, we also recognize that there are not strict regulations currently for technology products, although we did propose it as part of the first Made in America Roundtable we helped organize with the President at the White House in 2017 as part of the first Made in America Week.
Where noted below, the company and their software/tools are made in USA. We applied the FTC's "all or virtually all" standard to the information for each company, where their product development, support teams, management teams, and such are all based in the U.S.
Picks for the best real estate agent software of 2021:
Here are the top responses from our survey of 10,000+ Realtors and real estate agents that are considered top producers and or are seeing their real estate businesses grow.
1. Showcase IDX (MLS Property Search, Lead Gen & Consumer Engagement)
If you're sending your clients to Zillow do their home search, you are literally sending your prospects to the competition. Better make sure you have a strong buyers agreement as you know other agents will be receiving their information. Still, have an outdated IDX that uses subdomains or iframes? Google treats the property and search pages as another site, and the IDX provider not you gets "credit" from Google for rankings. Showcase IDX is different from the outdated IDX options.
Consumers told us there was ONLY one home search they consistently choose over Zillow and that was Showcase IDX – Made in USA and headquartered in Atlanta, Georgia.
We showed a variety of home searches to consumers from iHomeFinder, IDX Broker, Diverse Solutions, Real Geeks, kvCore, and others. The ones that use iFrames and subdomains sometimes saw as many as 70% to 90% of consumers choose to use Zillow. Even some of the better IDXs still saw 40% – 60% of consumers visit an agent's site and then go to Zillow to search. Only Showcase IDX was preferred over major portals, not just becuase of the individual search experience but also because they're the only IDX with a Friends & Family search capability.
Showcase IDX provides the MLS property search, lead generation, and consumer engagement tools for your website. By far the most innovative IDX property search available on the market, it was the most used real estate marketing software by agents with growing businesses from our survey. (WordPress was used by more but it's not really real estate specific, even though it is crucial to having a good website.)
Get your free trial today to power the website you deserve and that your clients will love. Learn more today!
If you're using another IDX provider (maybe one your website developer signed you up years ago), sign up for a Showcase IDX trial today to get the website you deserve and that your clients will love.
Need a website developer? They have a list of Approved Real Estate Website Developers that they have vetted that know real estate.
Special Offer: Get 30 Days Free Premium IDX, No Setup Fees, One-on-One Jumpstart Training Session, One Hour Website Strategy Review, and the only IDX that gives you your live MLS listings during your trial.
2. REDX (Automatic Dialing Tool)
Stop dialing by hand. REDX Storm Dialer will find the phone numbers of those ready to talk and dial them. If the prospect doesn't answer, it will leave a voicemail. If they do, it will have already pulled up up relevant data on your screen when you here "hello". A top productivity tool for any real estate agent making sales calls more efficient.
Need phone numbers? Depending on your niche and focus, REDX will provide products with information on expired leads, FSBOs, and homeowners in pre-foreclosure.
As a short-term lead generation tool, you'll know the return-on-investment (ROI) quickly and know how it compares to ads and other methods for filling the gaps as you grow your business.
Special Offer: Waive Your Setup Fee – $149 Savings
3. LionDesk (Real Estate CRM)
LionDesk offers the essentials of a real estate CRM for an affordable price at $25 per month.
Many individual agents are able to get by with the CRM Tools included with Showcase IDX (mentioned above), but over time, you will likely need a focused CRM solution as you grow. The good news is that these two work well together with a deep integration that makes things easy for agents.
If you've ever used a CRM before, you'll feel right at home with LionDesk. Outreach with LionDesk is straightforward for individual reachouts or bulk emails, texts, even video. Their "Daily Vitals" gives you a quick snapshot of how you're doing with outreach. If you've only called 3 leads today, you'll see that number every time you login to the CRM. LionDesk's power dialer will let you upload a list of expireds or FSBO and cruise through them, at an extra price of $49-59 per month depending on the package.
Tip from agents on LionDesk:
Join their user group on Facebook.
Combine LionDesk with Showcase IDX to give your clients the experience they require today.
4. BombBomb (Video Email Engagement)
BombBomb enables you to easily create emails that your clients will actually open and respond to.
Using Gmail or Outlook to host your email? Instead of typing out faceless blocks of text, click "record" and talk to your client with a personalized video. BombBomb inserts the video into your email, tracks the number of people who open it, and gives lets you get face-to-face more often.
The agents we talked with saw 70% more replies, more leads converting to clients, and even higher usage of the home search on their website.
Tips on using BombBomb:
Many of the agents we spoke to felt uncomfortable being on camera when they first started using it but tried it because of the results they had heard from others.
Most became found it comfortable after 10 – 15 video messages.
Remind yourself that you're talking directly to the client and keep it casual.
Smile. It improves everything on video.
Send one message quickly walking through the MLS property search, community pages, and other tools on your website.
Kelly's #2 is how most people use BombBomb.
Watch 4 ways to grow your business with video for more details on how to use it.
5. WordPress (Website Platform)
Stop renting your website!!! Or, worse yet, if you don't have a website yet, get one and make sure it's on WordPress.
Platforms like Real Geeks, Boom Town, Easy Agent Pro, Z57,or Chime can look great and might offer an "all in one" package, however, it's like renting versus buying your home. You do not have full control of your website with those options and the platform is ultimately owned by them and leased by you. While there are occasional agents that are successful with these, it's often because they're primarily driving traffic with ads or other short-term focused marketing techniques instead of marketing and business decisions that will create an organic referral engine for their business.
We were also shocked at how many Realtors and agents do not have their own website, that is until we correlated if they have a site with the growth of their business over past 24 months.
According to The National Association of REALTORS®, 2018 Report, only 51% of Realtors and teams have a dedicated page on their brokerage website and only 32% of real estate agents have their own website separate from the brokerage site. Given that 95% of home buyers visit real estate agents' websites during their home search, according to the same NAR report, it's easy to understand why most agents without their own website are not growing.
Wix and Squarespace can be okay for a business card site but those platforms are limited in how they can work with most tools and other software programs like an IDX, video, social media plugins, etc.
WordPress is by far the best platform for real estate agents to use for their website. If you can use Gmail, you can easily setup WordPress for your real estate website or have a developer do the initial setup and design for you.
Tips on using WordPress for real estate:
Do not use a budget host for $5 – $10 per month
Use WP Engine for hosting.
Have an existing site? Test your sites speed at Speed Tool
6. RateMyAgent (Agent Review Site)
We know Zillow is a giant in the industry, and we're not saying to never use it. There can be benefits to having your past clients rate you, but there is a growing movement to stop "feeding the beast".
Have your clients rate you on RateMyAgent.
Founded in Australia, the site now provides recommendations, ranking and reviews for real estate agents in the US. Consumers are increasingly turning to them, and they're growing quickly in Google search results.
Tip from agents on RateMyAgent:
Place a widget of your reviews on your website.
Create an auto email in your CRM that goes to your clients 10 days after close asking them to leave a review of their experience working with you.
7. Spacio (Open House Lead Capture)
Say goodbye to smeared sign-in sheets and having to manually type information about new leads. Spacio replaces the pen and paper at your open houses.
Fifty percent of homebuyers attend and view open houses as an essential part of their home search and decision process. Yet, only 9% of homes are purchased from open houses. How many are lost because of smudged sign-ins or visitors not wanting to sign-in.
Download Spacio from the Apple App Store or Google Play and try it for free for 30 days. Easily export your new leads after the open house or use their integration into Follow Up Boss (or others) to automatically add them to your CRM. Don't risk losing captured leads at even one more open house.
8. HelloSign (Electronic Signature)
Not only is printing, faxing and filing papers time-consuming and expensive, but good luck increasing the number of closed deals this year without using an electronic signature solution.
We expected to see DocuSign and Adobe as the preferred electronic signature tools and were pleasantly surprised to see HelloSign topped the list. Dropbox acquired HelloSign in January 2019 for $230 million. Being huge fans of Dropbox, this seems like a good cultural fit within our prefered software applications, and we are looking forward to seeing the companies integrate further.
While some larger competitors are trying to become "all-in-one" platforms and are becoming bulky, HelloSign is a smooth & modern e-signature tool that will help streamline your business.
Tips on using HelloSign:
Install the Dropbox extension.
Send out your buyers agreements to show how the offer will be signed later.
9. CityBlast (Social Media Nurturing & Facebook Ads)
Too many agents believe social media doesn't work because they posted sporadically for 10 to 90 days or because they post the (somewhat standard) new listing photo, open house, listing, open house, close, cat picture, and repeat. What is needed is good local content, consistency, and a mix of content that is authentically you and housing tips.
You want social media that keeps relationships and converts, and CityBlast helps get you there. You pick the style of posts you want, and they scour the web looking for the perfect articles and then automatically post them, transforming your social feeds into fresh, local, and relevant content.
CityBlast also has a managed PPC (pay-per-click) service where their team will create, manage and optimize your advertising campaigns.
Tips on using City
10. Trello (Task Tracking & Optimization)
Trello is a simple and accessible web-based operations tool to manage all of your transactions, your marketing, and your relationships.
Within the next three to five years the real estate industry will be radically different. You're going to have to provide better customer service than other agencies. If you do, you'll crush your competition and have better margins. If you don't, plan on battling it out with the discount firms.
Trello lets you create checklist templates that you move from stage to stage while capturing your thoughts and connecting relevant files as you progress. Think about creating a board for "active listing" or "active buyer" board that includes associated checklists (e.g. take pictures of the home, schedule open house, etc.). If you're on a team, it's incredible for coordinating with the operations team that does all kinds of customer service tasks on behalf of you and other agents. Another tool that will increase your efficiency while also aiding you in providing top customer service.
Tips on using Trello for real estate:
Search Youtube for "trello reviews" and watch a few.
Most agents will be okay with the free version.
11. Slack (Team Communication)
Want to cut down on your phone time and increase velocity? Slack is a modern communication platform great for communication with clients, managing a small team, and even for large brokerages. Slack lets you have one-on-one conversations with other agents, you can create channels for specific topics or clients. Think about it as text or chat with the ability to share files, host group voice or audio calls, and search past messages from either your phone or computer.
When using it with clients, you can give them visibility into the progress of the deal and get more immediate input. Many of your clients are already using Slack in their offices and it works great on mobile too.
Tips on setup:
The free option works great for an internal team.
To use for clients, you'll need a paid plan.

Create a Channel for each listing.
Invite your clients with single channel guest only access.
It may be a good idea to have your clients login when you're with them or on the phone.
12. Cloud CMA (Comparative Market Analysis Generation)
Cloud CMA creates a fast, polished Comparative Market Analysis (CMAs) that you can send directly to your clients with your branding, headshot, and logo.
Need your CMA printed or on an iPad? They offer both.
13. Grasshopper (Business Phone Numbers)
You need one phone number that works from your cellphone and desk. Grasshopper gives you a local number that will let you look more professional than simply using your cell phone and let you more efficiently make the calls you need to make to grow your business.
Consider Grasshopper as a virtual phone system that you can access from any device for calls or text. Google Voice can give you some of the same functionality, but you'll find huge benefits and added functionality from using Grasshopper instead.
14. Follow Up Boss (Real Estate CRM for Teams)
A powerful, yet simple to use, CRM and sales tool for real estate teams.
With 41% of real estate agents in the U.S. on teams, according to the Residential Real Estate Council, you know someone was going to build a CRM specifically for teams. 9 out of the top 50 Real Trends teams for 2018 use Follow up Boss to engage, nurture, and close leads. In our survey of more than 10,000 agents across the U.S., Follow Up Boss far outranked Market Leader, Kunversion, Real Geeks, Top Producer, and others.
We heard terms like "instinctual", "automated action plans", "auto assigning leads", and "consolidates our leads from everywhere" from the agents and team leads, with the only downside was that it was a little pricey.
Tips on using Follow Up Boss:
Try it and you'll see the ROI on the investment over time.
Make sure you're using Showcase IDX on your site to maximize SEO and organic referral traffic over time.
15. Zapier (Workflow Automation)
Zapier is the great connector that lets you integrate over one thousand applications and tools to automate your workflow. Yet another productivity increasing tool on our list that top producing agents from our survey recommended – we are seeing a theme of efficiency in top agents!
The "Zaps" let you link your CRM to your social media software, MLS property search, and lead generation forms to automate tasks and workflows across different tools. They have a free plan that will yet you create five Zaps at a time.
Tips for using Zapier for real estate:
There can be a learning curve. Look for detailed walkthroughs from one of your applications or set up your first Zap by following along with a YouTube video. Don't skip the instructions on this tool, you need the details.
16. Everlance (Mileage Tracking)
It's a good thing that real estate agents do not have to pay taxes on what people think they earn.
No matter whether you're in a buyers market or seller market, you need to take advantage of every deduction you can. Everlance works on your phone to track trips using GPS and keep you IRS-compliant. You can easily categorize trips as business or personal and export them in Excel or PDF.
Tips for using Everlance:
Add 5 minutes to your weekly review to bring up Everlance and make sure you've categorized all of your trips for the week.
17. BoxBrownie.com (Image Enhancement & Virtual Staging)
BoxBrownie.com makes your listing photos, staging photos, and headshots incredible.
They use CGI renders and photo enhancement options including turning external property photos from day to dusk, adding virtual furniture to rooms and removing unwanted clutter. You'll love their speed, reliability, and affordable convenience.
Use them to clean up clutter or change the staging in listing photos.
Get three image enhancements plus one day-to-dusk edit when you sign up for a trial.
Spend $100 – $200 to virtually stage a house as opposed to $1500 per month for actual staging charges.
18. Slydial and Slybroadcast
Leave voicemails on any mobile phone in the United States without actually ringing the recipient's phone. How awesome is that?
If you want to keep in touch with a client and just say hello but have 30 contacts to reach in an hour, then use Slydial. You can quickly and easily leave 30 messages early in the morning and you don't have to worry about waking them up with a ring tone. If you or a client are overly talkative – Slydial will be a great productivity tool for you to add to your tool belt and put you on your way to becoming an efficient real estate agent.
Tips for using Slydial and Slybroadcast:
Download the free app and try it by calling a friend to test.
Use Slybroadcast if you're leaving a voicemail for more than 10 people (e.g. your entire contact list)
Use referral code 43180f100 to get 100 free credits on Slybroadcast.
Have a client that you need to give a quick update to but will want to talk for 30 minutes? Use Slydial to leave a message on their phone without ringing their phone.
19. Waze (Crowdsourced Traffic & Navigation)
Okay, we know Waze isn't actually real estate software, but when you're stuck in traffic, you're not selling houses.
If you're not familiar with Waze, it's the navigation app purchased by Google in 2013 for $1.1 billion and it's only grown in popularity and accuracy since then. Today, they provide the most accurate traffic data in most parts of the United States, with real-time help from millions of other drivers. While HERE maps may be more accurate than Google's, the traffic from Waze will save you time when you get in the car and can even alert you about when to leave.
Tip on using Waze for real estate:
Connect Waze to the calendar on your phone
Begin adding the address to appointments in the "location" when adding the event to your calendar.
Waze will then alert you when leave for each appointment based on your current location.
Bottom Line: Best Real Estate Software of 2021
Real estate software like lead management, open house sign-in, and MLS property search on your own site are great ways to grow your business. It's more important than ever to work with the best tools in the industry and find groups of other high-performing agents to learn from. As you noticed, many of the applications in our list will increase your productivity and help improve your speed of service to real estate clients. No wonder top producing agents used these – our survey results from real estate agents help provide you with the best tools that Realtors actually use.
Start using these tools and software packages to make 2021 an incredible sales year.
SHARE this list and show off your new knowledge
Let us know
Using one of these tools already? Let us know in the comments what you think of it. Excited about trying one of them? Which one and how do you think it will help you grow your business this year?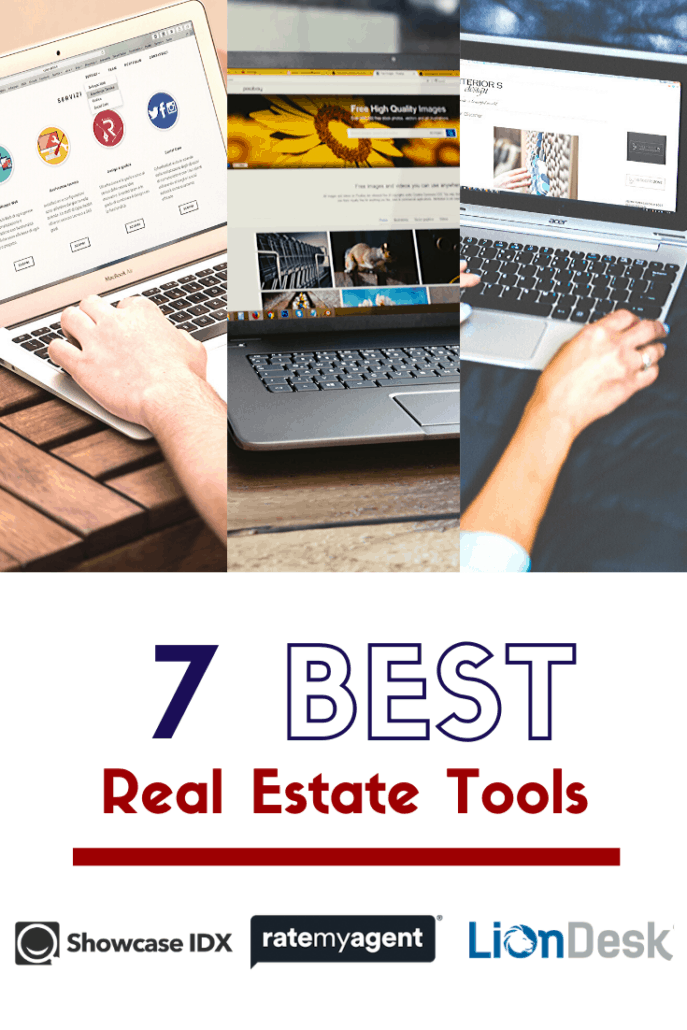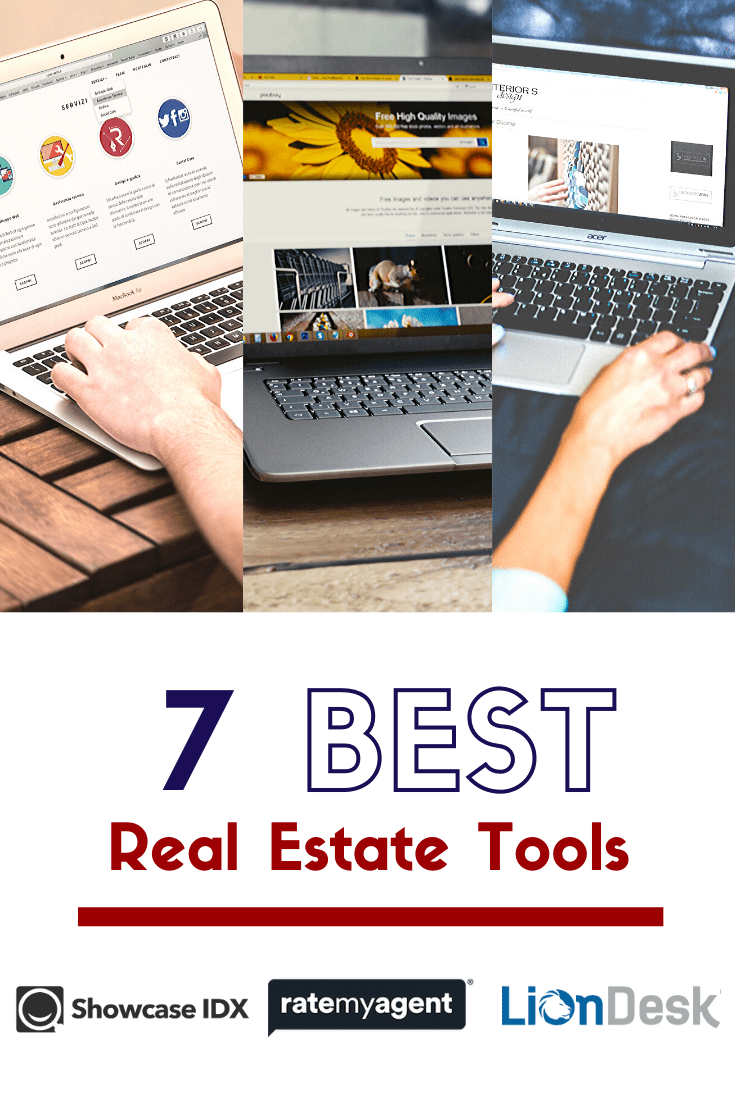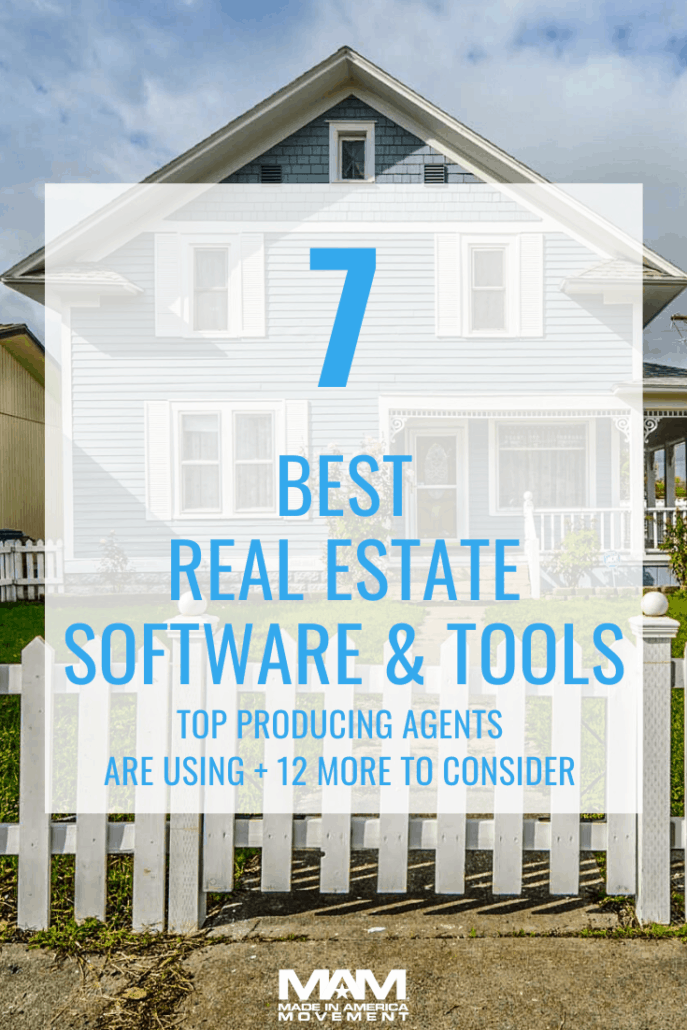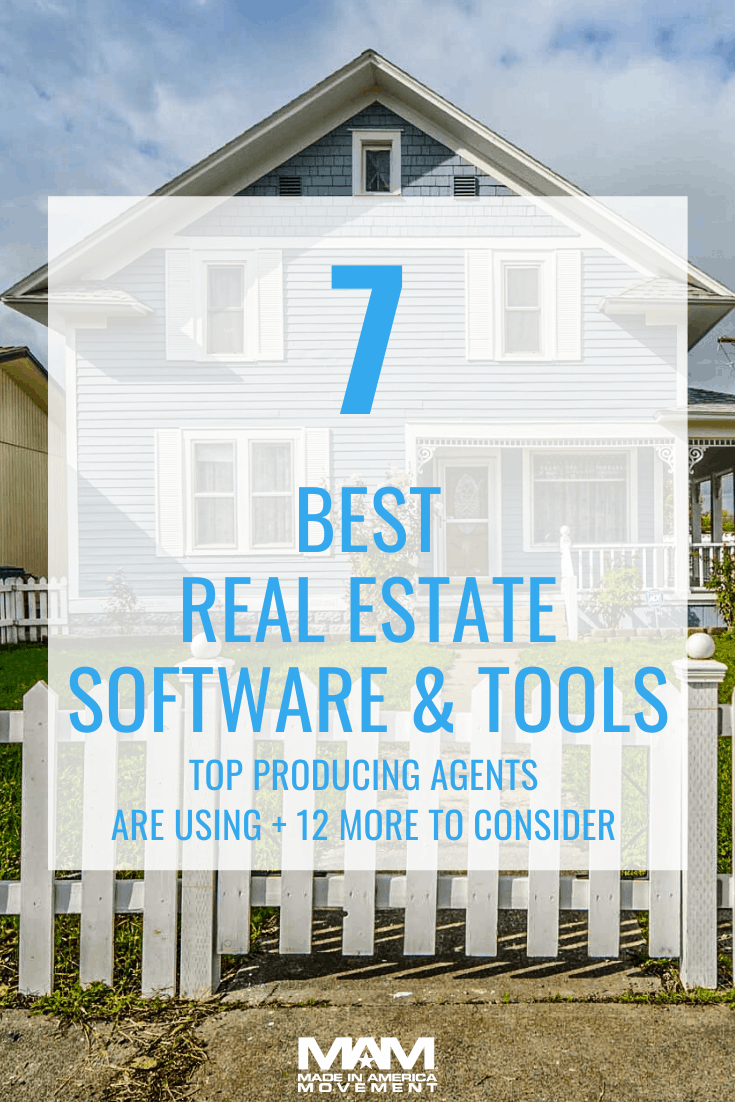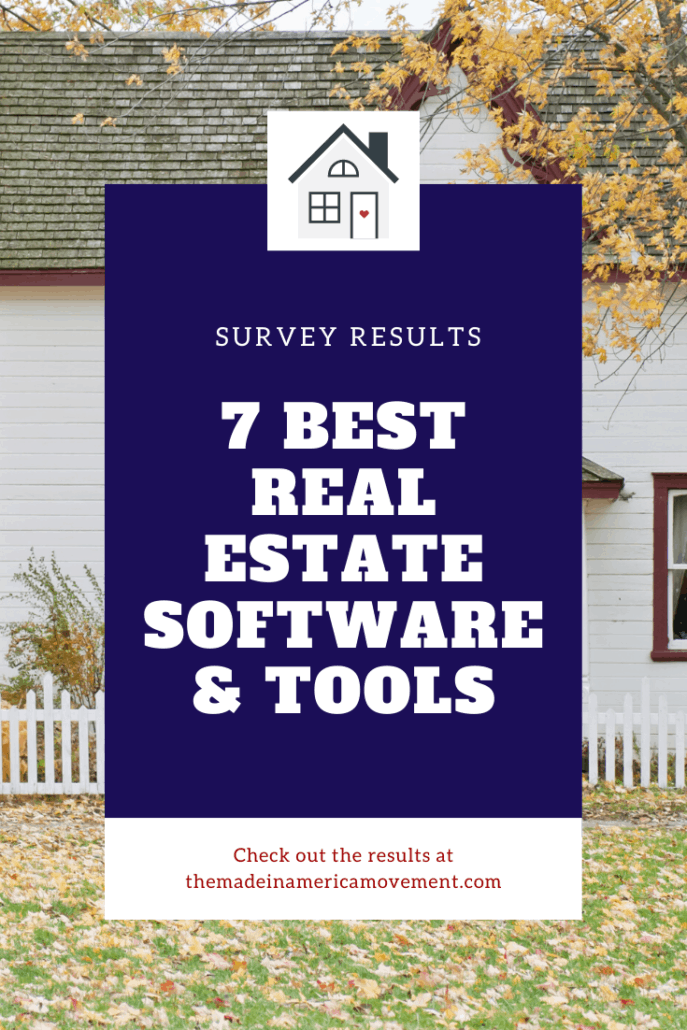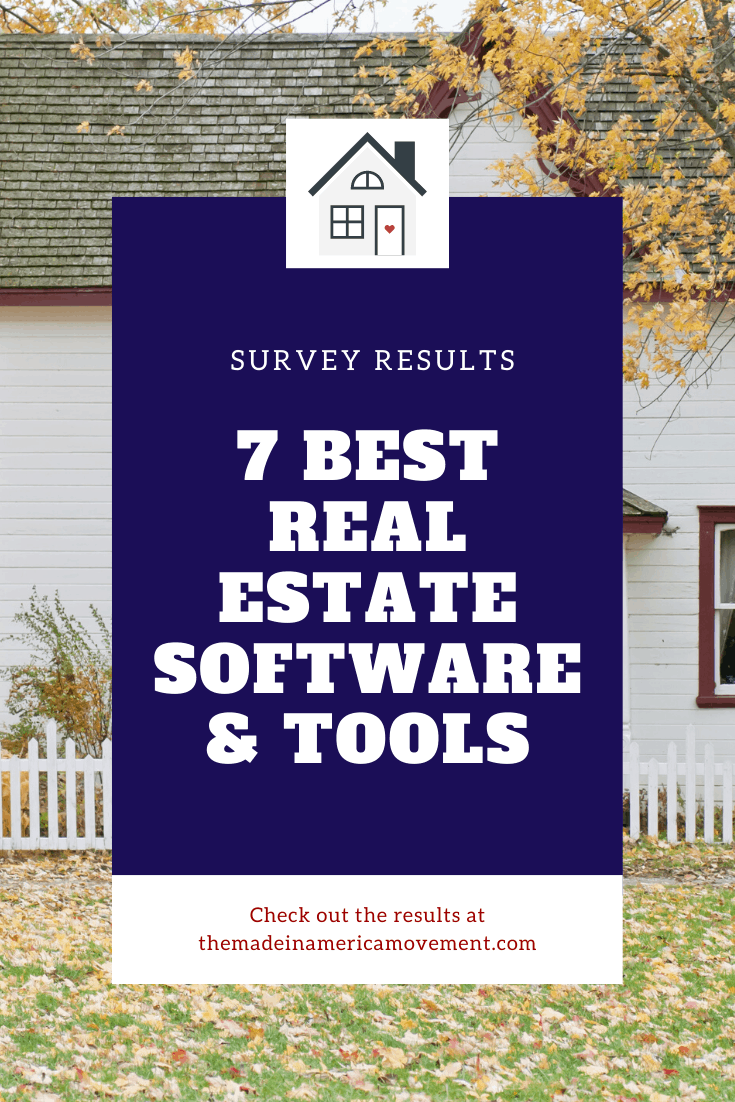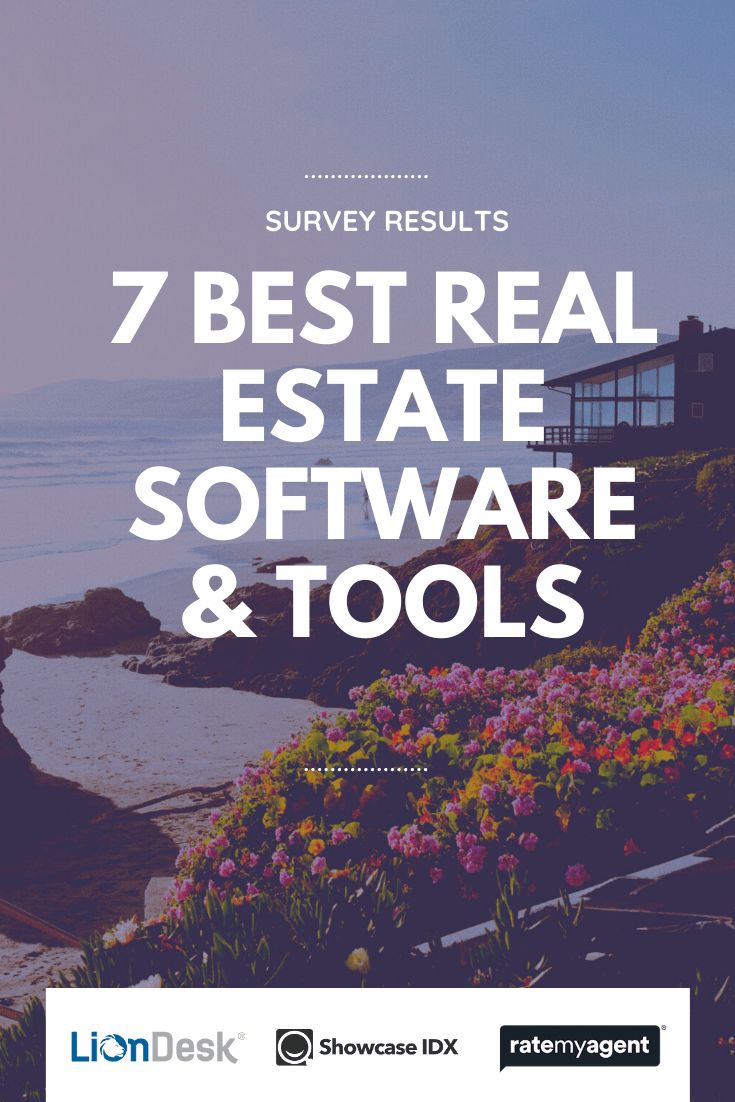 https://www.themadeinamericamovement.com/wp-content/uploads/2019/05/7-Best-Real-Estate-Tools.jpg
1023
1600
MAM Team
https://www.themadeinamericamovement.com/wp-content/uploads/2017/08/Made-in-America-Movement-Logo_340x156.png
MAM Team
2019-05-06 17:30:25
2023-02-22 11:45:47
The 7 Best Real Estate Tools for Top Producing Agents in 2021 + 12 More to Consider