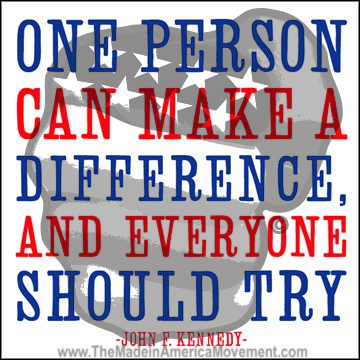 Juergen Kneifel
January 7, 2013
---
There's a new craze that hit the airwaves this past holiday season intended to save jobs and reenergize American manufacturing. Blame it on an unnamed economist whose calculations have concluded that, should each of us buy $64 worth of products "made in America," we will collectively create 200,000 jobs.
Diane Sawyer and ABC joined the bandwagon to promote the concept. Every night on the evening news we learned of various products made in the USA, appropriate for gifting or personal use. There have been a surprising number of companies profiled on the newscast and, what's more, you can find an expansive listing of these businesses on the ABC News website.
Perhaps this idea isn't all that new; it's just a timely reminder that we can become more strategic with our spending.
My father-in-law announced to the family several years ago that he was only interested in giving and receiving gifts that were made in the U.S. Frustrated by the prospect that we're no longer globally competitive in many manufacturing sectors, he insisted we avoid items made in China — or anywhere else for that matter.
That year he gave each family member an envelope with a crisp, uncirculated Franklin ($50) for Christmas. Thankfully, the Treasury still prints those here in the U.S.
Most of us made an honest effort but found the exercise quite taxing. It's hard enough to find just the right gift, and then you find that it has been manufactured elsewhere.
Perhaps this issue requires deeper thought and more critical analysis. On a monthly basis we hear of wild swings in unemployment numbers. The rates for new claims go up; then they go down. But basically the rates have hovered around 8 percent for far too long.
There is no argument that creating and saving jobs is in our best interest. The hard question is which jobs to save and, most importantly, discovering the jobs to be created through entrepreneurial exploits.
There are a fair number of critics — even economists — of this "buy American" push who claim there's nothing American about it. Their contention is that we should buy American only so long as it's the best price and not simply to create or sustain jobs.
Economics tries to take consumer emotion out of the equation and keep things simple. There is a supply and demand curve applied to the manufacture of a particular good that identifies the likely quantity of demand at a particular price point. And the incentive to producers is in the anticipated profit margins gleaned through efficiencies and their manufacturing capacity.
And in the end, the economics will argue that each economy would be better off producing and manufacturing those products for which there is a competitive advantage. These advantages include an abundance of ingredients, such as access to raw materials, labor, technology and transportation.
We're really talking about product differentiation when we promote "made in America" through a campaign meant to create or save jobs. And this is squarely a marketing function. If we can feel better about ourselves because we're helping our fellow citizens by buying certain items, then we can argue for a premium — just as we would for purchase of a product that comes with a better warranty or in one's favorite color.
But how long will this work? Is this truly sustainable in the long run?
David R. Henderson, who is an economist at the Hoover Institution, explained it this way in an interview with John Stossel:
"Almost all economists say it's nonsense. And the reason is: We should buy things where they're cheapest. That frees up more of our resources to buy other things, and other Americans get jobs producing those things," Henderson said.
Since we are competing globally, it makes no economic sense for us to continue manufacturing products that are no longer viable in the global marketplace. Americans need to continue to create jobs based on innovation and new ideas.
"A huge part of the history of mankind is an increase in the division of labor. And that division of labor goes across national boundaries," Henderson said.
Whether you believe spending $64 on products "made in America" will make a difference for job creation, I believe more meaningful jobs will be created in our economy as the result of innovation and entrepreneurial endeavors. I wonder how I'll spend this year's crisp new Franklin.
---
https://www.themadeinamericamovement.com/wp-content/uploads/2017/08/Made-in-America-Movement-Logo_340x156.png
0
0
MAM Team
https://www.themadeinamericamovement.com/wp-content/uploads/2017/08/Made-in-America-Movement-Logo_340x156.png
MAM Team
2013-01-09 11:52:18
2013-01-09 11:52:18
The Case For and Against 'Made in the USA'