The 1st Made in America Roundtable at the White House
The Made in America Movement brought eight American made companies to the White House for "Made in America Week" to participate in President Trump's Made in America Roundtable.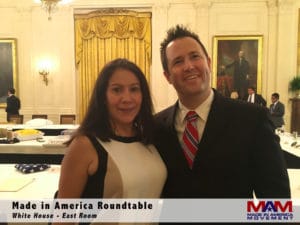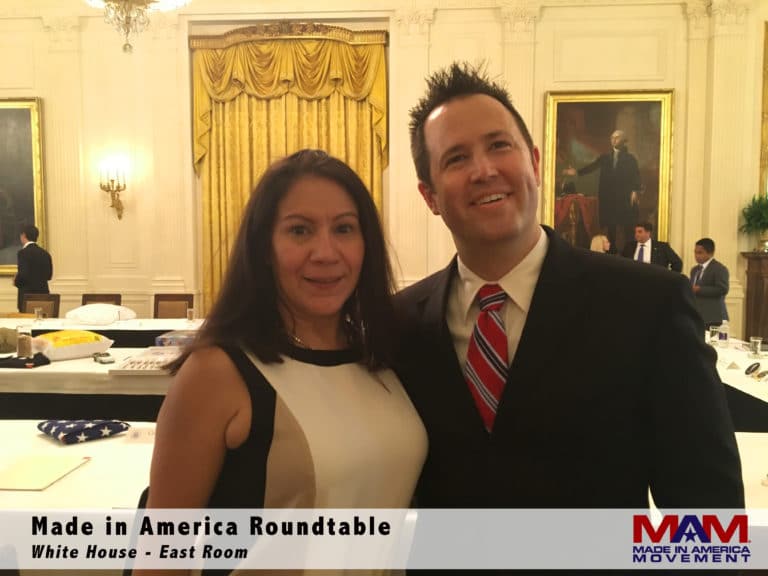 It was an honor to attend as Chairman of our organization with our CEO and Founder Margarita Mendoza. It's been incredible to see the support from our consumer and business members since the event.
What was the Made in America Roundtable?
One of the platform positions Candidate Trump ran on was an increased focus on the American economy and jobs. Shortly after becoming President, he launched the Buy American/Hire American initiative under the White House Office of Trade & Manufacturing Policy. The roundtable ultimately came as a result of the new initiative, being the culmination of the newly announced Made in America Week.
President Ronald Reagan, at the request of Congress, issued Made in America Month" in 1985 with a proclamation stating:
"Made in America Month also provides an opportunity for American firms and workers to resolve to take greater advantage of new competitive opportunities both here at home and in overseas markets. We Americans do not shrink from competition; we believe in competition — fair competition. Historically, competition constantly creates pressure for innovation, product improvement, and customer satisfaction. The open marketplace makes the consumer the king, and we are all consumers."…

"In an increasingly competitive world, we Americans must redouble our efforts to make products of the highest quality in the most efficient way and market them aggressively. As we do I have no doubt that more and more Americans and foreigners will be drawn to the products with the proud label: "Made in America."
The current administration felt that highlighting American Made companies and addressing the issues tackling companies would be better in the summer, away from the holiday buying season, which would also allow for more business-to-business products to be highlighted. That led to Made in America being a focus this July, and the creation of Made in America Week.
Shortly before the announcement of Made in America Week, the White House reached out to us about the roundtable. MAM is happy to work with any administration, federal or local, that is focused on helping level the playing field for American companies, so when they asked if we could help in the selection of companies at the event and for us to participate, we were happy to help. In the end, MAM helped eight companies and 15 people join the roundtable. It was an incredible opportunity to influence the current administration. 
The Made in America Roundtable took place on Wednesday, July 19th, 2017 in the East Room at the White House. The goal of the roundtable was 1) to hear more about the President's focus on American companies 2) allow the President and the administration to hear from leading business experts and some of the top companies creating Made in America products.
Who attended the roundtable
U.S. Representative Mike Kelly (R-PA)
U.S. Representatives Frank Lucas (R-OK)
Erik Paulsen (R-MN)
Claudia Tenney (R-NY)
Margarita Mendoza – CEO and Founder, The Made in America Movement
Kurt Uhlir – Chairman, The Made in America Movement
Greg Owens – Sherrill Manufacturing
Jim & Steph MacDonald – Founders, Authenticity 50
Sara Irvani – CEO, Okabashi
Carter Beard – President and CEO, Annin
Jon DeArment – President & COO, Chanellock
Sean Bandawat – CEO, Jacob Bromwell
Robert Flory – CEO, BlankSlate Coasters
Other members of the White House staff
Several other companies
"This administration is committed to keeping hard working Americans employed. We've sent our jobs and our wealth to other countries for far too long. It was an amazing experience to have a variety of American companies spanning different industries come together for a discussion with the President and other top officials." – Sean Bandawat, President @ The Bromwell Company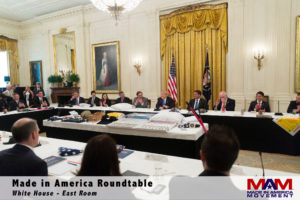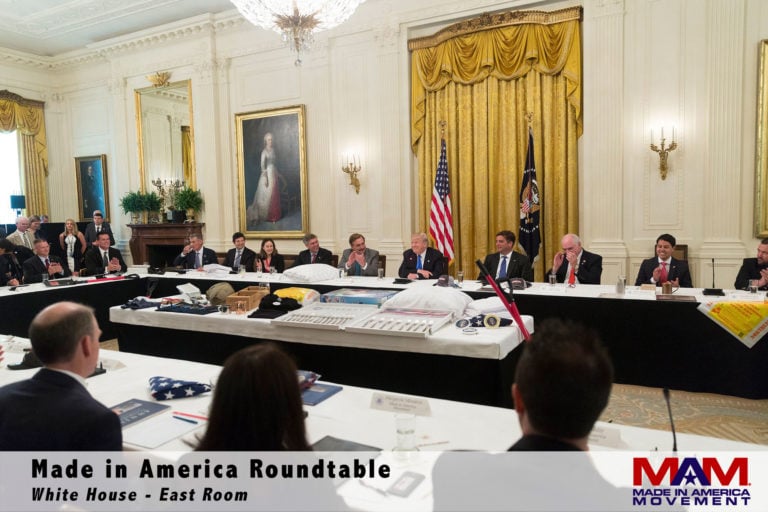 "I believe the impact The Made in America Movement (MAM) made at the Made in America Roundtable was significant. The Roundtable discussion led by Dr. Navarro provided an opportunity to underscore the significance of certifying as a Made in America manufacturer. Margarita was able to inform the CEO of one of the participating manufacturing companies who was complaining about foreign Made products with Made in America call outs on the product that is a verified MAM member you provide retailers and consumers with verified 3rd party certification and not just a statement of Made in America as so many foreign Made labels on the market claim. As an American Manufacturer, the chance to speak directly to the President, Vice President, Secretary of Labor and Chief Economic Advisor to the President about what it takes to keep jobs in America was incredible. I am very thankful to MAM for the invitation and the role Margarita and Kurt played in putting together this opportunity, proves that MAM membership has its advantages…Tremendous opportunity for BlankSlate Coasters, LLC. Thank you MAM" – Robert Flory, CEO @ BlankSlate Coasters
"The Made in America roundtable discussion provided a national platform for awareness for American-made companies – it gave us the opportunity to not only showcase our premium products & high-quality craftsmanship, but shine a spotlight on the fact that Made in USA is, and always will be, second to none. And domestic manufacturers need to be supported so that we can continue to bring American jobs back from overseas and compete fairly in the marketplace." – Steph MacDonald, Co-founder @ Authenticity 50
Focusing on American Made companies matters
We've received many questions in person, on Twitter, on Facebook, and in email about the event. I wanted to take a few minutes and to share with you more about the roundtable. The public portion of the roundtable was about 24 minutes (see CSPAN coverage), followed by private discussions with the group for another 45 minutes following the press leaving.
The President started the discussion with what seemed like a "soft" question of whether people preferred Made in America or Made in U.S.A., but there is a lot more behind this question, including consumer perceptions, ability to protect the usage legally and international standards on country of origin claims. It's actually a deep topic and one that MAM will be covering in much more detail in the next few weeks.
We then moved on to discussions of consumers' perceptions of quality, how some foreign produced goods are misleading consumers about where products are made, and what the government can do to help support American companies.
"We're here today to continue our celebration of American manufacturing as part of Made in America Week. The leaders and innovators around this table create the products that fill our homes, defend our nation, and enrich our lives. And each one of these products proudly carries the label, Made in the USA," said President Trump.
It appears that those at the table are looking at ways the government can assist with help to ensure fair competition between countries and companies. Over the past 10 years alone, we've seen multiple instances of other countries unfairly subsidizing certain industries and supporting the "dumping" of goods. It's great to see the increased focus on ways to enforce the principles of fair trade.
President Trump stated, "We're more determined than ever to protect our jobs, our industry, and our workers. Every day we are putting America first."
"First, we were honored and humbled to have been chosen to take part in the White House meeting. Our experience was beyond our expectations and we came away with a renewed optimism. Having worked so hard to keep our business viable for so many years, we now have an administration that cares and will take action to rebuild our country's manufacturing base. Our local community also felt a sense of pride seeing Liberty Tabletop product in the White House!" – Greg Owens @ Sherrill Manufacturing
One of the topics I supported at the table was to look for ways to help to ensure the integrity of the Made in America and Made in USA labels. We've seen a growing number of companies using misleading marketing/labeling to take advantage of consumers' desire to buy the high quality, and dependability that "Made in the U.S.A." has come to symbolize. Consumers have standards they believe are included when they see the words American Made but those are not always the case. We need to protect those beliefs and American companies by protecting the integrity of the Made in USA label.
"For far too long, many companies have falsely labeled their products as Made in the USA – when they simply just design products in America or they do a minor stage of the production process here. It is a positive step to have the US government look into this situation, and improve guidelines and certifications, so that products go through a careful vetting and verification process, in order to be deemed Made in USA." – Steph MacDonald, Co-founder @ Authenticity 50
"There's confusion amongst consumers around 'Made in USA' claims. Some of our competitors claim 'Made in USA' with imported components, but that's not what 'Made in USA' truly means. We're seeing some companies stealing the 'Made in USA' label because consumers believe tools 'Made in USA' equate to higher quality. We need to be transparent with consumers and set stricter guidelines on what's considered American-manufactured quality, and the roundtable discussion with the President is a step further in that direction. We're honored to have been invited by The Made in America Movement and look forward to leveling the playing field for American manufacturing together." – Jon DeArment @ President & COO, Chanellock
"Annin Flagmakers would like to thank MAM for helping us secure a spot at the table for the Certified Made in America Panel on 7-19-17 at the White House. We feel it was a relevant meeting about an important topic that concerns all Americans. The current administration has made domestic manufacturing a priority and seems willing to work hard to help all domestic manufacturers succeed" – Carter Beard, President @ Annin Flagmakers
Our team at The Made in America works every day with our member companies to highlight them to consumers and to help educate people to look for the "Made in USA" label. This roundtable is just a small part of the proof of our efforts. What Margarita Mendoza started as a personal mission has turned into a movement impacting millions of people. We stand behind American businesses, strengthening our country and reinforcing our position among world leaders.
Want to see more pictures from behind the scenes at the White House?
Click here for an informal tour of some places in the White House that few people get to see.
---
Do you work with an American Made company? Are you an American manufacturer?
Please consider becoming a member so we can highlight you through the year and help tell your story. We also have sponsorship opportunities available for those that want to support MAM's efforts but are not yet able to use the Made in USA label.
"We at Authenticity 50 are extremely grateful to learn that The Made in America Movement (MAM) thought of us for the Made in America roundtable event, and put our name forward to the White House. It was a great honor to be chosen to be there, representing American-made. And it is an experience we will never forget. We have greatly enjoyed our partnership with MAM this year, and are happy to be involved with this amazing USA-made support organization." – Steph MacDonald, Co-founder @ Authenticity 50
How can you help as an individual?
Be sure to sign up for our newsletter. Stay tuned for upcoming giveaways, company stories, job opportunities, and more information on how to get involved. Also, please click here to tweet this story and the links below to share on other networks.
Click here to add your own text