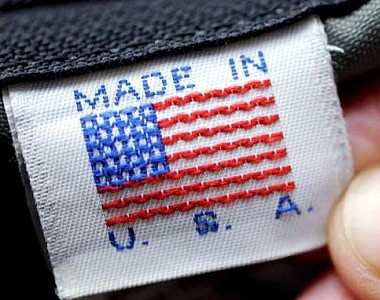 How You Can Make 'Made in America' Cool Again
Ralph Lauren's decision to manufacture the uniforms they are providing to the U.S. Olympic team in China sparked criticism on Capitol Hill and across the country. Many media sources reacted, as well, with arguments on why Ralph Lauren should or should not apologize for that choice.
While his prerogative is to "save a buck," the truth is, a self-made, American entrepreneur like himself should understand the value of U.S. manufacturing. It is about creating jobs, keeping money circulating in our own country, and decreasing our dependency on other countries.
In honor of the Summer Olympics and the entrepreneurs who have chosen to manufacture their product in America, I have compiled a resource guide with websites that provide lists of American made products. The hope is to encourage more consumers to buy "Made in America," as well as influence American companies to keep their manufacturing in the U.S.A.
The Made in America Movement The Made in America Movement is a bipartisan organization that promotes quality Made in America goods by sharing ideas on how to get involved, and providing lists of resources and Made in USA products.
Save the Garment Center Save the Garment Center is a trade association with a mission to promote New York City's Garment Center, and the Made in the USA brands who use it.  The website includes a list of American made clothing and accessory brands including Ana Sui, Nanette Lepore, Helmut Lang, and Jolie and Elizabeth.
Etsy Etsy turns artists into entrepreneurs and empowers people with the opportunity to grow their own businesses and change the way the economy currently works by selling USA and hand made items on the platform.
Sourcemap Created by the MIT Media Lab, Sourcemap allows you to track where some of your favorite, everyday products come from, what they are made of, and how it has impacted people, the environment, and the economy.
The Continuous Lean: The American List The Continuous Lean: The American List features a list of stylish and cool brands that manufacture in the U.S.A.   The list is an effort to appeal the younger, more stylish consumer and make "Made in the USA" items cool again.
USA Love List U.S.A. Love List was built on the principle of featuring great American made products, directing consumers to where they can purchase them, and inspire more companies to sell and manufacture more American made products.
Still Made in the USA Still Made in the USA is another database of American-made consumer products organized by category, including apparel, toys, and appliances. The website was launched by a busy mother of three as a result of her frustration with not being able to find American made products in one place.
Made Here in America Made Here in America is a directory of products made in the United States, with an extensive listing that includes clothing, makeup, and electronics.  The company descriptions even include where they are made and what percentage of their products are manufactured in the United States.
And, just a few more directories worth checking out…
As well as a few everyday products we love….
---
https://www.themadeinamericamovement.com/wp-content/uploads/2015/10/MADE-IN-USA-Label.jpg
300
380
MAM Team
https://www.themadeinamericamovement.com/wp-content/uploads/2017/08/Made-in-America-Movement-Logo_340x156.png
MAM Team
2012-07-19 12:08:31
2017-09-06 11:09:14
How You Can Make 'Made in America' Cool Again