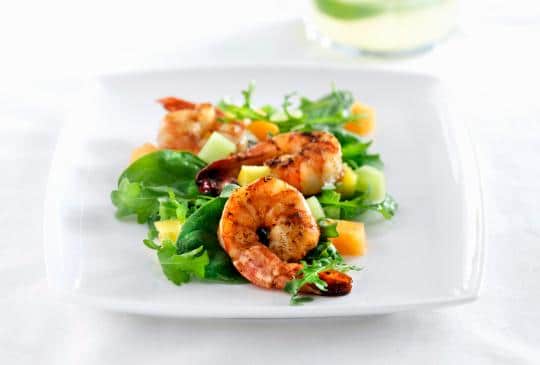 The Lowdown on Shrimp Labels
Shopping for shrimp is confusing. Packages can have so many labels that it's hard to know which ones to trust. One way to separate the best from the rest is to buy sustainably farmed or responsibly caught. We believe that your best choice is wild shrimp, especially those that have been responsibly caught in the U.S.
There are several reliable ways to find responsibly caught wild shrimp. One is to look for it sold at Whole Foods Market, and another is to look for the ones carrying the Marine Stewardship Council logo. You can also go to Monterey Bay Aquarium's seafoodwatch.org and look for shrimp listed as a "Best Choice" or "Good Alternative." Other labels, such as those listed below, can help identify sustainably farmed.
Whether you buy wild or farmed, purchasing shrimp featuring one of these trustworthy labels will ensure that you're buying the best for the planet—and ultimately for your health.
Trust these labels[p][/p]
Marine Stewardship Council
Indicates that wild shrimp are caught using sustainable fishing practices. That can include outfitting nets with devices that allow other animals to escape.
Aquaculture Steward­ship Council
Indicates they are raised without antibiotics and according to guidelines that protect the environment. This label also ensures that farms do not use forced labor. However, the guidelines permit the use of certain chemicals, including some pesticides, and don't limit the number of shrimp in a pond.
Naturland
Indicates that they are farmed following guidelines that prohibit over-stocking of shrimp ponds and the use of chemicals, including antibiotics, pesticides, and disinfectants. Shrimp are fed food made of sustainably caught fish meal, and farms do not use forced labor.
Whole Foods Market Responsibly Farmed
Certifies that they are raised in conditions that protect the environment, without anti­biotics, and with limited use of chemicals. But there's no limit on the density of shrimp in ponds. This label is found only at Whole Foods Market stores.
Don't trust these labels
Environmentally aware
An easy claim to make, but it's not backed by a consistent set of standards to ensure that they were sustainably caught or farmed.
Natural
This term has no official definition for shrimp. Ignore it.
No antibiotics
On meat and poultry, this term means what it says, but when it comes to shrimp, the term is not defined by the FDA.
No hormones
There is no government or official definition for this term on shrimp.
Organic
There is no approved standard for organic seafood in the U.S.
Sustainable
There is no regulated definition of "sustainable." Any seller can make this claim.
Turtle Safe
This claim is not backed by a consistent set of standards.
How much does your shrimp seller really know?
We wanted to find out what fishmongers really know about the shrimp they're selling, so our mystery shoppers went shopping for them near our Yonkers, N.Y., headquarters. Here are a few choice tidbits fish sellers told us:
| | | |
| --- | --- | --- |
| We asked | The seller's answer | The truth |
| "Are these shrimp organic?" |  "Yes, they're organic." | There are no organic standards for any seafood in the U.S. |
| "Why is wild shrimp more expensive?" | "Wild is more expensive because it's better for you." | According to our dietitians, farmed and wild shrimp have the same basic nutritional profile. But from a safety and sustainability standpoint, this fishmonger is right; our experts say that sustainably fished U.S. wild is the best choice. |
| "Why are antibiotics used in shrimp farming?" | "Antibiotics are used to make them taste better." | Antibiotics are used to combat or prevent disease—but shouldn't be. |
| "Should I wash my hands after handling raw shrimp?" | "No, you don't have to wash your hands after handling." | You should always wash your hands after touching raw shrimp. It can harbor bacteria that could make you sick. |
Editor's Note:This article also appeared in the June 2015 issue of Consumer Reports magazine.
---
https://www.themadeinamericamovement.com/wp-content/uploads/2015/04/04-28-15-Yahoo-How-safe-is-your-shrimp.jpg
365
540
The Made in America Movement Team
https://www.themadeinamericamovement.com/wp-content/uploads/2017/08/Made-in-America-Movement-Logo_340x156.png
The Made in America Movement Team
2015-04-28 11:05:10
2016-11-12 10:32:43
The Lowdown on Shrimp Labels