Could Newark Be a Manufacturing Hub Again?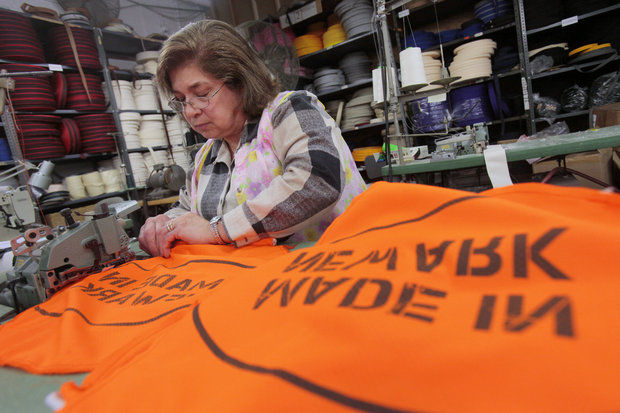 Maria Pereira of Parsippany is shown in this 2011 photo sewing draw-string backpacks with 'Made In Newark' printed on them at Unionware, a company in West Newark. A new report from the Brookings Institution examines Newark's manufacturing assets. (Star-Ledger file photo)
---
| | |
| --- | --- |
| Newark has much of what it would take to undergo a new manufacturing boom, but it also has much to overcome before it can, according to a new report from the Brookings Institution. The Washington D.C.-based think tank yesterday issued a 60-page study on the manufacturing sector in New Jersey's largest city, pointing out strengths and weaknesses its researchers found after a year-long survey of data and interviews with area manufacturers. | |
In doing so, the group also turned its observations into something of a road map for local officials, enterprises and universities that are looking to revive an industry that once defined the city. As part of its multipoint plan, Brookings fellows urged the city to remake itself into a hub for small manufacturers and "next generation" suppliers; create networking opportunities for local businesses, and pathways for students and others to get the skills they need to enter the modern world of manufacturing. Some of these processes are already underway, according to Newark Mayor Cory Booker, who spoke yesterday at a New Jersey Institute of Technology event to discuss the findings of the Brookings report. "We have now elevated this as a primary goal," he said. "'Made in America' can really become a rallying cry," he said later. The Brookings study comes out at a time when public policy specialists are exploring ways to spark a new wave of American manufacturing and reinvigorate its export economy. Some say the U.S. is now poised to see more manufacturing return here as production costs climb in areas like China, instability strikes elsewhere and energy costs fall domestically. Though a shadow of its former self, Newark shows promise for such a renaissance, Brookings researchers wrote. The city, at the heart of the largest consumer market in the United States, is packed with resources and infrastructure that would support the manufacturing industry, and it is also situated on prime shipping and transportation lines. Within Newark, there is a wide availability of industrial property, and a high quotient of "intellectual capital" that could spur innovation: the number of scientists and engineers based in the city — 29.8 per square mile — is the densest in the world, researchers found.
---
https://www.themadeinamericamovement.com/wp-content/uploads/2017/08/Made-in-America-Movement-Logo_340x156.png
0
0
MAM Team
https://www.themadeinamericamovement.com/wp-content/uploads/2017/08/Made-in-America-Movement-Logo_340x156.png
MAM Team
2013-05-30 11:58:33
2020-09-18 11:15:15
Could Newark Be a Manufacturing Hub Again?