Construction Industry Experienced Best Month since 2006
The ADP and Moody's Analytics job report shows that December was the strongest month in 2013 and the construction industry experienced its best month since 2006.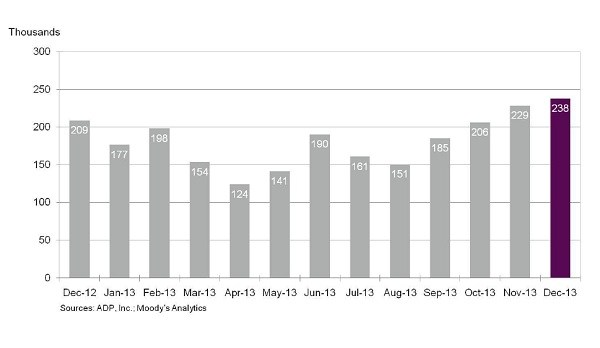 According to the report released today by payroll company ADP and Moody's Analytics, the U.S. nonfarm private sector added 238,000 jobs in December. This is the strongest job growth for any month in 2013, surpassing November's high of 229,000, which ADP initially reported as 215,000.
The construction industry experienced its best month since 2006, with 48,000 jobs added to the payrolls, up from the 18,000 added in November. The manufacturing industry also had a strong month, adding 19,000 jobs in December, up slightly from last month's report of 18,000.
Change in nonfarm private employment by selected industry
"Job growth meaningfully accelerated and is now over 200,000 per month. Job gains are broad-based across industries, most notably in construction and manufacturing," said chief economist of Moody's Analytics Mark Zandi in a press release.
Goods-producing employment increased by 69,000 jobs last month, an increase from the revised figure of 46,000 added in November. That brings the total goods-producing employment for 2013 to 286,000 jobs. ADP claims that nearly 75 percent of this increase is attributed to the construction industry as the housing recovery increased throughout the year.
Service-providing industries, a large category that likely includes architects and engineers in the professional and business services sector, rose by 170,000 jobs last month, down from the revised November figure of 182,000. Employment in this field increased by nearly 1.9 million jobs over the course of 2013.
Looking ahead to 2014, Zandi predicts that the average job growth for the next year will be about 225,000 jobs per month. "That's a pretty good year by almost any standard," he said in a conference call.
The U.S. Bureau of Labor Statistics employment report is scheduled for release on Friday morning, providing more detailed information about the economic state of the construction and architecture fields.
https://www.themadeinamericamovement.com/wp-content/uploads/2017/08/Made-in-America-Movement-Logo_340x156.png
0
0
MAM Team
https://www.themadeinamericamovement.com/wp-content/uploads/2017/08/Made-in-America-Movement-Logo_340x156.png
MAM Team
2014-01-17 11:41:27
2020-09-18 11:16:00
Construction Industry Experienced Best Month since 2006