Europeans Want U.S. to Ditch "Buy American" Rules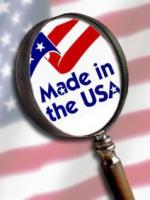 Michael Stumo
---
Obama keeps pushing a Trans Atlantic trade deal with Europe, despite the fact that other trade deals have helped make the trade deficit worse.
One of the goals for Europeans is to get rid of Buy American rules in the U.S.
| | | |
| --- | --- | --- |
| | In particular, the [European Union] wants to pry open so-called public procurement markets and scrap "Buy American" clauses that restrict the ability of European companies to sell goods and services to states and cities. | |
The U.S. public strongly believes their taxpayer dollars should be spent procuring from U.S. companies and workers.  A majority in Congress votes for Buy American rules in infrastructure and other bills.  Rep. Dan Lipinski (D-IL) and Sen. Chris Murphy (D-CT) have been leading the efforts recently.  How can a fiscal stimulus have an impact if we buy foreign goods with taxpayer money?  That's one difference between the FDR stimulus of the Great Depression and the smaller Obama stimulus of the Great Recession… offshore leakage of the government spending.

It's not surprising that Europe wants to replace U.S. businesses and workers in government contracts.  The U.S. federal government is the biggest consumer in the world… and when you add in the state and local governments, it's really big.  From the U.S. side there is simply no way we'd come away with a net benefit with theoretical market access by our so-called "U.S." multinationals (who don't really consider themselves U.S. anymore) to other smaller government procurement markets.  It simply doesn't ever work that way.

I'm not sure where the Obama Administration is coming from on this.  The biggest source of jobs and growth will come from reducing the trade deficit.  We had a record $735B goods trade deficit last year, including a $300B goods deficit with China.  Trade deals simply don't help the trade deficit, usually make things worse, and tie our hands for fixing the problem.

---
https://www.themadeinamericamovement.com/wp-content/uploads/2017/08/Made-in-America-Movement-Logo_340x156.png
0
0
MAM Team
https://www.themadeinamericamovement.com/wp-content/uploads/2017/08/Made-in-America-Movement-Logo_340x156.png
MAM Team
2013-03-18 11:55:49
2013-03-18 11:55:49
Europeans Want U.S. to Ditch "Buy American" Rules