For offshored Jobs to Return, Rich Countries Must Prove That They Have What it Takes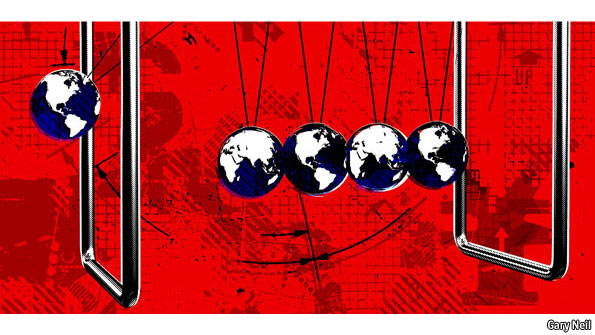 Jan 19th 2013
---
THE WEST HAS become so obsessed with losing vast numbers of jobs to globalisation that its anxiety is now the butt of jokes. The Onion, a satirical website, recently reported that parents are outsourcing child care to India and Sri Lanka, using cardboard boxes to ship their offspring across the oceans.
A country's overall level of employment is determined by macroeconomic forces; trade and offshoring affect the mix of employment and wages. Within particular industries, outsourcing and offshoring have been among globalisation's most disruptive consequences. The threat of losing jobs to developing countries has helped to depress middle-class pay in the rich world. But despite all the scares about job losses in the West, the trend is already slowing and may soon start to tail off. The main fear in recent years has been the migration of white-collar work, which makes up the majority of jobs in rich countries. Yet offshoring has destroyed far fewer service jobs than originally feared, and in manufacturing, where blue-collar jobs in industries such as computers, cars and textiles have been on the wane for decades, reshoring could even bring a revival.
Mr Blinder of Princeton University was among the most prominent economists to give early warning about the impact of sending services abroad. In an article in Foreign Affairs in 2006 he said that up to 42m American services jobs could eventually be lost; the shift could add up to a third industrial revolution.

It has now become clear that the worst fears have not been realised. Nobody knows exactly what offshoring has done to American employment since 2006, but estimates by specialist consulting firms such as the Hackett Group, based on confidential data from corporate clients, come up with relatively low figures. According to Hackett, the net number of business-services jobs in big American and European companies lost between 2002 and 2016 is likely to be around 3.7m, and only 2.1m of those will have been due to offshoring. That works out at a loss from that cause of just 150,000 jobs a year. .

The firm's current estimate of how much has been lost and what is still to come is much closer to a forecast by Forrester Research back in 2004 that 3.4m American services jobs would move offshore by 2015, or about 300,000 jobs a year. McKinsey has also been far more sanguine than Mr Blinder; it said in 2006 that 11% of service jobs around the world could in theory be carried out "remotely". In practice, it thought, only about 650,000 jobs a year would be affected. So far the optimists have been proved right.

The number one job-killer in America in recent years has been the recession, says Mr Blinder: "Only a trivial percentage of jobs has been claimed by offshoring." He thinks that the move to reshore some manufacturing jobs is important, even though the scale of it is still small, but that a wave of services offshoring could yet hit Western countries. The main reason is advances in information and communications technology that could allow more and more senior and skilled jobs to be sent abroad. But it would take big cost savings to justify having such sophisticated, "high-touch" services done at a distance, and those savings are gradually disappearing, as this report has shown. Pay for highly skilled, English-speaking workers in developing countries who could offer such services is rising rapidly. And companies are becoming increasingly concerned that offshoring services may do longer-term damage.

The best argument for locating activities overseas nowadays is to be close to fast-growing new markets, and it will only become stronger. McKinsey estimates that by 2025 developing economies will account for nearly 70% of demand for manufactured goods. Whereas in the past firms treated such markets as sources of cheap labour, they are now looking for a deep local presence. ABB, for instance, has gone from having what it calls a "cost arbitrage" strategy for countries such as China to taking an "in country for country" approach, meaning that it wants not only manufacturing but also functions such as product management and R&D to be based there.

Strong growth in emerging countries will also prompt their own new multinationals to set themselves up as "local" in the West. The Rhodium Group, a consulting firm, says that Chinese investment in America has already created nearly 30,000 jobs there, and that by the end of the decade Chinese firms will employ up to 400,000 Americans.

Will reshoring and the move of emerging-country multinationals into Western markets generate lots of new jobs in the rich world? The Boston Consulting Group thinks that reshoring alone could generate 2m-3m jobs in manufacturing by 2020, up to 1m of which would come direct from factory work and the rest from support services such as construction, transport and retail.

A trickle, not a flood

But it is important not to overestimate the impact of reshoring on jobs. Manufacturing work will often come back only when it has been partly automated, so the number of jobs returning will be smaller than the number lost in the first place. Most companies that have recently built new facilities or expanded existing ones in America have brought in more automation, says BCG's Mr Sirkin. NatLabs, for instance, a Florida-based manufacturer of dental implants, reshored much of its production from China because it was able to automate a large part of it. The best that can be hoped for, says Michel Janssen of Hackett, is not that millions of high-paying jobs will return and things will be as they were before, but that "the leak of jobs out of America will be largely stopped."


"Companies' decisions on where to locate will increasingly be driven by where they can find the skilled workers they need"
Governments around the world have used generous financial incentives in an effort to attract companies to move to their countries. These range from hard cash and corporate-tax holidays to cheap loans. For instance, back in 2005 Dell was promised incentives worth up to $280m by the state of North Carolina and the city of Winston-Salem to open a factory there. When Dell pulled out in 2009 it had to pay back much of the $24m it had already received. In 2007 North Carolina offered Google a $260m package to expand a server farm near the Blue Ridge Mountains—which the internet giant eventually declined.

Companies are becoming more sceptical about short-term enticements, and governments would do much better to work on the most useful and durable sort of incentive: the business environment they offer. In recent years policymakers have been able to point to the global labour arbitrage as the obvious and overwhelming reason why firms offshore. When Harvard Business School surveyed companies that were moving activities outside America, it found that lower wage rates were the main attraction for 70% of them. But a third also said that they were moving out to get better access to skilled labour.

As the gap in worldwide wage rates narrows further, it will become more obvious that other factors, such as skills, labour law, clusters of industries, infrastructure, tax and regulation are playing an ever more important role when companies decide wh
ere to
put their production. Now that many firms are taking another look at their outsourcing and offshoring policies, governments need to give them every reason to come back. "If companies are offshoring because of fixable policy problems at home," says Mr Porter, "that is unforgivable."

Can't get the staff

In a recent report on global manufacturing, McKinsey said that in the near future the world is likely to have too few high-skilled workers and not enough jobs for low-skilled workers. Companies' decisions on where to locate will increasingly be driven by where they can find the skilled workers they need. In 2011 a survey of 2,000 American companies found that 43% of manufacturing firms took longer than six months to fill some of their vacancies. The United States has a particular problem because it is producing too few college graduates and too many high-school dropouts. In Japan, four-fifths of companies have problems finding technicians and engineers. As a result, many firms will be unable to reshore because they cannot find workers with the right skills.

Another big problem is labour flexibility, which still varies greatly from country to country. In Britain, says Hans Leentjes, president for northern Europe at Manpower, an employee can be fired by following due process and paying a week's severance money for each year worked. In Germany, by contrast, companies have to negotiate a settlement and pay between one and two months' salary for each year worked. The German employee can still go to court and the company may have to reinstate him. "In a global economy where firms can go where they want, these differences have an effect," says Mr Leentjes.

There are signs that labour in rich countries is becoming more flexible at the same time as workers in Asia are slowly acquiring more rights. Multinationals now recognise America's low-cost, flexible workforce as an important attraction. Spurred by the euro crisis, Spain and Italy have both introduced big labour-market reforms. Another sign of the times is that Western carworkers are willing to work night shifts again. In August last year Jaguar Land Rover, owned by Tata, announced the return of night shifts at its factory near Liverpool, and the Big Three American carmakers are increasingly working around the clock. At the same time carworkers in South Korea, once the sort of hard-working, poorly paid competition feared in the West, succeeded in abolishing night shifts at Hyundai and Kia, two big firms.

But it is probably only in America and Britain that labour is flexible enough to have a good chance of persuading companies to reshore production. At the other extreme sits France, where Arnaud Montebourg, the minister appointed to rebuild his country's industry, late last year told Lakshmi Mittal, an Indian steel tycoon, that he was not wanted in France after his struggling company, ArcelorMittal, tried to shut down blast furnaces.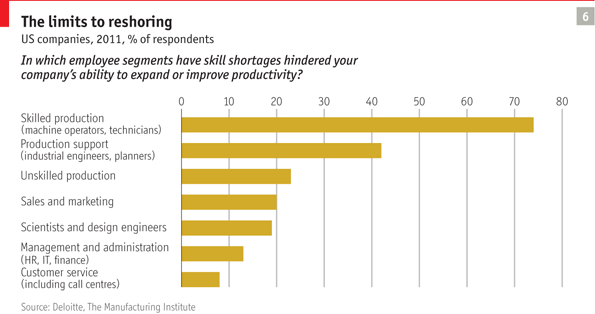 And where firms are able to keep production onshore, it is often thanks to immigrant workers. Jenlo Apparel Manufacturing relied on workers of Chinese and Vietnamese origin in Montreal, and ET Water Systems reshored to a San Jose-based contractor employing workers of South-East Asian origin. An important element of the low-cost tier of American labour is immigration, both legal and illegal, from Mexico. "The more that free movement of people is allowed between countries, the less companies need to offshore," says Darryl Green, one of Manpower's presidents.

Agencies providing temporary staff, such as Manpower, play their part, allowing firms to treat workers as a flexible resource not a fixed cost. It is no accident that Manpower's biggest market is France. In Japan the labour market is also rigid. Back in 2007 Fujio Mitarai, chief executive of Canon, a maker of optical products, said that temporary agencies had helped manufacturing firms avoid the "hollowing out" of industry. But now the government has restricted the use of temporary workers. Along with the appreciation of the yen, that is prompting more offshoring by Japanese firms, says Manpower's Hiroyuki Izutsu.

Lenovo's North Carolina headquarters, inherited from IBM, sits at the heart of the state's Research Triangle Park, a regional cluster of universities and hi-tech businesses. It is an example of the sort of business ecosystem that is capable of drawing corporate investment from around the world. The area boasts competitive costs, highly skilled workers, a close partnership with local universities and a business-friendly environment. Unlike Dell, Lenovo is taking no money at all from the state government for starting to manufacture at Whitsett.

Internally the firm's factories compete hard with each other on cost, productivity and quality. It will quickly become clear if "Made in America" is a luxury or whether it creates sustained value for the Chinese firm. Tony Pulice, the firm's factory manager in North Carolina, is ready to show what his country can do.

---
https://www.themadeinamericamovement.com/wp-content/uploads/2017/08/Made-in-America-Movement-Logo_340x156.png
0
0
MAM Team
https://www.themadeinamericamovement.com/wp-content/uploads/2017/08/Made-in-America-Movement-Logo_340x156.png
MAM Team
2013-01-20 12:01:48
2013-01-20 12:01:48
For offshored Jobs to Return, Rich Countries Must Prove That They Have What it Takes