Hottest Accessory for Spring? A Made in U.S.A. Label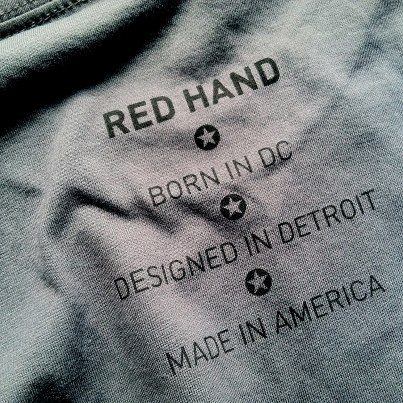 Jody Melto

---
Made in the U.S.A.

What used to be a patriotic rally cry of Appalachian and Rust Belt states (having grown up in a West Virginia steel-working family, I can say that) is now the socially-responsible and eco-friendly marketing campaign for a new trend of designers.

And tonight you can see two product lines for yourself.
D.C.-based designer Tim Neill will launch 
Red Hand
, his new line of accessories for men, at the
Wonderland Ballroom
 (1101 Kenyon St NW in Columbia Heights) from 5:30-9 p.m.
And N.Y.-based designer 
Allison Parris 
is showcasing her stunning spring line of frilly, girly-girl party dresses at 
Room & Board
 (1840 14th Street NW) from 7- 9 p.m.
Two very different designers. Two very different product lines. One similar mission — producing unique, high-quality clothing and accessories with fair-wage stitching and socially-responsible thread counts. 
For both Neill and Parris, this is philosophy mixed with good business. They have identified a growing demographic — people who shop consciously.

"We are absolutely seeing a shift in consumer attitude," adds Neill, whose Red Hand line focuses on men who are "bored with the mediocre products offered by many of the retail apparel chains and who can't afford the premium stores or boutiques."

"I think that people finally understand the repercussions of their buying decisions," he adds.

Parris feels it's a slowly growing trend. "I think little by little, as the economy gets better and people can afford it more, it will continue to swing further in that direction."

She built her line "around the idea that 'retaining moral values' and 'being able to wear beautiful, well-made clothing' are not mutually exclusive actions."

And to her fair wage is a "feel-good thing."

"You want to know that your dress isn't made by child labor and that the people making it are being treated fairly," she explains.

Forget wonks, academics and think tanks. When discussing the problems of starting a business in the U.S., there's no more knowledgeable source than someone actually engaged in the process. Neill sounds more like a Harvard economics professor than entrepreneur as he talks about getting Red Hand operational. No offense to entrepreneurs.

"The biggest challenge we had in making (our) product here," he explains, "was identifying good and viable manufacturers to work with." In fact, if he were president for a day, Neill would "fund and support institutions charged with pairing ideas and companies with viable manufacturers."

On the lighter side. It's fashion. Nobody wants to wear socially-conscious fashion if it sucks. Both product lines are fun, unique and inspired.

And if you think a night out with fashion does not a good date make … well, you'd be right.

But that's okay.

Because tonight the men can drink a pint at Wonderland and peruse Neill's belt buckles hand-crafted from auto parts and pharmaceutically-themed neckties and the women can succumb to Parris's 1950s-inspired confections while being seduced by Don Draper. In their heads. Room & Board has just the right set design for that fantasy. Hopefully, they'll be serving very dry martinis, a detail I could not confirm.

Although, if gift-buying is in your near future, I suggest you pick accordingly.

---
https://www.themadeinamericamovement.com/wp-content/uploads/2017/08/Made-in-America-Movement-Logo_340x156.png
0
0
MAM Team
https://www.themadeinamericamovement.com/wp-content/uploads/2017/08/Made-in-America-Movement-Logo_340x156.png
MAM Team
2013-03-28 12:00:19
2013-03-28 12:00:19
Hottest Accessory for Spring? A Made in U.S.A. Label