How We Could Create Jobs While Reducing The Trade Deficit and National Debt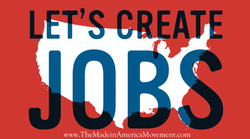 ---
There are numerous ideas and recommendations on how we could create jobs but most job creation programs proposed involve either increased government spending or reductions in income or employment taxes at a time of soaring budget deficits and decreased government revenue. Other recommendations would require legislation to change policies on taxation, regulation, or trade that may be difficult to accomplish. The recommendations in this article focus on what could be done the fastest and most economically to create the most jobs while reducing our trade deficit and national debt.
Manufacturing is the foundation of the U. S. economy and the engine of economic growth. It has a higher multiplier effect than service jobs. Each manufacturing job creates an average of three to four other supporting jobs. So, if we focus on creating manufacturing jobs, we would be able to reduce the trade deficit and national debt at the same time.
The combined effects of an increasing trade deficit with China and other countries, as well as American manufacturers choosing to "offshore" manufacturing, has resulted in the loss of 5.7 million manufacturing jobs since the year 2000. If we calculate the multiplier effect, we have actually lost upwards of 17 to 22 million jobs, meaning that we have fewer taxpayers and more consumers of tax revenue in the form of unemployment benefits, food stamps, and Medicaid.
In 2012, the U.S. trade deficit with China reached a new record of 
$315 billion
. According to a recent 
study
 by the Economic Policy Institute (EPI), the trade deficit with China cost 2.7 million U.S. jobs from 2001-2011. The Department of Commerce estimates that each $1 billion in trade deficit translates to about 13,000 lost jobs, so the $738 billion trade deficit in goods for 2012 cost upwards of 9,599,200 jobs.
What Congress Could Do
First, Congress should enact legislation that addresses China's currency manipulation. Most economists believe that China's currency is undervalued by 30-40% so their products may be cheaper than American products on that basis alone. To address China's currency manipulation and provide a means for American companies to petition for countervailing duties, the Senate passed S. 1619 in 2011, but GOP leadership prevented the corresponding bill in the House, H. R. 639, from being brought up for a vote, even though it had bi-partisan support with 231 co-sponsors. On March 20, 2013, Sander Levin (D-MI), Tim Murphy (R-PA), Tim Ryan (D-OH), and Mo Brooks (R-AL) introduced the Currency Reform for Fair Trade Act in the House and a corresponding bill will be introduced in the Senate.
Second, Congress should strengthen and tighten procurement regulations to enforce "buying American" for all government agencies and not just the Department of Defense. All federal spending should have "buy America" provisions giving American workers and businesses the first opportunity at procurement contracts. New federal loan guarantees for energy projects should require the utilization of domestic supply chains for construction. No federal, state, or local government dollars should be spent buying materials, equipment, supplies, and workers from China.
My other recommendations for creating jobs are based on improving the competitiveness of American companies by improving the business climate of the United States so that there is less incentive for American manufacturing companies to outsource manufacturing offshore or build plants in foreign countries. The following proposed legislation would also prevent corporations from avoiding paying corporate income taxes:
Reduce corporate taxes to 25 percent
Make capital gains tax of 15 percent permanent
Increase and make permanent the R&D tax credit
Eliminate the estate tax (also called the Death Tax)
Improve intellectual property rights protection and increase criminal prosecution
Prevent sale of strategic U.S.-owned companies to foreign-owned companies
Enact legislation to prevent corporations from avoiding the U.S. income tax by reincorporating in a foreign country
It is also critical that we not approve any new Free Trade Agreements, such as the Trans-Pacific Partnership and Trans-Atlantic Partnership that are currently proposed. The U.S. has a trade deficit with every one of its trading partners from NAFTA forward, so Free Trade Agreements have hurt more than helped the U.S. economy.

What States and Regions Could Do

State and local government can work in partnership with economic development agencies, universities, trade associations, and non-profit organizations to facilitate the growth and success of startup manufacturing companies in a variety of means:

Improve the Business Climate – Each state should take an honest look at the business climate they provide businesses, but especially manufacturers since they provide more jobs than any other economic sector. The goal should be to facilitate the startup and success of manufacturers to create more jobs. I recommend the following actions:

Reduce corporate and individual taxes to as low a rate as possible
Increase R&D tax credit generosity and make the R&D tax credit permanent
Institute an investment tax credit on purchases of new capital equipment and software
Eliminate burdensome or onerous statutory and environmental regulations
Establish or Support Existing Business Incubation Programs, such as those provided by the members of the National Business Incubation Alliance. Business incubators provide a positive sharing-type environment for creative entrepreneurship, often offering counseling and peer review services, as well as shared office or laboratory facilities, and a generally strong bias toward growth and innovation.

Facilitate Returning Manufacturing to America – The Reshoring Initiative,  founded by Harry Moser in 2010, has a  mission to bring good, well-paying manufacturing jobs back to the United States by assisting companies to more accurately assess their total cost of offshoring, and shift collective thinking from "offshoring is cheaper" to "local reduces the total cost of ownership." The top reasons for U. S. to reshore are:

Brings jobs back to the U.S.
Helps balance U.S., state and local budgets
Motivates recruits to enter the skilled manufacturing workforce
Strengthens the defense industrial base
According to Mr. Moser, the Initiative has documented case studies of companies reshoring showing that "about 220 to 250 organizations have brought manufacturing back to the U.S….with the heaviest migration from China. This represents about 50,000 jobs, which is 10% of job growth in manufacturing since January 2010."

State and/or local government could facilitate "reshoring" for manufa
cturer
s in their region by conducting Reshoring Initiative conferences to teach participants the concept of Total Cost of Ownership, how to use Mr. Moser's free Total Cost of Ownership Estimator™, and help them connect with local suppliers.

Establish Enterprise Zones and/or Free Trade Zones: Enterprise Zones provide special advantages or benefits to companies in these zones, such as:

Hiring Credits – Firms can earn state tax credits for each qualified employee hired (California's is $37,440)
Up to 100% Net Operating Loss (NOL) carry-forward for up to 15 years under most circumstances.
Sales tax credits on purchases of up to $20 million per year of qualified machinery and machinery parts;
Up-front expensing of certain depreciable property
Apply unused tax credits to future tax years
Companies can earn preference points on state contracts.
States located on international borders could also establish Foreign Trade Zones (FTZs), which are sites in or near a U.S. Customs port of entry where foreign and domestic goods are considered to be in international trade. Goods can be brought into the zones without formal Customs entry or without incurring Customs duties/excise taxes until they are imported into the U. S. FTZs are intended to promote U.S. participation in trade and commerce by eliminating or reducing the unintended costs associated with U.S. trade laws

What Individuals Could Do

There are many things we could do as individuals to create jobs and reduce our trade deficits and national debt. You may feel that there is nothing you can do as an individual, but it's not true! American activist and author, Sonia Johnson said, "We must remember that one determined person can make a significant difference, and that a small group of determined people can change the course of history."

If you are an inventor ready to get a patent or license agreement for your product, select American companies to make parts and assemblies for your product as much as possible. There are some electronic components that are no longer made in the U. S., so it may not be possible to source all of the component parts with American companies. There are many hidden costs to doing business offshore, so in the long run, you may not save as much money as you expect by sourcing your product offshore. The cost savings is not worth the danger of having your Intellectual Property stolen by a foreign company that will use it to make a copycat or counterfeit product sold at a lower price.

If you are an entrepreneur starting a company, find a niche product for which customers will be willing to pay more for a "Made in USA" product. Plan to sell your product on the basis of its "distinct competitive advantage" rather than on the basis of lowest price. Select your suppliers from American companies as this will create jobs for other Americans.

If you are the owner of an existing manufacturing company, then conduct a Total Cost of Ownership analysis for your bill of materials to see if you could "reshore" some or all of the items to be made in the United States. You can use the free TCO worksheet estimator to conduct your analysis available from the Reshoring Initiative at www.reshorenow.org. Also, you could choose to keep R&D in the United States or bring it back to the United States if you have sourced it offshore.

If enough manufacturing is "reshored" from China, we would drastically reduce our over $700 billion trade deficit in goods. We could create as many as three million manufacturing jobs, which would, in turn, create 9 – 12 million total jobs, bringing our unemployment down to 4 percent.

You may not realize it, but you have tremendous power as a consumer. Even large corporations pay attention to trends in consumer buying, and there is beginning to be a trend to buy 'Made in USA" products. As a result, on January 15, 2013, Walmart and Sam's Club announced they will buy an additional $50 billion in U.S. products over the next 10 years.

U.S. voters supported Buy America policies by a 12-to-1 margin according to a survey of 1,200 likely general election voters conducted between June 28 and July 2, 2012 by the Mellman Group and North Star Opinion Research. The overwhelming support has grown since prior iterations of the same poll – Buy America received an 11-to-1 margin of support in 2011 and a 5-to-1 margin in 2010. A survey by Perception Services International of 1400 consumers in July 2012, found that 76% were more likely to buy a U.S. product and 57% were less likely to buy a Chinese product.

As a consumer, you should pay attention to the country of origin labels when they shop and buy "Made in USA" products whenever possible. Be willing to step out of your comfort zone and ask the store owner or manager to carry more "Made in USA" products. If you buy products online, there are now a plethora of online sources dedicated to selling only "Made in USA" products. Each time you choose to buy an American-made product, you help save or create an American job.

In his book, Buying America Back:  A Real-Deal Blueprint for Restoring American Prosperity, Alan Uke, recommends Country of Origin labeling for all manufactured products that "puts control in the hands of American consumers to make powerful buying choices to boost our economy and create jobs," as well as reduce our trade deficit. The labels would be similar to the labels on autos, listing the percent of content by country of all of the major components of the product. This Country of Origin labeling would enable American consumers to make the decision to buy products that have most of their content "made in USA."

If every American would make the decision to buy American products and avoid imports as much as possible, we could make a real difference in our nation's economy. For example, if 200 million Americans bought $20 worth of American products instead of Chinese, it would reduce our trade imbalance with China by four billion dollars. During the ABC World News series called "Made in America," Diane Sawyer has repeatedly said, "If every American spent an extra $3.33 on U. S.-made goods, it would create almost 10,000 new jobs in this country."

In conclusion, if we want to create more jobs, reduce our trade deficit and national debt, we must support our manufacturing industry so that it could once again be the economic engine for economic growth. Following the suggestions in this article could make the "Great American Job Engine" roar once again.

---
https://www.themadeinamericamovement.com/wp-content/uploads/2017/08/Made-in-America-Movement-Logo_340x156.png
0
0
MAM Team
https://www.themadeinamericamovement.com/wp-content/uploads/2017/08/Made-in-America-Movement-Logo_340x156.png
MAM Team
2013-03-29 12:00:19
2013-03-29 12:00:19
How We Could Create Jobs While Reducing The Trade Deficit and National Debt