Intel's First Factory Customer Touts Made-in-USA Chips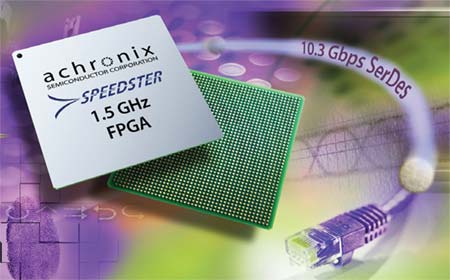 Don Clark
---
A chip company called 
Achronix 
on Wednesday announced that the first fruits of Intel's new build-to-order service are emerging from the factory. That's a milestone for both companies, and a surprising sidelight could play into the story–worries about dependence on non-U.S. manufacturers.
The Silicon Valley startup in 2010 turned to Intel, which opted to break from long-standing practice and use its sophisticated factories and manufacturing processes to serve customers beyond Intel's own chip-design groups. Achronix became one of two publicly announced users of the new Intel foundry business, as such services are called.
Intel believes it can make smaller and more sophisticated transistors than other foundries. Achronix, which makes a variety of programmable chips that use lots of transistors, says its bet on Intel has paid off as advertised.
The chips, which include models with a whopping six billion transistors, consume half the power of competing chips and cost about half as much, Achronix says. It is shipping sample quantities to customers now and, when extended testing is completed, will be shipping them in volume in the third quarter, says Robert Blake, the company's president and chief executive officer.
Most foundry factories are in Taiwan or other parts of Asia. Achronix is quick to point out that the entire process of making its chips is handled in the United States.
An Intel factory in Oregon fabricates the Achronix chips on silicon wafers. They are then shipped to facilities Arizona for packaging.
Though U.S. makers of computers and other devices have long relied on foreign suppliers, government agencies and companies that sell to them often express a preference for hardware produced domestically. Achronix expects many of chips will be used to companies that make gear used in applications like high-performance computing, networking, security and encryption.
In those kinds of products, government officials want to make sure where key components are made–and that they don't include secret "back doors" or other features that could be exploited by foreign intelligence agencies. Such concerns may be fueled further by a growing number of reports about cyber attacks on U.S. institutions that some experts link to Asia and Europe.
Asked if the idea of domestic manufacturing is resonating with hardware makers, Achronix Chairman John Lofton Holt "absolutely."
Blake added: "It comes up quite often with customers. They would like to source devices that are manufactured in the U.S. and they've never had that choice before."
Not that Achronix, or Intel, are likely to exclusively use that selling point. Rival Globalfoundries has new manufacturing facilities near Albany, N.Y., that it has cited as a key selling point.
Besides Achronix, Intel has identified another programmable-chip startup, Tabula, as a customer of its foundry services. It also says it has other customers who choose not to be identified yet.
The chip giant is frequently asked–and declines to talk about–about rumors that it might one day serve larger customers, such as Apple. It has only made clear that it won't serve companies that include its direct customers.
If Intel ever does want to serve high-volume customers, Achronix believes that it could. "They've become a real foundry," says Holt.
---
https://www.themadeinamericamovement.com/wp-content/uploads/2017/08/Made-in-America-Movement-Logo_340x156.png
0
0
MAM Team
https://www.themadeinamericamovement.com/wp-content/uploads/2017/08/Made-in-America-Movement-Logo_340x156.png
MAM Team
2013-02-23 12:01:16
2013-02-23 12:01:16
Intel's First Factory Customer Touts Made-in-USA Chips