Made in USA Sees An Uptick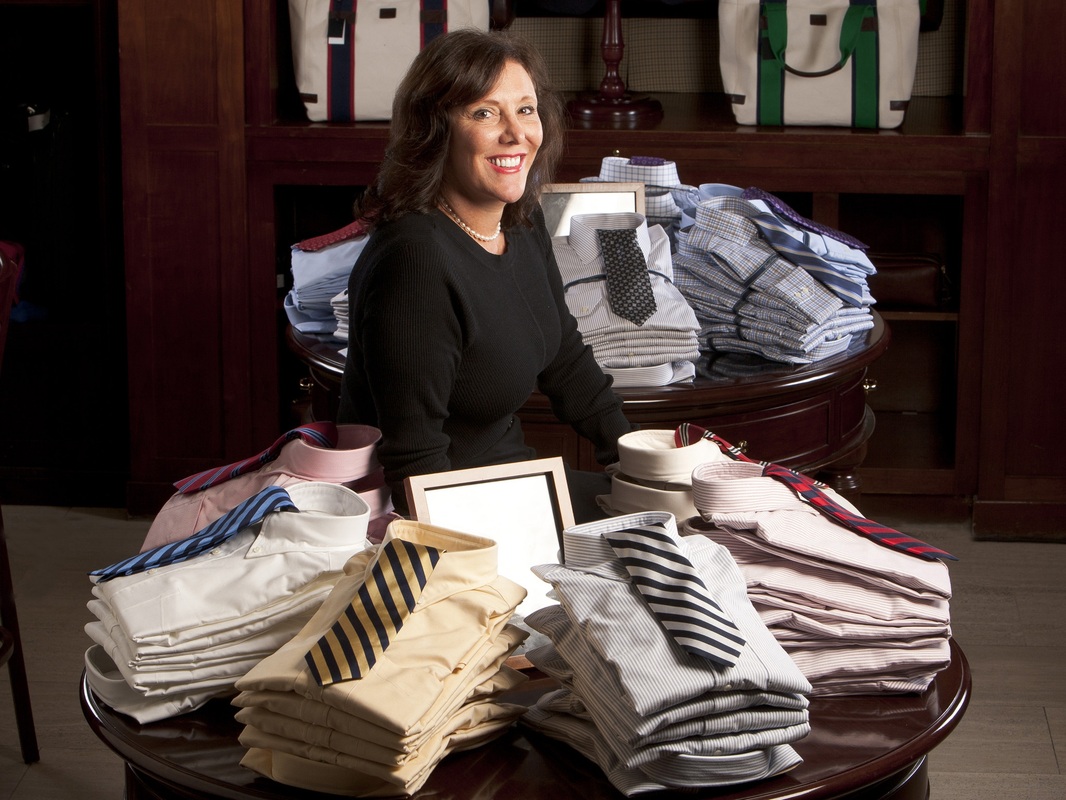 LOCAL TIES: Paulette Garafalo of Brooks Brothers, which manufactures neckwear at a factory in Long Island City. | Photo: Buck Ennis
Adrianne Pasquarelli
February, 2013
---
Apparel-making picks up (slightly) in NYC as trends favor city manufacturers.
Manufacturing clothes in the garment center might seem like a step back in time—but it's actually forward growth for Ricky Schiffer. In December, the third-generation sweater maker, with his business partner, Leonard Keff, opened a 7,500-square-foot knitting factory on West 36th Street.
"We are just the first of many to come," said Mr. Schiffer, who has committed $2.6 million to the project. "We'll keep growing."
The Made in USA movement
is gaining steam, as retailers from Brooks Brothers to Walmart push to manufacture their wares in the United States to appeal to patriotic consumers and avoid costly overproduction as overseas labor and shipping costs rise. Surprisingly, the trend is playing out on a smaller scale in the city.
For an area that has seen apparel-making plummet—last year, on average, there were 14,900 apparel manufacturing workers in New York City, and two decades ago, there were more than 80,000, according to the New York State Department of Labor—new factories are welcome additions.
Mr. Schiffer's factory, Keff NYC, has eight knitting machines (each costs $100,000), and he has ordered a dozen more. Though the company is currently making samples, Mr. Schiffer expects to engage in production of up to thousands of units. The company has already signed Abercrombie, Opening Ceremony and Burt's Bees Baby as clients. It's also producing uniform accessories, including hats, gloves and scarves, for the 2014 Winter Olympic Games.
Orders up by 30%Meanwhile, Stoll America, a 140-year-old knitting-machine seller that also makes apparel, opened an outpost on West 39th Street in 2009 and has been growing ever since. The company employs 21 workers, up from 12 four years ago, and has seen orders increase by 30% since 2010.
"Up until now, no one was around where designers could get samples done," said Marcus Kirwald, product development manager. "They had to send them out, and there was lot of time and frustration involved."
Brooks Brothers has made a name for itself in local production—it has manufactured its ties at a Long Island City, Queens-based factory for decades, for example, and operates two additional East Coast facilities—and is working to strengthen its capabilities. In its neckwear factory, which last year produced 1.5 million cravats, Brooks Brothers employs 300 workers, up 10% since early 2011. Three years ago, the brand overhauled its operations from assembly line to "module," or manufacturing by team, to become more efficient, and it began producing apparel for other brands, such as Club Monaco and Jack Spade.
The clothier now promotes its American-made wares through a special section on its website and specific catalogs—recognizing that consumers are paying attention to the origin of their clothing. (
Ralph Lauren
 was criticized last summer for making the U.S. Olympic team's uniforms in China.)
"It's really critical as part of our heritage and our culture that we maintain and actually increase American manufacturing," said Paulette Garafalo, president of international and manufacturing at Brooks Brothers.
Asia's rising middle class also has altered the landscape. Asian shoppers are beginning to covet U.S.-made brands, according to some designers. New York-based designer Patrik Ervell, who launched his eponymous menswear business seven years ago and manufactures 95% of his goods in the U.S., has noticed that buyers from Japan, China and South Korea are looking to stock only apparel manufactured in the U.S. If it doesn't carry that label, they're not interested, he noted. Currently, Asia represents 25% of his wholesale business.
Shifting pattern"People have started to fetishize this 'Made in USA' thing; it has an aura around it," said Mr. Ervell, who sells to upscale stores such as Barneys New York and Opening Ceremony. "That period of churning stuff out of China and shipping it here is shifting."
Domestic production is pricier—by as much as 40%—but the gap has been narrowing in recent years. In addition, manufacturing here means that retailers can get smaller batches of products into stores more quickly, reducing the need for end-of-season markdowns.
"It's the unsold portion which becomes the albatross around their necks," said Andy Jassin, head of retail consultancy Jassin Consulting Group. "It's a matter of what's efficient, and we're beginning to see the efficiency of 'Made in USA.' "
And Americans appear increasingly willing to pay for it. About 75% of consumers said they would shell out more for American-made goods, up from 50% in 2010, according to America's Research Group. Typically, U.S.-made products have been limited to small high-end designers, but now larger mainstream retailers, like Ohio-based Abercrombie, are investing in U.S. manufacturing.
"A lot of these stores are strategizing how they can do a 'Made in USA' product now because they think the country is ready for it," said Mr. Schiffer.
Even so, manufacturing locally, whether in New York's garment district or Garland, N.C.—where Brooks Brothers operates a factory—continues to present challenges. Most apparel sellers buy fabrics overseas, because Environmental Protection Agency rules for printing with dyes make local sourcing difficult. Meanwhile, when brands began outsourcing manufacturing and shuttering their local factories decades ago, younger workers, especially in the garment district, started abandoning the field for more lucrative industries.
So far, the return of some factories has not been enough to reverse the loss of manufacturing jobs in the city, where fashion jobs have steadily declined from 200,000 in the heyday of the 1960s.
"You don't see the kids of the kids in the factories anymore," said Alex Garfield, who has been in the apparel industry for more than two decades, currently as a founder of women's pants brand Peace of Cloth. "A whole generation is missing."
Still, the dynamic is shifting.
"Ten years ago, it was six times cheaper to manufacture in China," said Ms. Garafalo. "Today, it is about three times less expensive, so the opportunity for better margins [there] is reducing."
---
https://www.themadeinamericamovement.com/wp-content/uploads/2017/08/Made-in-America-Movement-Logo_340x156.png
0
0
MAM Team
https://www.themadeinamericamovement.com/wp-content/uploads/2017/08/Made-in-America-Movement-Logo_340x156.png
MAM Team
2013-02-05 12:01:16
2013-02-05 12:01:16
Made in USA Sees An Uptick