Making It In The U.S.A. One Step At A Time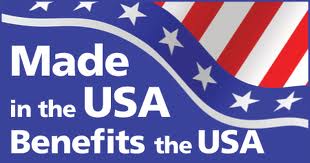 In the early 1940s, in order to advance the domestic industrial base in the time of war, Congress passed a law that required America's military to use American-made equipment.
The so-called "Berry Amendment" mandated American soldiers to train and operate with uniforms and gear made in the United States. The amendment has helped incentivize domestic manufacturing for uniforms, and other materials that support our military. In the past 70 years it has helped keep jobs here on our shores, fuel nascent manufacturing businesses, and ensure that American service members will have quality American-made resources.

However, in 2002, the Defense Department began bypassing the Berry Amendment's requirements for footwear by issuing cash allowances to new recruits to purchase any kind of training shoes, including non-American-made footwear. The DoD has spent approximately $180 million on the athletic footwear cash allowance to date, which is money that could have gone to support American jobs and manufacturing.

Defense originally justified the allowance program by citing a lack of American-made options in the marketplace. They believed there simply were not enough footwear manufacturers producing 100 percent American made shoes.

Today that argument has been upended by companies that have devoted money and resources to producing their footwear completely on American soil.

New England's own New Balance has proven it can be done. With multiple facilities around the region that employ thousands of New Englanders, including 800 employees in Massachusetts and nearly 900 in Maine, they are making sneakers from first stitch to final product in the United States, producing a 100 percent American-made shoe that costs less than the current Army allowance. When the Army recently inquired to see if there were other footwear companies interested in supplying the military with American-made shoes, more than a dozen other footwear companies expressed interest.

With multiple manufacturers interested in or close to capable of producing compliant footwear, action can be taken to close the DoD loophole. Together, we have co-authored an amendment that would do just that, bringing the policy back in line with the 1941 Berry Amendment. Our amendment received strong congressional support and was successfully added to the final House version of the annual defense bill approved June 14.

If passed into law, our amendment would not go into effect until after the secretary of defense certifies that there are at least two domestic suppliers who can provide 100 percent American-made athletic shoes, in order to assuage any lingering concerns about domestic competition.

Major national footwear companies support this effort. A spokesman from New Balance called it a very important win for domestic manufacturing. Wolverine World Wide, the parent company of Saucony, has a Berry-compliant prototype and with help from incentives such as our amendment, could quickly step up a larger manufacturing operation.

Rather than losing jobs to overseas competitors, we must invest in ways to grow the domestic manufacturing base and promote the policies and companies that have committed to keeping jobs here. This amendment does all of that and has the added benefit of simultaneously giving the brave men and women of our armed forces better, quality gear, proudly American-made.

When more products are made in America, there will be greater opportunity for our people to make it in America. Closing the loophole on military footwear is a step in the right direction.

U.S. Rep. Niki Tsongas (D) represents Massachusetts 3rd Congressional District. Rep. Mike Michaud (D) represents Maine's 2nd District.
---
https://www.themadeinamericamovement.com/wp-content/uploads/2017/08/Made-in-America-Movement-Logo_340x156.png
0
0
MAM Team
https://www.themadeinamericamovement.com/wp-content/uploads/2017/08/Made-in-America-Movement-Logo_340x156.png
MAM Team
2013-08-16 11:54:39
2013-08-16 11:54:39
Making It In The U.S.A. One Step At A Time