Manufacturing Renaissance Real, Maybe Not What You Think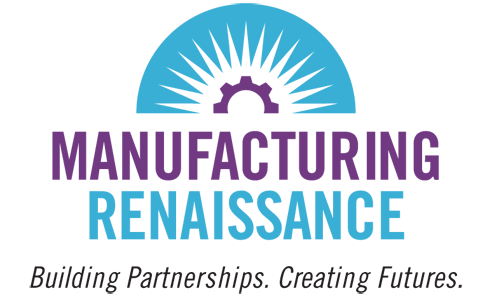 America's heavy manufacturing was once a source of national pride. Think of Rosie the Riveter posters during World War II or the huge post-war factories that shaped skylines of cities like Cleveland and Pittsburgh. In the 20th century, America's factories produced more than those of any other country.
But as the 20th century ended, the once-mighty sector started contracting. Manufacturers discovered cheaper labor overseas. Many factories in the U.S. began closing. And then in late 2007 came the worst financial crisis since the Great Depression. To many it seemed like the final nail in the coffin of American manufacturing. In fact, between 2000 and 2009, 5.8 million factory jobs disappeared.
By 2010, the manufacturing dominance America had relied on since the late 1800s was officially over; that year China supplanted the U.S. as the world's largest manufacturing nation in terms of output, producing goods worth $1.92 trillion compared to America's $1.86 trillion, according to United Nations data.
Yet in the years since the financial crisis, U.S. manufacturing has begun reinventing itself and rising again. There is indeed a renaissance in American manufacturing, economists say, and one that can still be a source of pride. But the sector looks far different from the past, offering fewer jobs and demanding higher skills than ever before.
Since 2010, the U.S. has regained a net 568,000 factory jobs. The Reshoring Initiative, an organization aiming to "return manufacturing home," estimates that about 150 companies have "reshored," or moved positions from overseas to the U.S. since 2010, contributing about 80,000 jobs or 15 percent of the total manufacturing jobs added.

"Jobs are coming back, and there is a renaissance," said Claude Barfield, a scholar at American Enterprise Institute and former consultant to the Office of the U.S. Trade Representative. "There are jobs in widgets you would never have thought of before, but that's not always translated into lots and lots of jobs."

There are several reasons why more and more companies want to manufacture in the U.S. now. Energy costs have declined, and American labor productivity has increased. International transportation is still costly, and shortening a supply chain can save a company money while giving it more control over production. And wages in China and surrounding areas are starting to rise, along with political unrest in East Asia, Barfield said.

The expansion of the last four years is continuing. Durable goods manufacturing contributed more than any other sector to U.S. economic growth in 2012, according to the most recent data available from the Bureau of Economic Analysis. The durable goods output rose 9.1 percent in 2012, after increasing 6.8 percent in 2011. By comparison, the private services-producing sector grew 2.7 percent in 2012.

Manufacturing's dollar-share of gross domestic product increased in 2012 for the third consecutive year to 12.5 percent, its highest share of GDP since 2007, though still less than half its contribution during the 1950s.

David A. Rosenberg, chief economist for Gluskin Sheff + Associates Inc., said Monday that the Chicago Purchasing Managers Index for January shows that "manufacturing activity in the industrialized heartland has been expanding for nine months in a row."

Even though U.S. manufacturing has contracted sharply since the mid-20th century and prospects that it will ever return to its former size are virtually nil, American manufacturing remains one of the most productive in the world, contributing $1.87 trillion to the nation's economy in 2012, according to the Bureau of Economic Analysis. Though China is producing slightly more output than the U.S, its production takes about 10 times more workers.

In other words, American factories are producing more than ever with fewer workers. And unlike the low-end goods with thin profit margins produced in China and other developing nations (toys, shoes, consumer electronics, etc.), the expensive and complicated goods many American factories now produce — medical equipment, computer chips, commercial and military jets and oil and gas equipment, to name a few — require specialized skills.

"The U.S. has always been a leader in manufacturing," Veronique de Rugy, senior research fellow at the Mercatus Center of George Mason University, said. "While it's seen a slight decline in the past few years, it's clear that it's going through a renaissance right now. It is still not only leading, but really gigantic."

De Rugy is quick to clarify that no one can know how much U.S. manufacturing will grow or for how long. But she believes the shift in global manufacturing taking place, with developing countries producing low-end goods and developed countries producing high-end goods, will make U.S. manufacturers increasingly attractive to American and foreign companies.

"I think what a lot of companies are realizing is that it may not be that cheap to produce abroad," she said.

Chad Moutray, chief economist for the National Association of Manufacturers, said he's seeing increased investment in American manufacturing.

"We keep hearing about manufacturers that are increasing production here," he said. "There's been a lot of investment from companies using natural gas, plastic, fertilizers."

A lot of that investment is coming from abroad, he added.

According to a national poll conducted in early January and released Monday by the Alliance for American Manufacturing, Americans cite manufacturing job loss as a top economic concern, above taxes, income inequality, education and retirement security.

The White House has launched two hubs for high-tech manufacturing in Raleigh, N.C., and Youngstown, Ohio, connecting businesses to universities that can help the U.S. in advanced technologies. In his State of the Union address, President Barack Obama promised to launch six more hubs this year.

Stuart Hoffman, chief economist of PNC Financial Services Group, explains in a late-January report that the manufacturing sector seems well-positioned to continue growing this year, with recovery in Europe driving exports, job and income gains driving consumer spending, and a budget agreement between Obama and Congress that has reduced policy uncertainty and will likely increase business investment in equipment. "Manufacturing will continue to expand in 2014," Hoffman wrote.

---
https://www.themadeinamericamovement.com/wp-content/uploads/2017/08/Made-in-America-Movement-Logo_340x156.png
0
0
MAM Team
https://www.themadeinamericamovement.com/wp-content/uploads/2017/08/Made-in-America-Movement-Logo_340x156.png
MAM Team
2014-02-19 11:45:32
2014-02-19 11:45:32
Manufacturing Renaissance Real, Maybe Not What You Think