Patriotic style: Team USA reveals Olympic Opening Ceremony Uniforms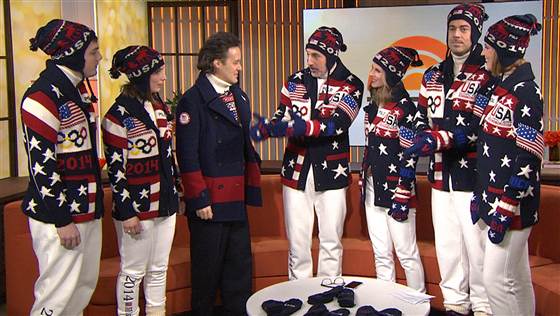 The TODAY anchors got into the Olympic spirit, dressing up in the official Team USA uniforms as Ralph Lauren's David Lauren (center, left) made the big reveal. TODAY
The 2014 Sochi Winter Olympics are only two weeks away, and so it's about time we got a close look at our athletes' festive wardrobe. They're 100 percent made in the USA — thanks to Ralph Lauren.
The all-American designer crafted the official Opening Ceremony and Closing Ceremony parade uniforms for the U.S. teams and they're quite patriotic: The ensembles feature a classic color palette of red, white and navy. The Opening Ceremony look, revealed exclusively on TODAY Thursday, includes a knit patchwork cardigan emblazoned with stars ($598), paired with a cream cotton turtleneck sweater ($245), slim-fitting white fleece athletic pants bearing the "Team USA" label ($165), black leather boots with bright red laces ($395) and a cotton belt accented with American graphics ($75). Of course, there's also a reindeer hat ($95).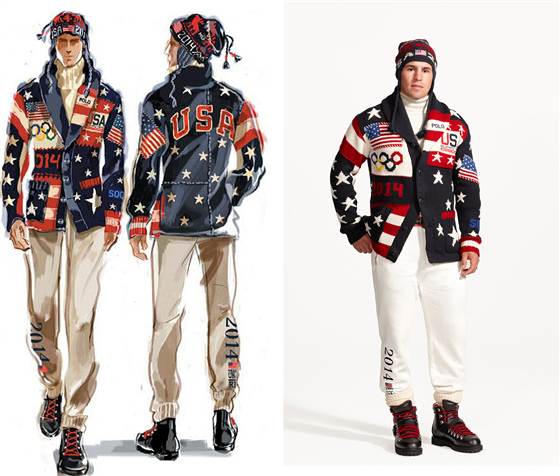 The official Opening Ceremony uniform, designed by Ralph Lauren, is modeled by Olympic professional ice hockey player Zach Parise. Ralph Lauren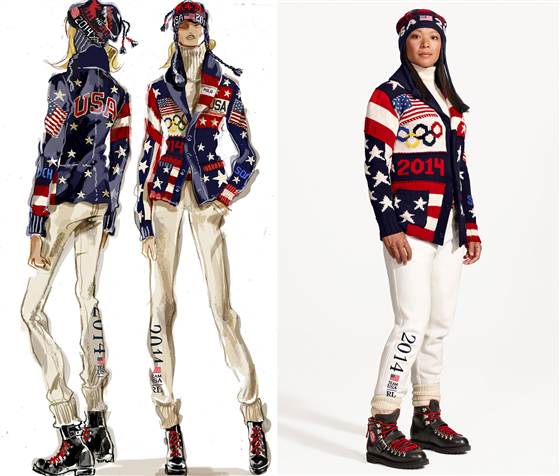 Olympic ice hockey player Julie Chu models the Opening Ceremony uniform, which was made in America. Ralph Lauren
The full look was modeled on TODAY Thursday by the Olympic athletes themselves — American curlers Jessica Schultz, 29, and Jared Zezel, 22, both from Minnesota — as well as the TODAY anchors, who joined Ralph Lauren's David Lauren for the big reveal.
While the prices might seem a bit steep, it should be noted that 100 percent of the proceeds of the Limited Edition Team USA Opening Ceremony Cardigan will be donated to the U.S. Olympic Committee, an organization supporting our nation's best athletes.
You'll also be supporting our domestic manufacturers: Ralph Lauren looked to his home country for sources, which means the wool hails from Oregon, was spun in Pennsylvania, then yarned in North Carolina, before being knitted in California by the husband-and-wife team Ball of Cotton.
The emphasis on having the uniforms manufactured domestically came in the wake of controversy over the Team USA outfits from the London 2012 Olympic Games. Ralph Lauren was heavily criticized for having manufactured the clothing in China. The U.S. Olympic Committee announced that while it was too late to change the outfits ahead of the London Games, it had agreed with Ralph Lauren to make apparel for the 2014 Olympic Winter Games domestically.
This partnership marks the fourth time Ralph Lauren has been an official outfitter of the U.S. Olympic & Paralympic teams. Last fall, the brand revealed the Team USA's Sochi 2014 uniforms, including wool peacoats adorned with a red banner stripe and patriotic patch, fair isle sweaters, and wool turtlenecks with reindeer and snowflake motifs.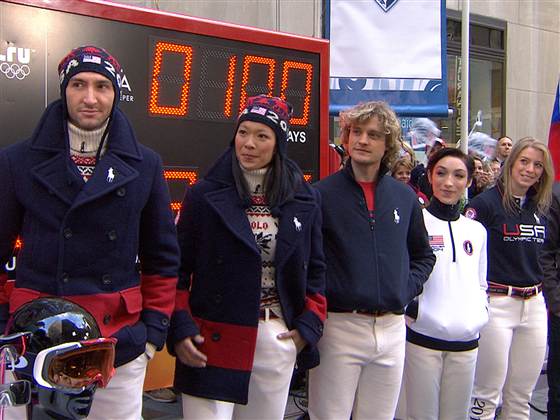 U.S. Olympians celebrated the start of the 100-day countdown to Sochi by showing off apparel made in America. TODAY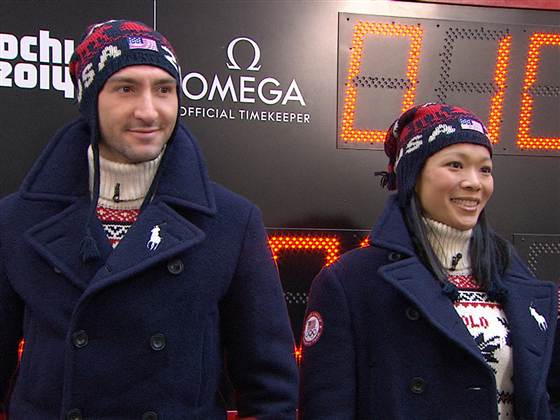 Figure skater Evan Lysacek and ice hockey player Julie Chu showed off Ralph Lauren's U.S. Closing Ceremony parade uniforms for Sochi on Oct. 29, 2013. TODAY
In addition, Ralph Lauren designed a unique collection of village wear apparel and accessories for the teams. The village collection includes a mesh polo, a half-zip mockneck pullover, a long-sleeved Team USA T-shirt, and a full-zip fleece sweatshirt.
The U.S. apparel is available online on the Ralph Lauren site and the Team USA site, as well as in select Ralph Lauren retail stores and department stores.
https://www.themadeinamericamovement.com/wp-content/uploads/2017/08/Made-in-America-Movement-Logo_340x156.png
0
0
MAM Team
https://www.themadeinamericamovement.com/wp-content/uploads/2017/08/Made-in-America-Movement-Logo_340x156.png
MAM Team
2014-01-25 11:51:03
2020-09-18 11:09:46
Patriotic style: Team USA reveals Olympic Opening Ceremony Uniforms