Policymakers Must Support the Mantra 'American Made'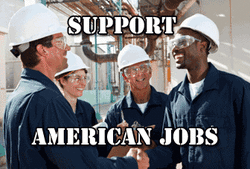 Richard P. Michalski
General Vice President, International Association of Machinists and Aerospace Workers

---
According to the presidential exit polls, jobs and the economy were the most important issues for American voters; voters who chose President Obama to again lead our country. While many Americans are concerned with the slow economic recovery, we've seen glimmers of hope as the unemployment rate continues to trend downward, payrolls are up and the Dow has risen nearly 50 percent since President Obama was sworn in four years ago.
But our recovery is still very tenuous and President Obama and the newly elected Congress must work together, stop the road blocks and do more to create an environment that fosters domestic job creation and sustainability.
First, policymakers must a make a deal that saves the country from the "fiscal cliff." It's estimated that falling over the cliff would lead to 9.1 percent unemployment — and potentially send the country back into recession.
The threat of political inaction on the fiscal cliff has paralyzed U.S. industry, causing businesses to put plans to hire and expand on hold. If nothing happens, the Department of Defense would have its budget slashed nearly $500 billion over the next decade under sequestration. This would not only threaten our national security at a time of continuing global uncertainty, but it would also cost good U.S. jobs and stifle innovation.
We cannot allow this to happen — and most reasonable lawmakers agree. But whether or not our leaders in Washington will actually take the action needed to avert the sequester is an open question.
One segment of our economy that could be hit if sequestration occurs is the aerospace industry. A strong aerospace sector is critical to our national security and domestic manufacturing base. U.S. aerospace companies directly employ more than 600,000 Americans including highly-skilled engineers and well-trained mechanics. And, according to the 
Commerce Department
, aerospace supports more U.S. jobs through exports than any other industry, leading to $85 billion in export sales in 2010.
While we all would like to believe the rosy predictions that project the industry continuing to grow and flourish, many see danger ahead.
Washington Senator Patty Murray warned her colleagues and the nation that, "[w]ithout a clear national strategy, [aerospace] companies risk being stagnant just as their foreign competition flies ahead, and we cannot let that happen."
That absence of a clear strategy has caused marquee American aerospace companies to make tough decisions. Wichita, Kan. alone, frequently referred to as the "Air Capital" of the world, has lost between 13,000 and 14,000 aviation jobs since 2008. The impact of a lack of a national strategy will also be felt beyond Wichita by companies like Lockheed Martin in Texas, the Boeing Company in Missouri and the state of Washington, as well as thousands of suppliers across the U.S.
Leaders in this country must place the needs of Americans first. We need to create jobs and boost our own economy. And there may be legislative opportunities to do just that. Senators Bob Casey and Sherrod Brown, for instance, introduced the Invest in American Jobs Act that would give American manufacturers priority when competing for taxpayer-funded contracts.
Unfortunately, it doesn't appear that others in Congress or leaders in the Defense Department understand what's at stake.
The first indicator is the current debate about slashing the defense budget. High-skilled, high-paying manufacturing jobs are at risk, jobs that reach into the small business supply chains in communities all over the country. Estimates have this budget cut affecting more than one million jobs across the nation.
A second warning came when the Department of Defense (DoD) disqualified American company Hawker Beechcraft from the Light Air Support (LAS) aircraft contract competition. If successful, Hawker's bid would have created more than 1,400 U.S. jobs, with 600 in Wichita alone. But, their still unexplained disqualification left the Brazilian company Embraer as the winner of the $336 million U.S. taxpayer-funded award, essentially by default. And while this contract would have been a boon to the Brazilian economy, it would have resulted in only 50 new U.S. jobs.
The disqualification is especially troubling considering Hawker Beechcraft's long history of manufacturing high quality military aircraft for the United States. Hawker Beechcraft's T-6 trainer has been flown by every current US Air Force a U.S. Navy fixed-wing pilot. This general sense of familiarity surrounding the T-6 makes the new attack version very popular among those who would fly and service it. The Hawker Beechcraft AT-6 is the first propeller aircraft to employ laser guided rockets, further evidence that the AT-6 is the more capable choice for the Light Air Support contract. Additionally, the LAS award will become a template for similar foreign military sales across the globe and the winner will have a significant advantage in those competitions.
Fortunately, after an internal investigation into the award, the Defense Department threw out the initial award to the Brazilians and reopened the bidding process allowing Hawker Beechcraft to again compete. A decision on who will build the aircraft is expected in February 2013. One can only hope that the DoD will recognize the critical nature of the work to U.S. security and to the U.S. economy and award the contract to a U.S. company.
In a speech at the Brookings Institution, the AFL-CIO's Richard Trumka said, "Revive American manufacturing and stop exporting good jobs overseas." Later he explained that Americans "can't afford to replace trickle-down economics with trickle-out economics."
We must invest in the American workforce and continue to fund research to stay ahead of our competitors — and our enemies. Our leaders must look at the big picture when making contracting decisions between American and foreign companies. The only way America will continue to lead in the aerospace industry is if we continue to stay ahead of our global competitors.
SOURCE:  Huffington Post
https://www.themadeinamericamovement.com/wp-content/uploads/2017/08/Made-in-America-Movement-Logo_340x156.png
0
0
MAM Team
https://www.themadeinamericamovement.com/wp-content/uploads/2017/08/Made-in-America-Movement-Logo_340x156.png
MAM Team
2012-12-07 12:03:27
2012-12-07 12:03:27
Policymakers Must Support the Mantra 'American Made'