'Reshoring' of Jobs Looks Meager
---
This spring, President Obama said he had "good news" to report: Lost American jobs are returning to the U.S. "For a lot of businesses," the president told a crowd in Albany, N.Y., on May 8, "it's now starting to make sense to bring jobs back home." In trumpeting this "reshoring" of jobs from abroad, the administration points to employers, including General Electric and Caterpillar, that have shifted some manufacturing to the U.S. The president also cited an April online survey by Boston Consulting Group showing that 37 percent of manufacturers with sales of more than $1 billion and almost half of those with more than $10 billion "plan to or are actively considering bringing back production from China to the U.S." 
Yet there's little data to back up claims of a reshoring rush. For every company Obama praises for coming back home, there are others still shipping jobs out of the country. Honeywell International in Acton, Mass., plans to eliminate 23 positions by yearend when manufacturing of the company's stainless steel products moves to Nanjing, China. Boston Scientific let go about 1,100 workers when the company moved production of its medical stents from Miami to Costa Rica.

The net effect of this two-way traffic on the labor market has been "zero," says Michael Janssen of the Hackett Group, a business consulting firm that released a contrarian report on reshoring in May. "Some of these jobs that are coming back get a lot of press," he says. "There are just as many that get no press coverage still going offshore."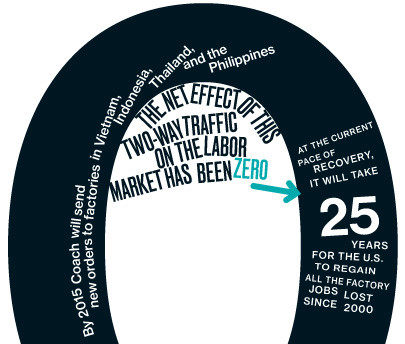 The White House stresses that manufacturers have added 495,000 jobs since January 2010, when factory employment bottomed out at almost 6 million below the 2000 level. Nearly 40 percent of those jobs were lost to other countries, either directly or because consumers chose imports over American-made products, says Robert Scott of the Economic Policy Institute in Washington. Now, a combination of rising wages for Chinese workers, a strengthening Chinese currency, and a new appreciation of the virtues of domestic production—including low-cost natural gas—has sparked a return to U.S. manufacturing, the administration says.
No one knows how many of the manufacturing jobs created since 2010 actually made a round trip from the U.S. to a foreign address and back. And if jobs are returning, they're doing so slowly. At the current pace of recovery, it will take 25 years for the U.S. to regain all the factory jobs lost since 2000.
China's cost advantage is gradually eroding. In 2005 production in China was 31 percent cheaper than in advanced nations, according to the Hackett Group's calculations. By 2013 the gap will be down to 16 percent, small enough for U.S. production to make sense in some cases, says the study. Likewise, Hal Sirkin, who wrote a 2011 Boston Consulting Group report that's optimistic about a U.S. manufacturing comeback, estimates that over the next eight years 2 million to 3 million jobs could result from improved U.S. competitiveness. "A significant chunk will be jobs that went to other countries and came back," he says.
So far, many of the jobs China is losing aren't heading to the U.S. but to other low-cost Asian nations. Rising wages in China led Coach to start looking for alternate places to make its wallets and handbags. By 2015 the company aims to reduce China's share of its production to about 50 percent from almost 80 percent today. New orders will be sent to factories in Vietnam, Indonesia, Thailand, and the Philippines. Reshoring to somebody else's shores will be more common in coming years than jobs returning to the U.S., says Tim Leunig, who teaches economic history at the London School of Economics: "The next president of the United States, whoever he is, will end his term with fewer Americans working in manufacturing than he inherited."
The bottom line: Though manufacturers have created 495,000 jobs since 2010, there's little evidence it's because of a reshoring surge.
———————-
Lynch is a reporter for Bloomberg News in Washington. 
https://www.themadeinamericamovement.com/wp-content/uploads/2017/08/Made-in-America-Movement-Logo_340x156.png
0
0
MAM Team
https://www.themadeinamericamovement.com/wp-content/uploads/2017/08/Made-in-America-Movement-Logo_340x156.png
MAM Team
2012-07-06 12:03:53
2012-07-06 12:03:53
'Reshoring' of Jobs Looks Meager