U.S. Solar Industry Reacts to Commerce Department Decision on Solar Trade Case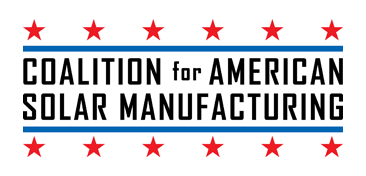 Solar Manufacturing Coalition to Look to Administration to Provide Solution to Loophole in Case
WASHINGTON, D.C., Oct. 10, 2012
 — The 226-company Coalition for American Solar Manufacturing (CASM) today welcomed parts of the U.S. Department of Commerce announcement regarding duties on Chinese solar cells and panels but was very disappointed with other parts. The decision, which came nearly one year after Oregon-based coalition leader SolarWorld Industries America Inc. filed its cases, will be one step to restoring fair competition to the U.S. marketplace.
Commerce today set anti-dumping duties of 31.73 percent on imports of solar photovoltaic cells and panels from Suntech, 18.32 percent from Trina Solar, 25.96 percent from other companies that had requested but not received individual duty determinations and 249.96 percent from all other Chinese producers, including those controlled by the Chinese government. The preliminary numbers imposed in late May were 31.14 percent, 31.22 percent, 31.18 percent and 249.96 percent, respectively. In short, same or down.
In addition, Commerce found anti-subsidy duty percentages of 14.78 percent for imports from Suntech, 15.97 percent Trina Solar and 15.24 percent for all other Chinese manufacturers. Those increased significantly from preliminary anti-subsidy duties announced in March of 2.9 percent for Suntech, 4.73 percent for Trina and 3.59 percent for all other Chinese producers.
In a separate part of the decision, Commerce did not alter its preliminary determination on the product scope, which covered photovoltaic cells produced or assembled into panels in China but not panels made from cells produced in third countries. SolarWorld's initial, broader scope had covered all cells and panels produced in China. This decision, according to CASM, leaves a significant loophole in the final ruling as it allows Chinese manufacturers to potentially avoid the duties by using non-Chinese cells in its solar panels.
"By leaving this 'loophole' as defined by Members of Congress in its enforcement decision, Commerce continues to expose U.S. manufacturers to Chinese unfair trade practices," said Gordon Brinser, president of SolarWorld Industries America Inc. "This will undercut the positive impact of Commerce's duties. Assuming the International Trade Commission rules in our favor next month, we plan to ask the Commerce Department and Customs and Border Protection to address the circumvention issue through strict enforcement actions. As 27 Members of Congress, including Sens. Ron Wyden (D-Ore.) and Sherrod Brown (D-Ohio), Leader Nancy Pelosi (D-Calif.) and Reps. Tammy Baldwin (D-Wisc.), Earl Blumenauer (D-Ore.), Sander Levin (D-Mich.), Edward Markey (D-Mass.) and many others, have pointed out in recent weeks, the loophole will make it difficult to enforce the Commerce decision. We will work with them to pursue remedies to close the loophole. Moreover, to date, we are unaware of a single member of Congress who urged the President to leave the loophole in place."
Commerce also reiterated its finding of critical circumstances for all companies in the CVD determination, and for all companies except Suntech in the AD determination, which means that nearly of the duties remain retroactive 90 days from the day they were announced.
"We remain confident that American manufacturers can compete with China on an equal footing," said Steve Ostrenga, CEO of Milwaukee-based Helios Solar Works USA, one of the founding members of CASM. "Helios, and the other manufacturing members of CASM, is in this battle to win it. Assuming an adequate response from the Obama administration on enforcement, we have some hope that there will continue to be a viable solar manufacturing base in the United States."
"On behalf of the more than 18,000 workers who belong to the coalition, I want to thank the investigators at the Commerce Department for their hard work on this politically charged case and, especially, Sen. Wyden for taking up the cause of American solar manufacturing," added Brinser. "Without Sen. Wyden's efforts, the industry would have never gotten as far as we have. Today's decision is one part of a solution that will help American solar manufacturers recover from China's unfair trade practices."
Over the two years, China's predatory trade practices and huge overcapacity have pushed at least 14 crystalline silicon solar producers to close plants or lay off significant numbers of workers. The two most recent announcements are the closing of a Schott Solar facility in New Mexico and a Sharp Solar facility in Tennessee. Chinese trade practices have also harmed manufacturers in other countries. Earlier this year, a coalition of European manufacturers filed both anti-dumping and anti-subsidy duty cases in the European Union.
At the same time, Chinese manufacturers have endured hundreds of billions of dollars in losses over the past year and at least two – Suntech and LDK Solar – have received bailouts from Chinese provincial governments that have allowed them to continue operations.
The final step in the case will be the International Trade Commission's final decision on Nov. 7 on whether the trade practices of the Chinese manufacturers and government is harming the U.S. industry. Last December, the commission voted affirmatively, 6-0, in a preliminary determination.
# # #
The Coalition for American Solar Manufacturing, founded by seven companies that manufacture solar cells and panels in the United States, has about 225 employers of about 18,000 workers who have registered their support for CASM's case. The founding manufacturers have plants in nearly every region in the United States, including the Northwest and California, the Southwest, Midwest, Northeast and South and support several thousand U.S. manufacturing jobs. For details about CASM, go to 
www.americansolarmanufacturing.com
; email media questions to 
media@americansolarmanufacturing.org
; other questions or comments may be emailed to 
contact@americansolarmanufacturing.org
.
CONTACT:
  Lauren Simpson
903-243-2201 (cell)
media@americansolarmanufacturing.org
---
https://www.themadeinamericamovement.com/wp-content/uploads/2017/08/Made-in-America-Movement-Logo_340x156.png
0
0
MAM Team
https://www.themadeinamericamovement.com/wp-content/uploads/2017/08/Made-in-America-Movement-Logo_340x156.png
MAM Team
2012-10-13 12:00:24
2012-10-13 12:00:24
U.S. Solar Industry Reacts to Commerce Department Decision on Solar Trade Case