Vending Machine Dispenses 'FREE' T-shirts Made From Recycled Plastics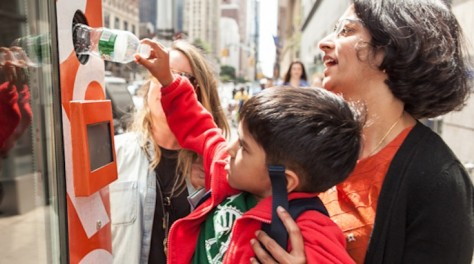 To celebrate New York Fashion Week as well as new eco-chic clothing, the Plastics Make it Possible initiative sponsors a vending machine that dispenses recycled plastic T-shirts.
Looking to be both fashion-conscious and eco-conscious? 
Plastics Make it Possible
® is helping New Yorkers explore this cool new trend. And you can participate, too!
For three days during New York Fashion Week, anyone on midtown 8th Avenue can "buy" a limited edition designer T-shirt made with recycled plastic fabric from a new vending machine by 
Plastics Make it Possible
®—using a plastic bottle as currency. Passersby can simply deposit a plastic bottle into the machine and—voila! Out pops a beautiful new garment made with recycled plastics, underscoring how everyday plastics can live on as "eco-chic" fashion.
The new vending machine is designed to celebrate the growing role of recycled plastics in fashion during New York Fashion Week. 
Visitors to the Plastics Make it Possible® website also will have a chance to win one of the limited edition T-shirts (see below).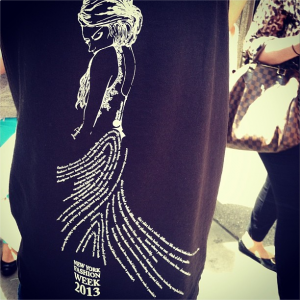 Plastics Make it Possible
® has partnered with New York fashion designer 
Allison Parris
 for the debut of the vending machine, which will be located South of Columbus Circle on 8th Avenue between 57th and 58th streets in New York City from Sept. 9 through 11. The T-shirts feature an original design by Parris, whose collection is "built around the idea that retaining moral values and being able to wear beautiful, well made clothing are not mutually exclusive actions."
Parris is one of a growing number of designers who have embraced recycled plastics as one of the new go-to materials for creating stylish clothing and accessories. To help create the T-shirt material, plastic bottles are cleaned, melted, and stretched into a fine thread, which then is woven into soft, comfortable fabrics. Thanks to the versatility of recycled plastics, these fabrics can be manufactured with a variety of weights and textures for a wide range of uses. Both high-end designers and mainstream brands today use recycled plastics to make everything from stylish party dresses to on-trend shoes to rugged outdoor jackets.
So the next time you recycle a plastic bottle, you just may be contributing to the next big thing in fashion.
ENTER FOR A CHANCE TO WIN
Each day during Fashion Week (September 5–12), five visitors to the 
Plastics Make it Possible
® website will win a limited edition Allison Parris T-shirt made with recycled plastics. To enter for a chance to win, website visitors simply leave a comment on the 
Plastics Make it Possible®
article about what plastics they recycle. Click here for the 
official rules.
To learn more about how recycled plastics are used in fashion, click 
here
.
---
https://www.themadeinamericamovement.com/wp-content/uploads/2017/08/Made-in-America-Movement-Logo_340x156.png
0
0
MAM Team
https://www.themadeinamericamovement.com/wp-content/uploads/2017/08/Made-in-America-Movement-Logo_340x156.png
MAM Team
2013-09-13 11:38:56
2013-09-13 11:38:56
Vending Machine Dispenses 'FREE' T-shirts Made From Recycled Plastics