Women Miss Out on Manufacturing Gains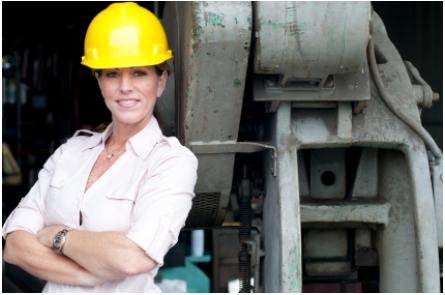 By Ben Casselman
---
American factories are hiring again. But they aren't hiring women.
Manufacturing, one of the hardest-hit sectors during the recession, has been a leader in the recovery, although as today's mixed durable goods number shows, the sector has been on shakier ground of late. U.S. factories have added more than half a million workers in the past three years, with most of the gains coming in the durable-goods sector, which makes longer-lasting items like cars and dishwashers.
Women, however, haven't seen the same gains. Female employment in the manufacturing sector has actually fallen by 13,000 in the past three years. Female durable-goods employment has been mostly flat, up a paltry 4,000 jobs.
The recovery has also been weaker for women outside manufacturing. Women's employment didn't hit bottom until September 2010 — six months after men's employment started rising — and women saw shallower gains once they did start finding jobs.
But that disparity is explained, at least to a significant degree, by the fact that men were hit earlier and harder by the recession, which struck male-dominated professions such as construction and manufacturing with particular force. Despite their weaker gains in the recovery, women are actually closer than men to their pre-recession employment level.
Such a "catch-up" effect doesn't explain what's going on in manufacturing, however, as the 
National Women's Law Center
noted in a report today
. Women lost manufacturing jobs faster than men during the recession, and have gained them back more slowly in the recovery.
The decline of women in manufacturing appears to reflect a longer-term trend. Women's share of factory jobs rose steadily in the 1960s, 1970s and 1980s, peaking at just under a third — 32.2% — in the early 1990s. Since then, their share has dropped just as steadily, falling in 20 of the past 21 years. Women held 27.3% of manufacturing jobs in 2012, the lowest level since 1971.
The decline might come as a surprise given that increasing automation has made much factory work less physically demanding. But automation has also wiped out many of the jobs traditionally held by women — both factory-floor jobs such as quality control and backroom clerical positions. Additionally, many of the fastest-growing manufacturing sectors, such as fabricated metal products and machinery, have a relatively small share of women employees. And as the NWLC report points out, jobs in those sectors have gone disproportionately to men.
Manufacturing gets an outsized amount of attention given its share of the economy — less than 11% of private-sector employment for all workers, and just 6% for women. But manufacturing jobs, especially in the durable goods sector, tend to be fairly well-paying, and remain a rare path to the middle class for workers without a college degree. It's a path that remains far less common for women than for men.
---
https://www.themadeinamericamovement.com/wp-content/uploads/2017/08/Made-in-America-Movement-Logo_340x156.png
0
0
MAM Team
https://www.themadeinamericamovement.com/wp-content/uploads/2017/08/Made-in-America-Movement-Logo_340x156.png
MAM Team
2013-04-05 11:54:43
2013-04-05 11:54:43
Women Miss Out on Manufacturing Gains