Garments Can Be Made in USA Safely, with Profit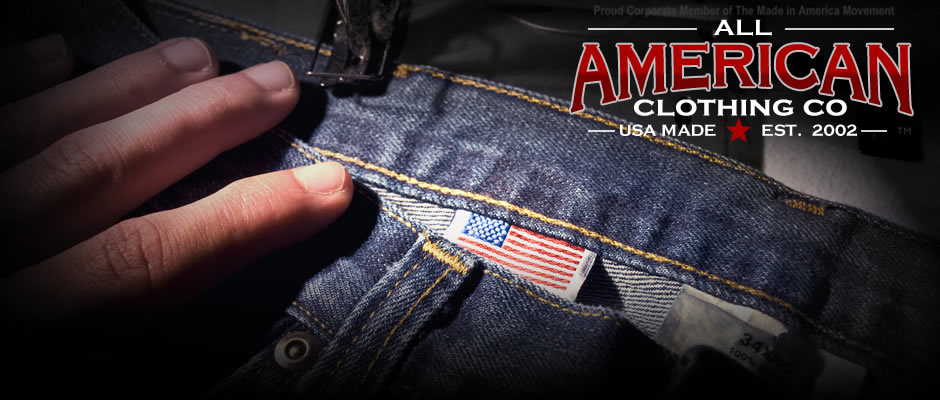 The recent Bangladesh collapse has raised an overall awareness on the safety being taken when manufacturers produce garments overseas. The All American Clothing Co, a USA made jean manufacturer is proving it can be done with safety and profit.
El Paso, Texas was once considered the blue jeans capital of the world. According to the San Antonio Express, it produced an estimated 2 million pairs of America's favorite pants a week in the 1980s. Over the past few decades American jean giants have moved production to places such as Bangladesh, Mexico and China. Many Americans have lost jobs, buildings have become vacant, and the American garment industry is on the brink of extinction. It has lost 84% of its labor force since 1990, according to the U.S. Bureau of Labor Statistics.
Why did the garment industry leave El Paso?
In 2002 the World Trade Organization allowed foreign made products to be imported in the U.S. without tariffs. This allowed low dollar garments to be sold in the U.S. at lower prices than what most American manufacturers could compete with. Many American manufacturers left and when they went, so did the blue jean capitol of the world.
At around 2002, a man named Lawson Nickol had been working for a USA made jeans manufacturer who decided to leave the U.S. and manufacture its items in Mexico. Nickol could not bear the decision as he was a passionate USA made supporter who felt a strong responsibility to support American workers. He soon resigned and started a USA made jean manufacturer of his own with the help of his son BJ – the All American Clothing Co.
The All American Clothing Co. struggled at first, surviving on family savings, financial risks, and working long hours. Yet each year, the USA jean company continued to grow. After 11 years in the business, the All American Clothing Co. has gone from a small closet in warehouse space to 45,000 square feet of warehouse and main offices. The company is now operating a cut and sew factory in El Paso, Texas attempting to create jobs and bring back the once blue jean capitol of the world.
If their success continues, rebirthing the American denim industry will be the All American Clothing Company`s legacy. Together with it`s leadership, employees, patrons, and supporters they will continue to spread the word, help to fill empty buildings with employees, and create American jobs. It`s an All American thing.
---
To learn more about the growth and safety measures the All American Clothing Co. is pursuing, please visit http://www.allamericanclothing.com.

For the original version on PRWeb visit: 
http://www.prweb.com/releases/prwebUSA-made-jeans/made-in-America-jeans/prweb10764885.htm
https://www.themadeinamericamovement.com/wp-content/uploads/2017/08/Made-in-America-Movement-Logo_340x156.png
0
0
MAM Team
https://www.themadeinamericamovement.com/wp-content/uploads/2017/08/Made-in-America-Movement-Logo_340x156.png
MAM Team
2013-05-29 11:58:33
2013-05-29 11:58:33
Garments Can Be Made in USA Safely, with Profit