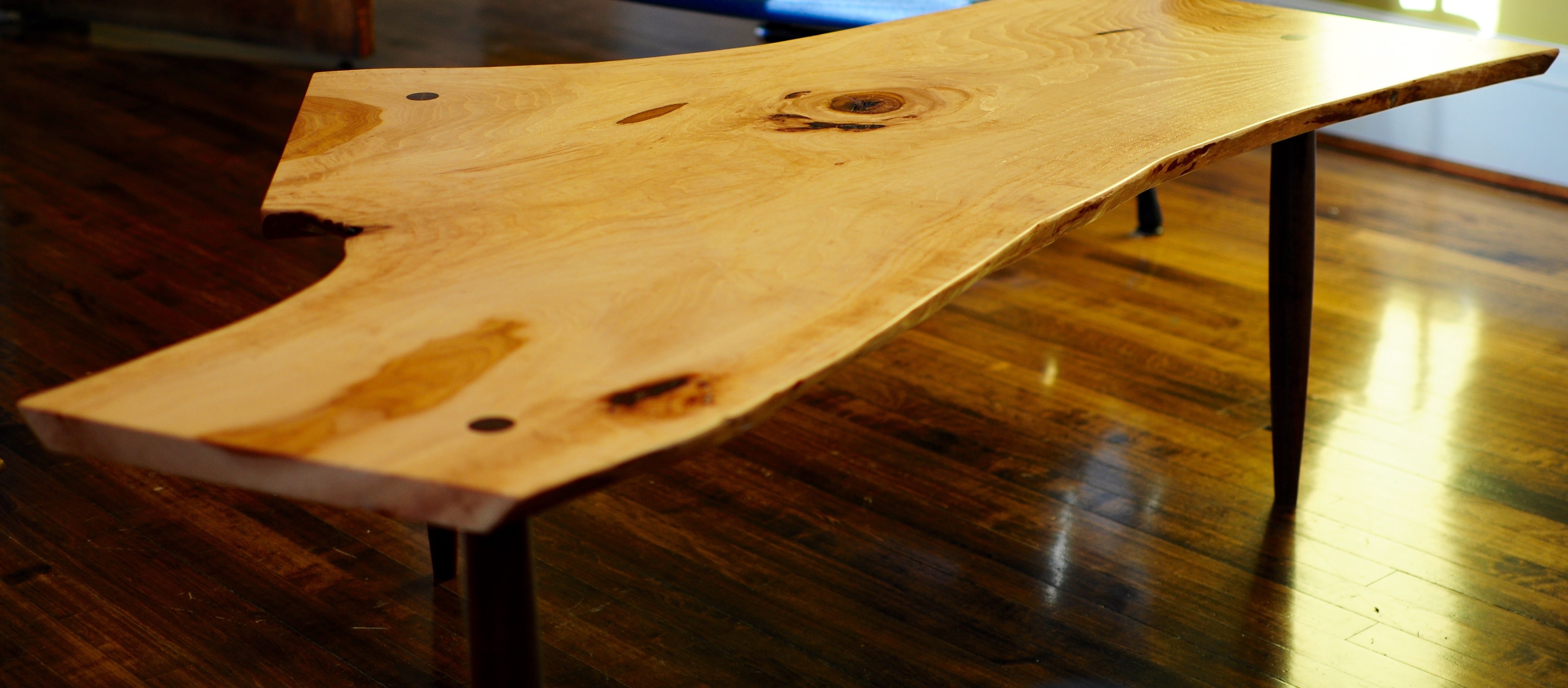 Makers Series with Martin Goebel of Goebel & Co. Furniture
When you walk into a restaurant, or a bar, whether you realize it or not, you judge the establishment based on your surrounding environment. Before you ever take a bite, or a sip, you naturally notice the decor, and make the decision – do I stay, or do I find somewhere else to go? As humans, we like to find places that excite our eyes as much as they excite our other senses. Luckily, St. Louis has a young designer who is helping build this excitement throughout the city. Not through food, cocktails or a big event downtown, but through the tables and chairs where we dine. Located among the creative agencies in midtown, Goebel & Co Furniture is making some of the most well crafted, and modern wood furniture in the country. Beyond art and aesthetics, Martin Goebel, President and Creative Director (as well as garbage man and janitor), and his staff, believe the furniture they are creating exists to facilitate experiences between people. And whether it's a first date, a business lunch, or reconnecting with a long lost high school friend, we are glad someone is keeping us in mind when it comes to helping these experiences along.
Black & White Gingham recently sat down with Martin in the newly renovated B Hive shared work space at Brennan's in the Central West End to learn more about what inspires his work, why he chooses to live and work in St. Louis, and what keeps him returning to his midtown studio day after day.
Read this edition of the Makers Series, with Martin Goebel of Goebel & Co. Furniture.
---
ABOUT GOEBEL & CO FURNITURE: 
At Goebel & Co., our hand-built furniture originates from the divergent worlds of hand craft and digital technology/manufacturing, which converge to yield a product of uncompromising quality and repeatability. All of our products are manufactured in America. Our designs are conceptualized and evolved as 3-D computer models, allowing us to break our designs into highly accurate component files, which are then either produced in-house or sent for manufacturing at various regional sub-contractors.
Connect with Goebel on Facebook
---
ABOUT BLACK & WHITE GINGHAM:
Two people exploring a city to showcase its culture through the food, the makers and the neighborhoods that make St. Louis unique. Yes, Tara is black and I am white. Yes we both have an affinity for gingham patterns and more traditional menswear. But the name is much more than that. It's about a city, a population, a region coming together. Gingham intersects. It's a pattern that falls perfectly together. Similar to Gingham, St. Louis is a city slowly being stitched together. We believe in St. Louis. So should you.
Connect with Black & White Gingham on Facebook
https://www.themadeinamericamovement.com/wp-content/uploads/2015/06/A-custom-Goebel-Co.-Furniture-table-in-one-the-offices-at-B-Hive-at-Brennan's-in-the-Central-West-End.jpg
1740
3968
The Made in America Movement Team
https://www.themadeinamericamovement.com/wp-content/uploads/2017/08/Made-in-America-Movement-Logo_340x156.png
The Made in America Movement Team
2015-06-26 14:14:03
2015-06-26 14:14:03
Makers Series with Martin Goebel of Goebel & Co. Furniture