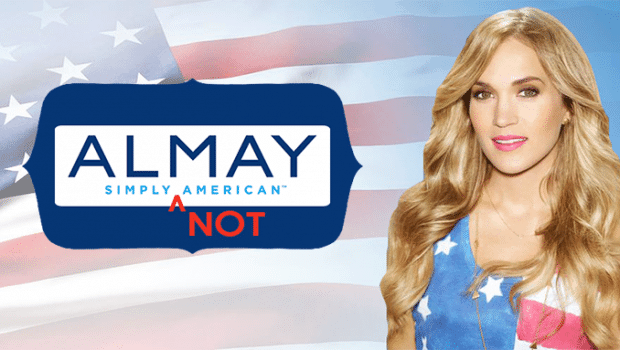 ALMAY SIMPLY AMERICAN: Simply Not True
The American flag is waving. Oklahoma-born American Idol star Carrie Underwood, decked out in red, white, and blue clothing, is talking about the virtues of Revlon's Almay line of makeup as her song "All-American Girl" plays in the background. Kids run through prairies, one child waving an oversized flag. There are puppies and more flags. "Almay Simply American," Underwood says as the text "American Science" pops up on the screen before the commercial fades to black. You can't get more American than that.
But what the cosmetics giant doesn't tell consumers in this commercial, which is part of the company's trademarked "Almay Simply American" campaign launched in January, is that none of the seven products shown on screen meet the legal standard for made in the USA. Three of the products featured in the commercial are made outside the U.S. and four others contain non-U.S. components. In fact, more than 95 percent of Almay's products do not meet the legal standard for American-made.
Yet, the company posts no disclaimers on its website or in its Almay Simply American commercials about where the products are actually made. Instead, its "why almay" page boasts that it is proud to be a "truly American brand." Consumers can only find out where some of the products are made if they have them in their hands and attempt to read the tiny fine print — some of which is illegible — on the packing labels. A majority of Almay's products contain labels that say "made in the USA with U.S. and non-U.S. components," but do not indicate how much foreign components are in the product or where the foreign components are from.
"Almay's implied, unqualified claim that its cosmetics are made in the USA is false advertising," said TINA.org Executive Director Bonnie Patten. "Its marketing is unfair to consumers and to companies whose products really are 100 percent made in the U.S."
In a letter sent May 8, TINA.org informed the company that if it didn't correct the misleading advertising by May 15 it would file complaints with state and federal officials. Revlon responded that it does meet FTC standards. But because it did not correct the issues by that date, TINA.org is calling on the FTC and New York State Attorney General to take action.
https://www.themadeinamericamovement.com/wp-content/uploads/2015/06/06-29-15-Almay-Simply-Not-American.png
350
620
The Made in America Movement Team
https://www.themadeinamericamovement.com/wp-content/uploads/2017/08/Made-in-America-Movement-Logo_340x156.png
The Made in America Movement Team
2015-06-29 10:18:37
2020-09-23 08:32:15
ALMAY SIMPLY AMERICAN: Simply Not True