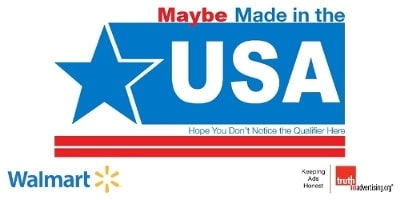 Walmart Website Riddled with Deceptive Made in USA Labeling
Walmart is going all out for America, pledging to buy an additional $250 billion in American products. To that end, the world's largest retailer will host a manufacturing summit next week where it will look for U.S.-made products to sell. The event starts three days after the Fourth of July and promises to be a star-spangled affair.
But one item that probably won't make the agenda: The made in the USA labeling mess on Walmart.com that the company has pledged to address after TINA.org brought the issue to corporate officials.
TINA.org's investigation into the retail giant's website readily uncovered more than 100 instances of false and deceptive made in the USA labeling representations. The investigation revealed products labeled "Made in the USA" though packaging indicated they were "Made in China." TINA.org also found USA labeling on product labels on Walmart.com that were in direct conflict with the site's own specification information.
In a letter sent June 22, TINA.org called on Walmart to remove from its site all false and deceptive made in the USA labeling representations. The company cited multiple reasons for the mislabeling issues. Walmart blamed "coding errors," outdated information from suppliers, and a convoluted process by which USA labeling and product specifications are handled separately on the site. The company said TINA.org's letter prompted the decision to streamline the two processes into one.
But while Walmart pledged that it would fix the problems, and has made limited progress in removing some of the false labels, the website is still riddled with USA labeling issues.
"False made in USA labeling on Walmart's website has misled consumers looking to purchase American-made products,'' said TINA.org Executive Director Bonnie Patten. "The largest retailer in the world should have made sure its American-made claims were accurate before affixing USA labeling on the products. Until Walmart cleans up this mess, consumers cannot rely on Walmart with regard to where a product is really made when shopping on the site."
Sold on America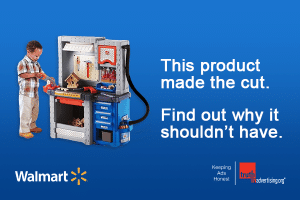 It's no secret that patriotism sells. Not only do Americans prefer products made in the USA to those made abroad, but a recent survey found that they are willing to pay up to 60 percent more for American-made products.
Walmart's stated commitment to "American renewal" comes at a time when the company is trying to boost online sales, which lag mightily behind the more than $1 billion in sales that its brick-and-mortar business brings in every day. It has vowed to invest as much as an additional $500 million in e-commerce. And while Walmart has promised to be selective about what American-made products it chooses to bring home from the upcoming summit — posting on Twitter last week: "This product (My First Hot Sauce) didn't make the cut. Find out what will on July 7th" — TINA.org found numerous products on Walmart.com that shouldn't have "made the cut."
https://www.themadeinamericamovement.com/wp-content/uploads/2015/06/06-29-15-Walmart-deceptive-labels-Cover.jpg
200
400
The Made in America Movement Team
https://www.themadeinamericamovement.com/wp-content/uploads/2017/08/Made-in-America-Movement-Logo_340x156.png
The Made in America Movement Team
2015-06-29 10:26:59
2020-09-23 08:25:28
Walmart Website Riddled with Deceptive Made in USA Labeling