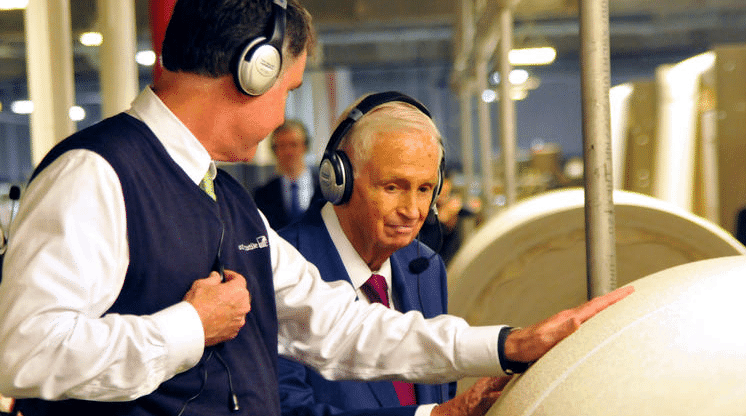 Once Booming Mill Towns Given New Hope
Not so long ago, this rural town an hour outside Atlanta was a hotbed for textile manufacturing.
In the late 1990s, there were six major mills here. Their machines spun children's clothing for Carter's, made tire cords for B.F. Goodrich and produced bed sheets for J.C. Penney, Sears and Walmart.
In all, they employed about 4,000 workers.
By 2001, all of those jobs were gone.
What has happened here in the 15 years since tracks the slow comeback of manufacturing in the United States. Two new textile companies have come in, investing millions in new technology and adding about 280 jobs in this town where one-third of residents still live below the poverty line. It is becoming more affordable to produce textiles in the United States, companies say, as machines become more efficient. Major firms are more willing to pay higher prices for domestically-sourced products, and rising wages in China mean there is less of an advantage to making products overseas than there once was.
Last week, there was new cause for celebration when Marriott International announced that all towels in its 3,000 U.S. hotels would be manufactured by Standard Textile in plants here and in Union, S.C., a move expected to bring $23 million worth of business and 150 jobs back to the United States. The hotelier joins a number of other companies, including Walmart, Apple and General Electric, that have pushed for more U.S.-made products in recent years.
But manufacturing employment here is still a fraction of what it once was. While a company like Standard Textile might have once employed close to 1,000 people, today it has a couple hundred workers who oversee machines that spin, scour and weave cotton.
"We've had to redefine who we were because we were a mill town for so long," said Kyle Fletcher, executive director of the Thomaston-Upton Industrial Development Authority. "We lost a lot of the middle class."
Nationally, the United States lost 30 percent of its manufacturing jobs between 1998 and 2016, according to Federal Reserve data. As of February, the country had 12.33 million workers in the sector, down from 17.64 million in April 2008. At a recent low in February 2010, that figure was 11.45 million.
There are hints that manufacturing is returning to the United States in small ways: The nation's quarterly output has climbed steadily since the end of the recession, growing 35 percent and adding 650,000 jobs since mid-2009, according to the Fed.
But the glory days are gone, says Fletcher. About one-third of Thomaston's 9,000 residents live below the poverty line, compared to 23 percent in 1999. Average income has dropped more than 20 percent since 1999, to $14,243 from $18,193, according to U.S. Census data.
"Losing all those jobs was devastating, and it's certainly changed things very quickly in our community," Fletcher said. "Probably in my lifetime, we won't recapture those jobs."
Thomaston has instead begun building itself back up by branching into industries like ethanol production and animal healthcare. Quad/Graphics, which prints issues of Sports Illustrated and Time Magazine for the region, employs about 370. Dart Container, which manufactures plastic food service products, accounts for another 165 full-time jobs.
The town got a boost recently following Marriott's decision to make 7.5 million towels a year here instead of in the country of Jordan, where they had been made since the 1990s. The Bethesda, Md.-based hotelier says its annual towel costs will remain the same — roughly $28 million nationally and $50 million globally — but that the shift to U.S. manufacturing would eliminate the shipment of 300 ocean containers every year.
Standard Textile says it will spend $10 million renovating plants here and in Union, S.C. to support production for Marriott. In all, the company plans to add 150 jobs between the two plants and in its Cincinnati headquarters by the end of this year.
"If you can bring 150 jobs back to the United States and we can put on all our towels and bath mats 'Made in the USA,' I think that gives a certain amount of pride to all of our associates and management," John Willard "Bill" Marriott Jr., the company's executive chairman, said last week on a private flight to tour the plants.
Standard Textile got its start here when it bought one of Thomaston Mills' many plants out of bankruptcy in late 2001.
The Cincinnati-based company slowly built up its business selling towels, bathrobes and bedding to hospitals and hotels. It started with 185employees, although that number quickly fell to 120 once Standard opened a factory in China.
(Another company, ATD American/Thomaston Manufacturing bought the Thomaston Mills name and sewing plant. Today, it employs 72 full-time workers.)
"When we came down here, (mill employment) was basically down to zero," Gary Heiman, Standard Textile's chief executive, said during a visit to Thomaston last week.
Today, the plant has 210 employees, with plans to add about a dozen more this year.
Standard Textile is investing heavily in technology, buying up new machinery and robotics to make it faster and more efficient to churn out towels and sheets. The company has hired dozens of engineers and this summer, plans to install its first round of robots, created specifically to move large beams of yarn from one floor to another and load cloth rolls onto trucks, among other things. The textile business, Heiman says, is no longer about manufacturing and production, but about innovation.
"A year ago, I told our people I want our plant to look better than the Tesla plant looks," he said. "We want to create the plant of the future."
Marriott's textiles begin their journey in Thomaston, where yarn made from U.S.-grown cotton is woven into towels. From there, they travel to Union, S.C., where they are cut, hemmed and inspected. A proprietary machine launders the towels with Tide detergent, folds them and packages them into boxes so they are ready to use on arrival.
The company has five plants in the United States and 23 worldwide. Marriott, a longtime client, is the first major hospitality company to move its textile manufacturing to the United States, but other clients have expressed interest in doing the same, Heiman said.
Fletcher says things are slowly getting better in Thomaston. A handful of new shops and restaurants have cropped up, and residents are feeling better about their prospects than they did a few years ago.
"They quietly came in and built a force," she said of the company. "Is manufacturing coming back? It's too early to tell right now. But there has been somewhat of a revitalization."
SOURCE: Chicago Tribune
https://www.themadeinamericamovement.com/wp-content/uploads/2016/03/03-17-16-Standard-Textile-cover.png
416
746
The Made in America Movement Team
https://www.themadeinamericamovement.com/wp-content/uploads/2017/08/Made-in-America-Movement-Logo_340x156.png
The Made in America Movement Team
2016-03-17 17:08:27
2016-03-17 17:08:27
Once Booming Mill Towns Given New Hope