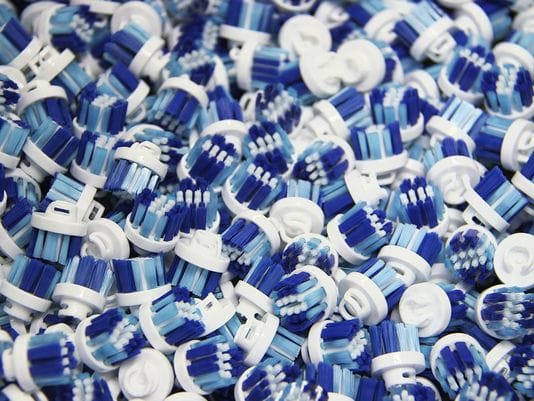 Kentwood Company Moving Toothbrush Production Back From China
KENTWOOD, Mich. (WZZM) – A toothbrush company that outsourced some of its manufacturing to China years ago is bringing work back to West Michigan.
Ranir is headquartered in Kentwood. The company makes oral care products for consumers around the world.
Senior VP of Marketing and Business Development Greg McCormick says the company moved some of that back to Michigan this month. He says they were challenged by one of their current customers to make their electric toothbrush heads in the USA.
"Walmart challenged all their vendors to look at the opportunity for made-in-the-USA manufacturing. They felt like it was an important initiative for them and their consumers to bring jobs back to the U.S."
The company had to re-design the toothbrush heads and purchase machinery that would make them. McCormick says it's now less expensive and it simplifies the supply chain. "So, to have manufacturing in Grand Rapids, we can meet all our North American customers within hours."
"If I had any message, it would be to take a hard look at this, because there is a good business reason as well as social reason," Ranir CEO Christine Henisee said. "It may be tougher to do, but if you have the right talent and expertise, it can be done."
McCormick says Ranir has already added staff, but as they continue to grow, they hope to create more jobs.
The new products can be found at Walmart. Ranir will be manufacturing about 5 million of them each year.
SOURCE:  ABC
https://www.themadeinamericamovement.com/wp-content/uploads/2015/06/06-18-15-Toothbrushes-coming-back-to-US.jpg
401
534
The Made in America Movement Team
https://www.themadeinamericamovement.com/wp-content/uploads/2017/08/Made-in-America-Movement-Logo_340x156.png
The Made in America Movement Team
2015-06-18 09:09:29
2015-06-18 09:09:29
Kentwood Company Moving Toothbrush Production Back From China