Manufacturers in U.S. Still Outpacing Rest of World
Yet strength of ISM index might be overstated, some say
Manufacturers in the U.S. barely slowed down in November even as major competitors around the world continued to scale back production.
The Institute for Supply Management said its U.S. manufacturing index edged down to 58.7% last month from 59% in October. Yet any number above 50% signals expansion, and the latest reading kept the ISM index near a three-year high.
Fourteen of the 18 industries tracked by ISM said business increased in November and only one, apparel and leather-goods makers, experienced a contraction. New orders inched higher to a three-month high, though production and hiring fell slightly.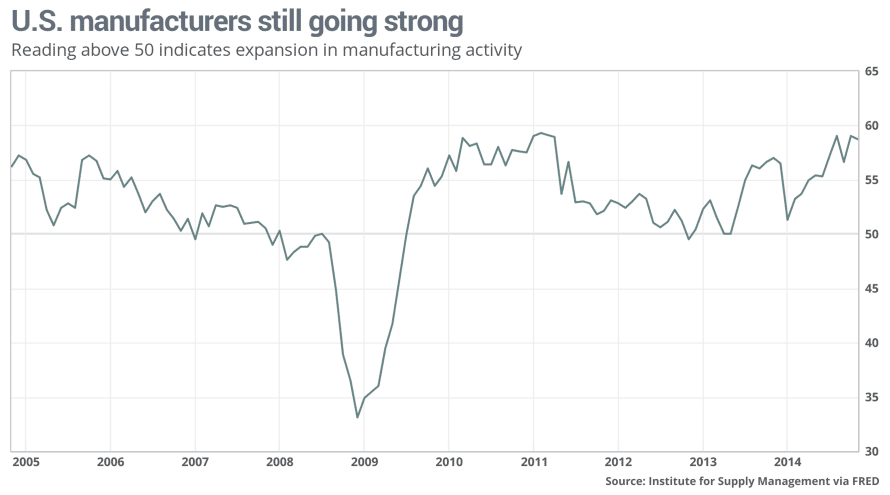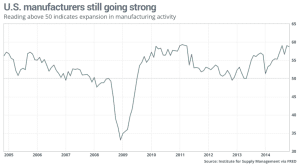 Most executives and manufacturers said demand remained strong and that the holiday season was shaping up to be a good one.
"The holiday season continues to exceed expectations," said an executive at a company that makes food products. "Customers are generally optimistic for future sales growth."
One major caveat: a handful of executives and manufacturers said work slowdowns and the threat of a strike by longshoremen on the West Coast were causing costly delays in delivery.
"Deliveries through the west coast are delayed due to a number of factors," said an executive of a manufacturer that makes fabricated-metal parts used in a wide variety of goods such as appliances and electronics.
In a bit of a surprise, the ISM gauge measuring U.S. exports rose 3.5 points to 55% to match a four-month high. Faltering growth in Europe and Asia was expected to dampen demand for U.S.-made products.
Slower growth overseas is evident in the global manufacturing indexes. An HSBC index that tracks Chinese manufacturers, for example, fell to a six-month low. And indexes for the largest continental economies, Germany, France and Italy, were all in negative territory in November. A global reading of manufacturing, which includes the U.S., fell to a 14-month low.
The ISM index is compiled from a survey of executives and manufacturers who order raw materials and other supplies for their companies. The gauge tends to rise or fall in tandem with the health of the economy.
In U.S. markets on Monday, investors largely shrugged off the ISM index as stocks SPX, -0.02% headed lower. And some economists cast down on the report, saying other economic reports suggest the economy is not doing quite as well as the ISM survey shows.
"The continued strength of the ISM manufacturing index is starting to look a bit odd when set against the economic backdrop and the other survey evidence," said Paul Dales, senior U.S. economist at Capital Economics.
A separate report Monday by the research firm Markit offers support for a more cautious view on how fast the U.S. manufacturing sector is growing. Markit said it purchasing managers index for November showed a reading of 54.8, down from 55.9 in October. That marks the lowest reading in ten months.
https://www.themadeinamericamovement.com/wp-content/uploads/2017/08/Made-in-America-Movement-Logo_340x156.png
0
0
The Made in America Movement Team
https://www.themadeinamericamovement.com/wp-content/uploads/2017/08/Made-in-America-Movement-Logo_340x156.png
The Made in America Movement Team
2014-12-10 07:48:32
2014-12-10 07:49:54
Manufacturers in U.S. Still Outpacing Rest of World