Chicken From China Labeled "Made In America"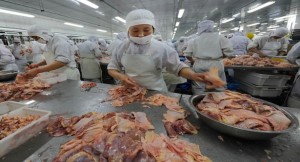 Yet again another food scandal is among us as the U.S. Department of Agriculture recently agreed to allow four chicken processing plants in China to raise and slaughter their chickens in the U.S., export them to China for processing, and them ship them back to the U.S. These chickens will then be sold on every grocery store shelf in the United States with no country of origin labeling. What's worse is that U.S. inspectors will not be on site at the processing plants in China before the processed chicken will be shipped to the U.S.  Again, chicken from China labeled "Made In America"?
This means there will be little to no control over how the cooked chicken is processed in China. It's a drastic threat to the health of US consumers and something that must be stopped. China is already notorious for food safety issues. How much longer are we going to hand over control of various US industries to China?
Our health is at risk. Food safety experts are worried about the quality of this processed chicken since China is notorious for toxic foods. Concerns among the public are warranted when you consider that the CDC estimates 325,000 Americans are hospitalized every year from food poisoning, with 3,000 resultant deaths.
Of the massive amount of imported food coming to America, the FDA only has the resources to inspect less than 2 percent. This is a major problem because many nations have less stringent food safety regulations than the United States. Even for the imported chicken from China, Chinese processors won't be required by the USDA to follow point-of-origin labeling laws because the chicken will already be cooked. This is another huge concern for consumers, as there will be no proof where their chicken came from. It will even lead to other problems such as food counterfeiting — something that so far has largely been restricted to fish markets.
Not having proper labels also makes it impossible for American consumers to tell if the chicken they want to buy was processed in the U.S. or China, placing a huge burden on families who wish to stay away from foreign foods.
Chicken From China Labeled "Made In America"? Contact your Congressional representative and urge them to stand against this latest agreement between the USDA and China. Send this to five of your friends and have them do the same!
https://www.themadeinamericamovement.com/wp-content/uploads/2017/08/Made-in-America-Movement-Logo_340x156.png
0
0
The Made in America Movement Team
https://www.themadeinamericamovement.com/wp-content/uploads/2017/08/Made-in-America-Movement-Logo_340x156.png
The Made in America Movement Team
2014-12-08 10:20:11
2020-09-22 13:35:30
Chicken From China Labeled "Made In America"