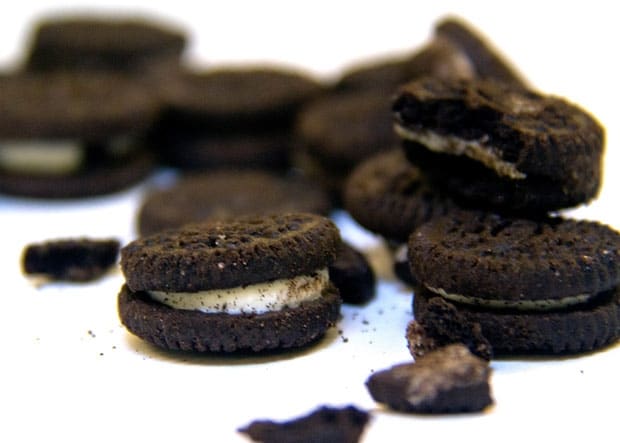 Nabisco Workers Continue Fight to Preserve Local Jobs
A beige apartment building at 73rd and Kedzie is ground zero of the Nabisco workers fight to keep their jobs.
They've set up this empty apartment with a long table for meetings and keeping colleagues in the loop. From the front window, the massive Nabisco plant is right across the street–it's where Oreo cookies and other brand favorites are baked.
Last July, parent company Mondelez said it was investing in new manufacturing lines–but not here. The lines — and 600 jobs — would be in Salinas, Mexico. The bakery union, BCTGM Local 300, is pushing back.
On the wall of the union's campaign office is a banner, a replica of the famous Edvard Munch painting "Scream" and wordplay off of the name Mondelez — it's called Scream-delez International.
It's all part of a strategy to bring attention to the disappearing jobs. Long-time workers have shown up at union protests and later plan to communicate with Mondelez leaders.
"All they're worried about is making extra money. They don't want to pay the American people," said Barbara Cimbalista.
"They want to pay people in another country that they can take advantage of. We made them famous — the Oreos, the Chips Ahoy, the premium crackers, the Ritz. They started here," said Deborah Vargas.
Sabrina Pope added: "They want them to make it and bring it back here to sell it to us. This is an American job. It's always been an American job."
Manufacturing jobs leaving the U.S., and Chicago, is nothing new. But as pink slips become a reality, mobilization is ramping up.
Local 300 union in Chicago filed in court for arbitration around Mondelez contract violations. And the union filed an EEOC complaint against the company for race and age discrimination.
Elce Redmond is an organizer with the union, and he ticks off union actions:
"We have the legal angle in terms of lawsuits and injunctions, EEOC complaints, charges to the National Labor Relations Board. We have our international angle working with our brothers and sisters from around the world. All those irons in the fire and all of them are directed in terms of one thing: saving all of these jobs and keeping these jobs here in the city of Chicago because these jobs have created the middle class," Redmond said.
The workers say they know they are taking on a multinational food company. But they are banking on the familiarity of their baked goods to garner support…to differentiate this from becoming just another David-Goliath fight. One of their messages to the public is to read the labels on products — don't purchase products made out of the U.S.
Mondelez doesn't appear fazed by the organizing. The company declined to go on tape. In a statement, officials say they don't discriminate and will defend the EEOC allegations.
And the planned investments in Salinas, Mexico, are underway and expected to be completed later this year. Layoff warnings to some employees have gone out.
The Nabisco plant is in Ald. Derrick Curtis' 18th ward. He said he stands with the union but doesn't have any solutions on hand.
"I do feel that sooner or later if they moving these lines they'll eventually move the entire company," Curtis said, adding that he's not sure of a strategy. "I'm talking to different people, talking to unions, I'm talking to my colleagues, I'm just trying to come up with some answers.
Worker Sabrina Pope said the answer is just to remain steadfast:
"Just keep the faith. The faith of a mustard seed. That's all we need. And if all of us got it and we all come together in solidarity, we can't ask for anything else."
For Pope, this fight is about future generations of workers being able to stay on the city's Southwest Side…baking those familiar cookie treats.
https://www.themadeinamericamovement.com/wp-content/uploads/2016/03/03-01-16-Chicago-Nabisco-Workers-Continue-Fight-to-Preserve-Local-Jobs.jpg
443
620
The Made in America Movement Team
https://www.themadeinamericamovement.com/wp-content/uploads/2017/08/Made-in-America-Movement-Logo_340x156.png
The Made in America Movement Team
2016-03-02 12:17:19
2016-03-02 12:17:19
Nabisco Workers Continue Fight to Preserve Local Jobs