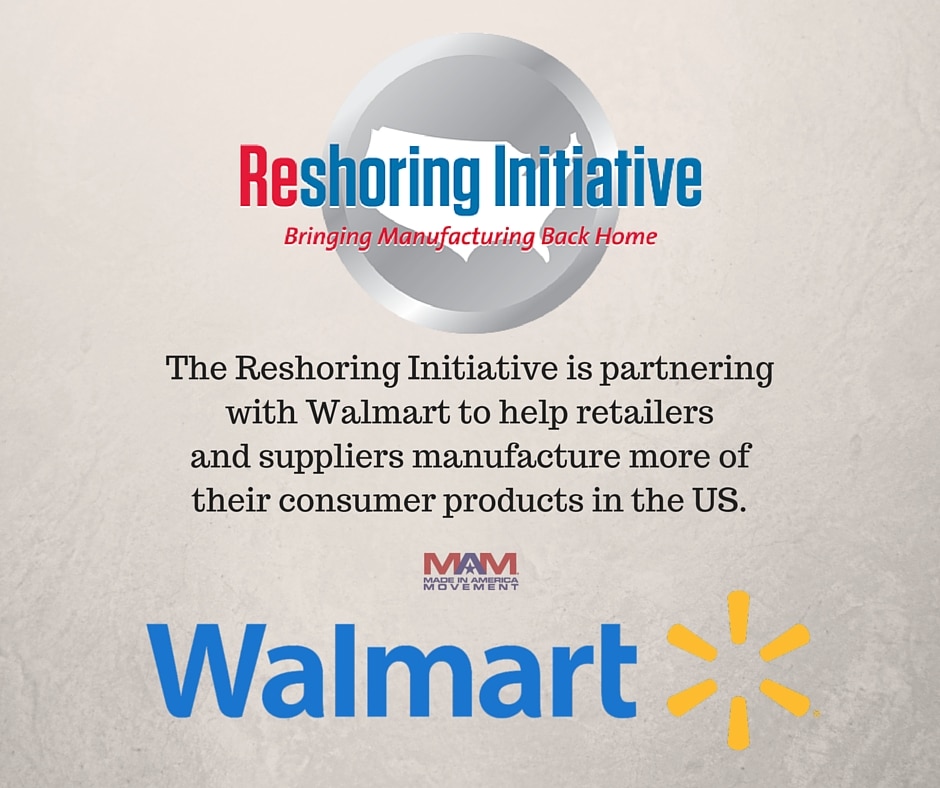 Reshoring Initiative and Walmart Helping Suppliers Reshore
The Reshoring Initiative recently announced a program in partnership with Walmart to help companies manufacture more consumer products in the United States.  
Walmart has committed to increase its U.S. purchases by $50 billion annually by January 2023.  Harry Moser, founder and president of the Reshoring Initiative observed, "We were honored to be called on by Walmart to support its Made in USA program.  We estimate the company's increased purchases will add 300,000 U.S. manufacturing jobs. Helping Walmart succeed fits our Mission perfectly."
The new program provides direct, personal access to 35 manufacturing trade associations, companies, banks, U.S. Commerce Department offices and other groups. Each group has assigned dedicated resources to help companies develop and implement plans to produce or source more domestically produced goods. The program launch was coordinated with Walmart's Open Call and U.S. Manufacturing Summit in Bentonville, Arkansas, which was attended by the U.S. Commerce Secretary, two governors and current and prospective suppliers.
The Reshoring Support page on Walmart's JUMP (Jobs in U.S. Manufacturing Portal) site links to the Reshoring Initiative's Resources for Retail Suppliers page, which contains resources to facilitate and accelerate supplier efforts. Issues from product selection, to cost reduction, managing the transition to reshoring and financing are included for large, small, foreign and domestic companies. The resources offer guidance to help manufacturers select products and succeed in profitably producing or sourcing products in the United States.
"When Walmart committed to buy an additional $250 billion over 10 years in products that support American jobs, we knew we could also play an important role as facilitator and accelerator," said Cindi Marsiglio, vice president of US manufacturing at Walmart. "We created Walmart-Jump.com to help companies find resources on manufacturing in the U.S.  The Reshoring Initiative's support page is a great addition to that resource library."
Harry Moser noted, "Based on published articles accessible in our Library, the Reshoring Initiative concludes that Walmart has supported at least  43 suppliers to add 4,579 or more  U.S. manufacturing jobs so far, and is currently the largest force driving reshoring. The Reshoring Initiative is delighted to provide these resources to accelerate this effort. We call on other retailers to get on board."  He added, "We thank the 35 groups that have volunteered as resources.  Their personal commitment will make this program a success."
The Reshoring Initiative seeks to expand the scope and impact of the Resources for Retail Suppliers page by incorporating expertise from additional sources and adding more participating retailers.  We call on manufacturers to use the resources, other relevant groups to volunteer to be listed and retailers that are interested in Made in USA to provide a contact point to be displayed along with the Walmart JUMP site.
Companies can help improve manufacturing employment by consistently utilizing advanced metrics for supply chain sourcing decisions. The Reshoring Initiative's Total Cost of Ownership (TCO) Estimator is the best-known publically available tool for this purpose. The TCO Estimator allows users to easily determine the total cost of offshoring by accounting for and understanding the relevant offshoring costs, which include inventory carrying costs, shipping expenses, intellectual property risks and more.
About The Reshoring Initiative
A 48-year manufacturing industry veteran and retired President of GF AgieCharmilles, Harry Moser founded the Reshoring Initiative to move lost jobs back to the United States.  For his efforts with the Reshoring Initiative, he was named to Industry Week magazine's Manufacturing Hall of Fame in 2010. Additional information on the Reshoring Initiative is available at www.reshorenow.org.  
https://www.themadeinamericamovement.com/wp-content/uploads/2015/08/The-Reshoring-Initiative-is-partnering-with.jpg
788
940
The Made in America Movement Team
https://www.themadeinamericamovement.com/wp-content/uploads/2017/08/Made-in-America-Movement-Logo_340x156.png
The Made in America Movement Team
2015-08-26 12:00:46
2015-08-26 12:00:46
Reshoring Initiative and Walmart Helping Suppliers Reshore