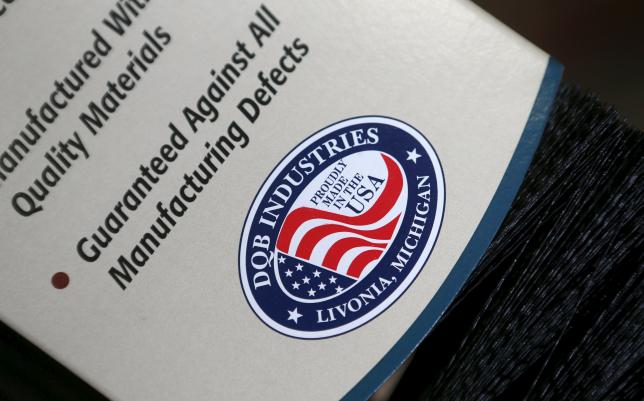 Walmart Suppliers Grapple With 'Made in USA' Labels
Detroit Quality Brushes is a company that does just what its name suggests: It makes high quality brushes in Detroit.
Years ago, the company had 18 competitors in the United States. Today, there are only three left, says John Avgoustis, head of marketing and sales.
"Walmart and others were a fundamental force in getting many companies to go the way of the dodo," he said.
Avgoustis was among some 2,000 executives from U.S. manufacturing companies who journeyed to Wal-Mart Stores Inc. headquarters here on July 7 to huddle in tiny conference rooms with Walmart buyers and present products made in the U.S.
Walmart's 2015 U.S. Manufacturing Summit was advertised as a chance for goods producers & suppliers to pitch American-made products to the retail giant. They would also get advice from Walmart executives on how to take advantage of the company's recent efforts to support more U.S. manufacturing jobs and reverse the trends its purchasing strategies and demand for low prices have driven.
But the event also highlighted the challenges facing companies trying to bring manufacturing jobs back to the United States. Cheaper energy and rising labor costs in China have helped stabilize manufacturing employment in the U.S., but there are still roughly 5 million fewer Americans working in factories today than in 1990.
Would-be Walmart vendors attending the summit had to establish that their so-called "Made in America" products are not just assembled domestically, but also made from component parts manufactured in the U.S. But some companies attending the summit said they have to rely on imported parts or materials because their one-time U.S.-based suppliers have been put out of business by foreign rivals.
Walmart's "Made in the USA" efforts go back to 2013, when the company came under increasing pressure from unions and other critics who said its drive for low cost goods was undermining American jobs. Walmart says it wants to spend $250 billion on American-made products by 2023, and says buying from U.S. producers & suppliers is good business.
PENDULUM SWINGS AMERICA'S WAY
Harold Sirkin, a managing director at Boston Consulting Group, says Walmart's drive to buy American, and similar moves by big importers such as sportswear maker Nike Inc., are, in part, a response to Chinese labor costs that have hit 61 percent of U.S. levels, compared to 17 percent of U.S. levels 15 years ago. When supply chain and transport costs are figured in, American manufacturers can now compete, he said.
"The pendulum has swung back in favor of the U.S.," Sirkin said. "But it can also swing back the other way."
That is what worries Jack Sloan, vice president of sales at SFH Company LLC. Sloan came to Bentonville hoping to sell customizable plastic travel mugs made by SFH's Chicago-based Magenta unit from American-sourced plastic, with a recommended retail price of $6.99, about $1.50 cheaper than mugs he'd seen on Walmart's shelves.
His pitch went well, and the buyer asked him to come up with suggestions for Valentine's Day, Mother's Day and Back to School promotions in a test run at Walmart stores.
But Sloan nevertheless had concerns. "I really love what Walmart is doing, but we'll see how committed they are in the long run," Sloan said. "If this is just a cyclical thing will they send it back overseas 10 years from now?"
CAMISOLES FOR $1.68?
Jeff Kjar and Shellie Slade of Utah-based Elk Management had a tougher time pitching their American-made clothing line to five Walmart executives gathered in a 10 foot by 12 foot windowless room. Kjar said Elk was willing to build a new factory to handle Walmart business, but they could not compete with a $1.68 camisole the retailer currently sells.
The executives, who included Walmart category director for ladies apparel Kellie Mullins and David Adams, a divisional merchandise manager, responded that Walmart customers expect $1.68 camisoles, but will also pay higher prices for better-quality clothing.
They advised Kjar and Slade to aim for that higher-end, but they also offered a caution: The company should double check that the spandex it uses is American-made.
The clothing manufacturers have since discovered that their spandex was imported, and they have found a domestic source instead. But many would-be Walmart suppliers say producing goods entirely made from American materials presents a major challenge.
K'Nex Brands, one of Walmart suppliers, manufactures Lincoln Logs, an iconic wooden American toy that has been made in China for 60 years. Chief executive Michael Araten says the company set out four years ago to move production back to America and did test runs with furniture makers. But the U.S. makers had trouble producing the small wooden logs to scale.
The company finally tapped golf tee maker PrideSports, which found moving up in scale feasible, and K'Nex recently launched production in Maine at a competitive cost.
Satisfying Walmart's criteria for Made in the USA products remains an issue for Detroit Quality Brushes, a family owned company founded in 1887.
Avgoustis said the company purchases wood for its brushes from Sri Lanka, and bristles from Sri Lanka or Mexico, because the American suppliers it once used have all gone out of business.
Walmart buyer William Loan suggested the company return to pitch samples of plastic brushes.
Avgoustis said he has seen other brush companies invest in U.S. production facilities only to have retailers abandon their products in favor of cheaper, foreign-made products. But Detroit Quality Brushes has extra factory capacity, and Avgoustis said that may make it possible to produce brushes with American-made plastic that could carry a "Made in USA" label without a huge expenditure. It is, he said, worth a try.
"If after two years Walmart were to say bye-bye to us, it wouldn't hurt us," Avgoustis said."
(Editing by Joseph White and Sue Horton)
https://www.themadeinamericamovement.com/wp-content/uploads/2015/07/07-14-15-Reauters-Walmart-Grappling-brushes-packaging.jpg
401
644
The Made in America Movement Team
https://www.themadeinamericamovement.com/wp-content/uploads/2017/08/Made-in-America-Movement-Logo_340x156.png
The Made in America Movement Team
2015-07-14 13:39:51
2015-07-14 13:39:51
Walmart Suppliers Grapple With 'Made in USA' Labels