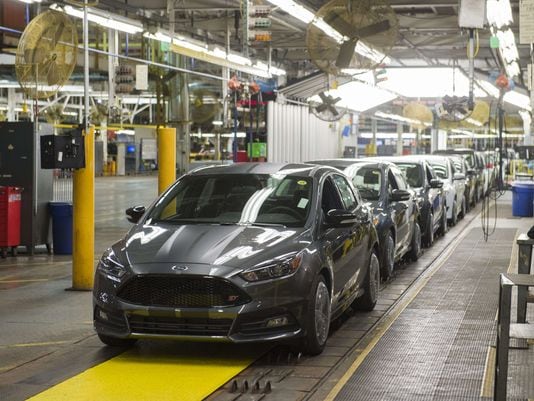 Mexico Bound? Ford Moving Two Key Models out of Michigan
Ford said it will move production of the Focus and C-Max small cars from its Michigan Assembly Plant in 2018, with union officials saying they were told the work will leave the U.S..
The company's decision sets a potentially combative tone just days before contract talks are scheduled to begin and runs counter to Ford's normal approach to negotiations, which is to emphasize its ability to cooperate with the union. The United Auto Workers union formally opens negotiations with GM on Monday, Fiat Chrysler Automobiles on Tuesday and Ford the following week.
"It's very, very unusual," UAW Vice President Jimmy Settles says, adding that workers were upset when they were briefed on the news on Thursday. "You never feel good about that kind of information. But I am very, very confident that there will be a replacement product that we will secure for the plant."
Industry analyst Dave Sullivan of AutoPacific called it a "a power move before negotiations start … Before today, Ford didn't really have anything to negotiate on. The UAW had the upper hand. Now Ford has wiggle room to negotiate for jobs and products."
Ford spokeswoman Kristina Adamski declined to say where Ford plans to relocate the manufacturing, and said the site choice will be based on where the cars can be competitively produced.
Mexico seems a likely choice, with lower wage costs than Canada or the U.S, and even southern states. Ford has also invested in new plants in the country,lately.
Ford's move also comes as a host of automakers, including Ford, are building new plants in Mexico instead of in the U.S. and raises questions about which products could replace the Focus — a car that symbolized Ford's transformation in 2011 from a company dependent on truck sales to one aimed at building better passenger cars for a global market.
Ford insists the Wayne plant, which employs 4,000, will not close. But Adamski would not provide details of any new products being planned for the plant. The company makes the Focus, Focus ST, Focus Electric, C-Max hybrid and C-Max Energi plug-in hybrid at the plant.
"We will move production of the next-generation Ford Focus and C-MAX, which currently are built at Michigan Assembly Plant, beginning in 2018," the company said in a statement. "We actively are pursuing future vehicle alternatives to produce at Michigan Assembly and will discuss this issue with UAW leadership as part of the upcoming negotiations."
Settles says Ford said it would move production of the vehicles "outside of the U.S." but did not directly say Mexico.
He said a new goal in contract talks is to win a future product for the Wayne plant that would preserve or add jobs.
"We are just going to get it done," Settles said.
Art Schwartz, President at Labor and Economics Associates, said Ford's move underscores the importance of the investment decisions that automakers make.
In 2011, the UAW won product and investment commitments that guaranteed the creation of 20,000 jobs.
"In 2007 and 2011, product guarantees and jobs were a big issue, and I am sure they will be again in 2015," Schwartz said. "I am sure the UAW is very worried about all of the investment that going to Mexico."
Ford builds the smaller Fiesta subcompact car in Cuautitlan, Mexico. Its sales have not been strong and there are persistent rumors that Fiesta assembly will be consolidated outside North America and the cars exported back to the U.S. in the future.
As for possible vehicles to fill Michigan Assembly, Ford currently imports the popular Transit Connect from Europe and could be considering North American assembly. Other possibilities include a gasoline-engine version of the C-Max, which is sold in Europe while only a hybrid is sold here. And Lincoln is expected to add compact luxury car to its lineup that could be sourced from the Michigan plant. Ford also could use additional capacity to build more Escapes.
Increasingly, North America is being divided when it comes to manufacturing with larger and more expensive vehicles produced in the north and smaller less profitable vehicles assembled in Mexico and the southern states.
Of the vehicles built in North America last year, Mexico produced about one in five, or double the rate from 2004. WardsAuto, which tracks production data, expects the rate to increase to one in four by 2020 with new plants adding 1.2 million units of capacity in North America and Mexico getting the lion's share. Virtually every automaker is adding capacity in Mexico, including General Motors, Ford, Toyota, Honda, Volkswagen, Audi, BMW, Kia and Mazda.
In 2014, automakers announced $18.25 billion in additional investments in North America. The breakdown: almost $10.5 billion for the U.S., $7 billion in new projects for Mexico, and a single $750-million project for Canada, according to the Center for Automotive Research in Ann Arbor.
That is on top of the 18 plants already in Mexico, and there are least five more planned or under construction. Mexico has seen a 40% increase in auto jobs since 2008 to 675,000 last year while the U.S. saw only a 15% increase in the same period to more than 900,000.
Earlier this year, Ford announced it will spend $2.5 billion on new engine and transmission plants in Chihuahua and Guanajuato, in central Mexico, creating 3,800 jobs.
Back in 2011, Ford touted its $550 million investment in the aging plant in Wayne as a symbol of its global plan to put a bigger emphasis on making better passenger cars.
The 2.8 million square foot plant originally opened in 1957. For most of its history, Ford built big trucks and SUVs such as the Ford Bronco, F-150, Ford Expedition and Lincoln Navigator at the plant before it was idled in 2008 as the automaker's sales were hurt by high gas prices and the worst recession in decades.
Ford celebrated the reopening of Michigan Assembly on March 17, 2011, during an event attended by Michigan Governor Rick Snyder, U.S. Senator Debbie Stabenow (D-Mich.) and many others.
But this year, with low gasoline prices falling, the Focus and C-Max hybrid and C-Max Energi plug-in hybrid have seen sales fall.
That led to the decision in April to reduce production from three crews to only two shifts and lay off 700 workers although many of the excess workers are filling in for summer vacations at other plants, Adamski said.
Focus sales in the first half of 2015 are down 3.2% from a year earlier, while sales of C-Max fell 16.9%.
Ford also builds the Focus at plants in China, Argentina, Germany, Russia, Thailand,Taiwan and Vietnam. The C-Max is also built in Germany.
https://www.themadeinamericamovement.com/wp-content/uploads/2015/07/07-15-15-USA-Today-Ford-to-Mexico.jpg
401
534
The Made in America Movement Team
https://www.themadeinamericamovement.com/wp-content/uploads/2017/08/Made-in-America-Movement-Logo_340x156.png
The Made in America Movement Team
2015-07-15 11:41:45
2015-07-15 11:41:45
Mexico Bound? Ford Moving Two Key Models out of Michigan