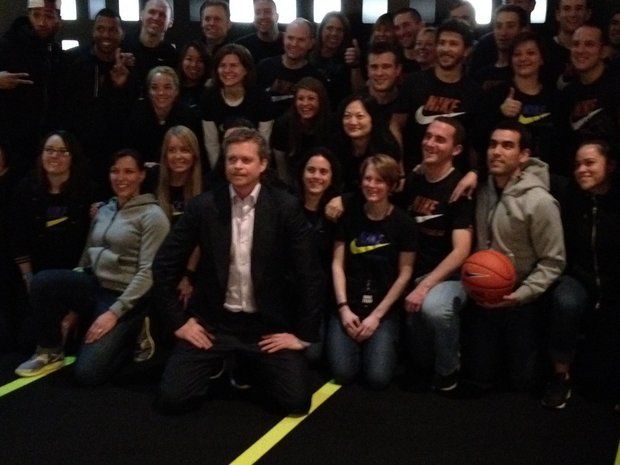 Nike CEO told POTUS About U.S. Manufacturing 4 Years Ago
When President Obama visited Oregon in 2011, Nike Chief Executive Mark Parker foreshadowed what was on the sneaker giant's horizon.
Obama was in the state to visit Intel in Hillsboro. But Parker found a moment to tell the president something that the commander in chief undoubtedly was pleased to hear: The world's biggest sports footwear and apparel company was on the cusp of bringing manufacturing jobs to the United States.
Nike's announcement Friday that it would create 10,000 manufacturing jobs in the U.S. with approval of a sweeping trade agreement affirms hints that company officials have offered for at least three years.
To be sure, the overwhelming majority of jobs making shoes and clothing for Nike would remain overseas even if the plan announced Friday reaches fruition. About 1 million people work in contract factories around the globe, mainly in Asia, assembling the footwear and clothing that led to more than $28 billion in 2014 sales.
But for Nike, the chance to bring home even a fraction of manufacturing jobs would offer a multitude of advantages beyond the 10,000 jobs the endeavor would create. Above all, it would establish the company as an innovator that has used part of its vast resources to invest in groundbreaking technology and not just, as its critics have charged for more than 20 years, as an exploiter of cheap, overseas labor.
In its announcement Friday, Nike did not specify what type of manufacturing was planned, be it footwear or apparel. Also, the company did not say where the manufacturing potentially could be located.
Parker recounted that meeting with Obama during a February 2012 interview with The Oregonian/OregonLive in New York City. Parker and other Nike executives were in the city to introduce products for the upcoming Summer Olympics Games as well as a new type of sneaker with an upper constructed of a material called "Flyknit."
Sneakers and most shoes are created by stamping out patterns of uppers in all types of material, resulting in wasted unused scraps. The labor-intensive process creates tons of waste.
Flyknit would change the game, said Nike officials, including Parker and his then-first lieutenant, former Nike Brand president Charlie Denson.
Flyknit uppers were created with a single thread, creating a tight-weave pattern that created no waste.
Parker, in an interview at that time with The Oregonian/OregonLive, concurred with a remark Denson made in a separate interview — that the Flyknit shoe "could be made anywhere in the world."
Both executives, however, stopped short of saying Flyknit was ready for United States-based production.
"This completely changes how a major part of the shoe is made," Parker said at the time. "No longer are you cutting material and stitching material. It's probably the most labor intensive part of the whole production process.
"That goes away. What you're doing now is actually designing … and then feeding it right into a machine with very sophisticated software and the machine basically, actually, creates the upper — physically creates the upper."
Placing the upper onto the sole remains a function that only one human can perform with one shoe at a time.
But Parker added during that interview three years ago: "There's some things we're working on that will change that as well."
The entire experience of altering the production of footwear could affect where those products are made, Parker said.
"We'll create some flexibility in how product is made. I'm very actively engaged in accelerating our innovation agenda at Nike. It's one of the things I've always been passionate about, but I'm on an innovation-squared focus right now.
"A major part of that is revolutionizing how product is actually made."
Parker, chief executive of one of two Oregon-based Fortune 500 companies, said he mentioned the technology advance to Obama during the president's February 2011 visit to Intel.
"We talked briefly about the fact we're really interested in revolutionizing the production process," Parker said during the interview in New York.
"Where that goes, in terms of setting up production in the U.S. and creating more jobs that way, remains to be seen. But I think the more we advance the state of the art in that sense, the more possibilities that will exist — to be much more flexible in terms of making product."
–Allan Brettman
503-294-5900
https://www.themadeinamericamovement.com/wp-content/uploads/2015/07/07-17-15-Oregon-Live-NIKE-CEO.jpg
465
620
MAM Team
https://www.themadeinamericamovement.com/wp-content/uploads/2017/08/Made-in-America-Movement-Logo_340x156.png
MAM Team
2015-07-17 10:53:05
2017-09-08 14:43:16
Nike CEO told POTUS About U.S. Manufacturing 4 Years Ago