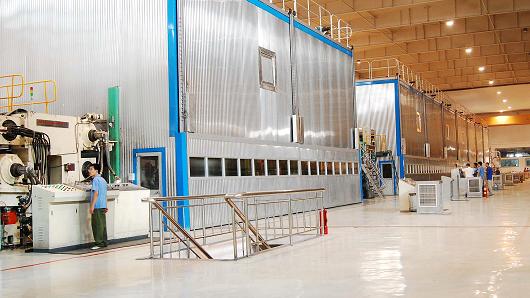 The Rise of 'Made by China' in America
Later this year along the banks of the James River outside Richmond, Virginia, a paper products maker based in northeastern China will begin construction on a new U.S. manufacturing plant. The factory will churn the region's straw and corn stalks into household products including napkins, tissue and organic fertilizer—all marked "Made in the USA." Made by China, in America.
But for all the manufacturing bounty generated by foreign investments, some China watchers are cautious. The new manufacturing plants have stoked old fears about foreign investment. Are Chinese businesses planting stakes in the U.S. to simply hoard know-how, and eventually wipe out domestic competition?
"Some foreign direct investment is being done in a strategic way by the Chinese government to pick up high value-added parts," said Stephen Ezell, senior analyst at the Information Technology and Innovation Foundation in Washington.
"In the background, this has become of increasing concern," Ezell said.
A Virginia tale
Chasing Advanced Manufacturing
Welcome Citizens?
But while the list of new Chinese-funded U.S. plants is growing, it's hardly a manufacturing boom. Chinese manufacturing foreign direct investment in the U.S. is small, and Chinese companies account for a tiny fraction of American jobs—less than 100,000 across all sectors of the U.S. economy, according to Thilo Hanemann, research director with the Rhodium Group.
Some research, in fact, suggests a decline in U.S. manufacturing jobs since China joined the World Trade Organization in 2001, and America's bilateral trade with China increased. Although China has become America's third-largest export, Chinese goods still far outpace U.S. goods to China.
In the manufacturing sector, the bulk of U.S. sales to China involves commodities, while the vast majority of Chinese sales to the U.S. is manufactured, finished goods. "The net result is a trade relationship that clearly produces jobs for Chinese workers but costs jobs for blue collar Americans even as U.S. exports to China grow," according to a 2014 U.S.-China Economic and Security Review Commission report to Congress.
But other China watchers say talk of a Chinese investment threat is exaggerated, and that America benefits from Chinese investment. Ask Dahlquist of Virginia.
"We need manufacturing jobs," Dahlquist said. "We need a fresh approach that's less dependent on the federal government."
https://www.themadeinamericamovement.com/wp-content/uploads/2015/02/02-07-15-CNBC-The-Rise-of-Made-in-China-in-America.jpg
298
530
The Made in America Movement Team
https://www.themadeinamericamovement.com/wp-content/uploads/2017/08/Made-in-America-Movement-Logo_340x156.png
The Made in America Movement Team
2015-02-09 10:46:18
2016-05-17 19:25:07
The Rise of 'Made by China' in America