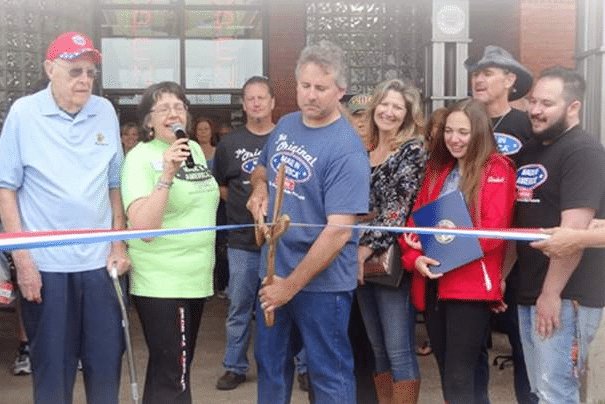 The Made in America Store opening at Batavia Downs
BATAVIA — Creating a product up to the standards of the Made in America Store is not as simple as the name might suggest.
Mark Andol founded the Elma-based business in 2010 after his welding and fabrication company was undercut on a major contract by a "Florida" supplier which imported its materials from China. He said there's a number of products he's still trying to find that are completely American-made and supplied. Even with more than 7,000 products and 500 suppliers respectively in his network of vendors.
A simple toaster. A flashlight. Even a fishing pole.
"We work very hard to find 100 percent American products," he said. "They have to complete three layers of authenticity — the cap, the jar, the glue … it all has to be American. But we have a lot of vendors in Buffalo, and we hit every one of the 50 states with our products."
The Made in America Store, which has opened physical locations at a half-dozen Buffalo-area malls, will plant its flag in Batavia with an expansion of a store-in-store concept inside the Batavia Downs Gaming entranceway on Park Road.
Officials from Western Region Off-Track Betting Corporation and the Made in America Store will mark the grand opening of the Batavia store with a ribbon-cutting at 4:30 p.m. Wednesday, featuring a performance by country musician Ricky Lee at 34 Rush.
"This is a test, a pilot program," Andol said. "But Batavia is great because it's so close, but not in our footprint. "It's blue collar, and we have a heavy tie-in with veterans, so it's great that the VA is right there. We have a great tie-in with Ricky Lee and Thurman Thomas."
For Western Region Off-Track Betting Corporation, the Made in America Store will be its first retail venture on the grounds of Batavia Downs. That the store's location is owned by many of the upstate cities and counties where the store's vendors are based was a positive for both partners.
"Over the years, we've had a multitude of opportunities to partner with entities from the retail sector at Batavia Downs," said Henry Wojtaszek, OTB's CEO and president. "In deciding to partner with MIA, the decision was not a difficult one; we both support American workers, jobs in this community, and American jobs across the country."
"As a public benefit corporation, it is imperative that every decision we make is in the best interests of the 17 municipalities that encompass the corporation and share the revenue generated by the corporation," said Nolan. "I can't think of a retail collaboration that fits better into our mission than partnering with MIA."
The Batavia store is designed based on similar locations at the Buffalo and Erie County Naval and Military Park, and inside dozens of Kinney Drugs stores across central and northern New York and Vermont. It will provide a gift shop for Batavia Downs and around 100 items that a guest of the racino and adjacent Hotel at Batavia Downs might need.
"Clothing is a big feature, we have smaller gifts, shirts, private label clothing for Batavia Downs, candy, water, Johnnie Ryan pop, shot glasses, souvenirs," Andol said.
Since opening in 2010, Andol said his company has become a prominent part of campaigns to educate Americans about the need for home-made industries, products and jobs.
"We are proud to partner with Batavia Downs to bring our line of American-made products to the great people of Genesee County and the many tourists and visitors who've made this venue a world-class destination," Andol said. "The people of this community are as patriotic as any you will find across the country. We are confident that this store will be one of our busiest and most successful locations."
SOURCE: The Daily News Online
https://www.themadeinamericamovement.com/wp-content/uploads/2016/09/09-22-16-MIA-store-opening.png
404
605
The Made in America Movement Team
https://www.themadeinamericamovement.com/wp-content/uploads/2017/08/Made-in-America-Movement-Logo_340x156.png
The Made in America Movement Team
2016-09-22 12:31:27
2020-09-23 08:43:23
The Made in America Store opening at Batavia Downs