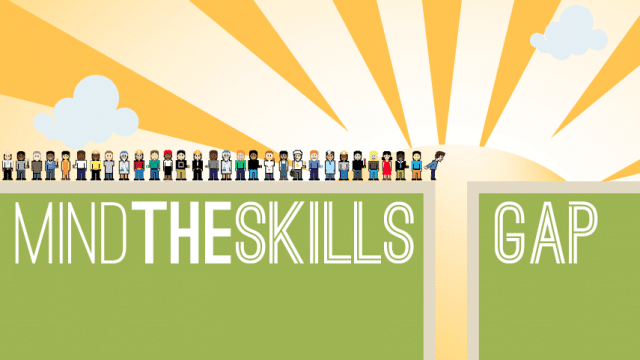 Skills Gap: Why It's Creating New Manufacturing Opportunities
Skills Gap – the difference in the skills required on the job and the actual skills possessed by the employees.

The United States unemployment rate remains strong at 7.8%, but in the manufacturing industry, demand is outpacing supply with hundreds of thousands of jobs going unfilled.
"These unfilled jobs are mainly in the skilled production category — positions such as machinists, operators, craft workers, distributors, and technicians," said Manufacturing Institute President Emily DeRocco in an October 2011 study by The Manufacturing Institute and Deloitte LLP. "Unfortunately, these jobs require the most training and are traditionally among the hardest manufacturing jobs to find existing talent to fill."
Will The Skills Gap Stunt Growth?
Growth in the manufacturing industry is likely to remain strong in spite of the skills gap, according to a new study by Boston Consulting Group. Right now, the shortage represents less than 1% of total manufacturing workers and 8% of highly skilled manufacturing workers.
But manufacturers are still feeling the crunch. Sixty-seven percent of manufacturing companies are experiencing a shortage of qualified workers, said last year's Deloitte and Manufacturing Institute survey. More than half expect the shortage to increase within the next three to five years.
To prevent the skills gap from worsening, companies need to invest in more aggressive recruiting and training efforts.
"Companies should be much more aggressive about cultivating the next generation of manufacturing talent," said Justin Rose, a BCG Principal and co-author of the research. "With more investment in recruiting and more in-house training, the availability of manufacturing talent could actually become a major competitive advantage for the U.S."
Some organizations are actively addressing the skills gap problem by looking to new talent pools. Their approach is to find highly capable employees who need work, and train them to succeed. For a number of corporations, that means turning to a ready labor force of motivated candidates: military veterans transitioning from active duty to civilian employment.
Military Veterans: A High-Potential Labor Force
In 2013 General Electric, Alcoa, Boeing and Lockheed-Martin Corporation will start training military veterans with high-demand manufacturing skills. The "Get Skills to Work Coalition" will collaborate with local community and post-secondary colleges to launch specialized certification programs, said the Huffington Post's Kevin Freking.
"The effort to hire more veterans will also involve working with employers," Freking wrote. "General Electric and Military Families at Syracuse University are developing a reference guide that employers can use to help them more effectively recruit and mentor veterans."
The goal is to help 100,000 veterans and their spouses become employed within the next two years. According to Nick Zieminski at Reuters, the program will begin by training 15,000 veterans for employment with the four firms as well as other organizations.
GE will provide $6 million in initial funding for the program.
"The program will get its start in January at Cincinnati State Technical and Community College in Ohio, near a major GE Aviation factory, and be rolled out into nine more U.S. cities over the course of 2013," Zieminsky said.
But Will It Be Enough?
In the next few years, older workers will retire and 2.5 million manufacturing opportunities will open up, according to Zieminsky. In the oil and gas industry alone, approximately one million employees are close to retirement age. The U.S. education system is falling short in filling this gap, said Dexter Muller, senior vice president of the community development for the Greater Memphis Chamber, in an interview for the Memphis Business Journal.
"The number of high school kids taking vocational courses has diminished over the last few years, Miller says, possibly because many schools are stressing the importance of college, whether students are equipped to go or not," wrote Michael Sheffield in the Memphis Business Journal piece.
Employment opportunities in manufacturing are strong — but is it possible for the labor force to catch up?
SOURCE:  Forbes
https://www.themadeinamericamovement.com/wp-content/uploads/2012/12/12-12-12-article-Mind-the-Skills-Gap.png
360
640
MAM Team
https://www.themadeinamericamovement.com/wp-content/uploads/2017/08/Made-in-America-Movement-Logo_340x156.png
MAM Team
2016-02-04 14:09:54
2016-02-04 14:08:34
Skills Gap: Why It's Creating New Manufacturing Opportunities