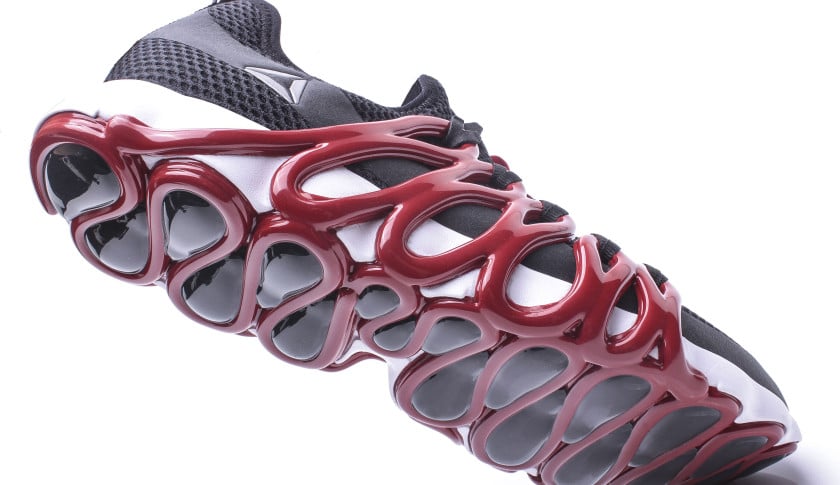 Reebok Will Start Making Shoes in U.S. Again
Reebok is bringing some manufacturing capabilities to the United States as the athletic-gear maker unveiled plans to open a new manufacturing lab that relies on futuristic liquid material and 3D drawing. New manufacturing process uses liquid material.
Fortune has learned that in early 2017, the Adidas-owned brand will open its own Liquid Factory manufacturing lab in Lincoln, R.I. in a collaboration with footwear specialist AF Group Inc. At this lab, Reebok's team will have the ability to experiment with new manufacturing processes, creating and customizing shoes at a faster pace than if they relied on shoe molds that are these days constructed in China.
"Getting faster and closer to the consumer is 100% what we are after," says Bill McInnis, Head of Future at Reebok, in an interview. "If you can take out shipping and [making] molds that take time to formulate, it moves you closer to the consumer."
What exactly is "Reebok Future"? McInnis has steered this division the past few years after Reebok determined it wanted a team of veteran designers, engineers, and prototype experts to focus on new manufacturing processes, rather than worry about churning out products that will generate sales to hit quarterly targets. This long-term approach was a way for Reebok to start from scratch when it thinks about how to manufacture athletic shoes.
"The footwear industry hasn't changed dramatically from a manufacturing standpoint over the past 30 years," McInnis says. He took inspiration from the auto industry, in particular Tesla Motors TSLA 1.61% , as a prime example of what innovation can occur when a company doesn't rely on traditional processes. "If you were to start a shoe company tomorrow, how would you do it?" asks McInnis rhetorically, when speaking of the mandate his team follows.
Reebok Future honed in on the molds that are used to make shoes today. These molds are expensive, time consuming, and wasteful. Reebok wanted to make shoes that didn't rely on molds—which are made in Asian factories, where much of the shoe industry's manufacturing takes place.
To eliminate molds, Reebok relies on an urethane-based liquid developed by chemical giant BASF. That material is then drawn on the entire shoe outsole, resulting in a three-dimensional fit. The first concept shoe to come out of this process is a running shoe that is called the Reebok Liquid Speed. Reebok is only releasing a limited run of 300, at $189.50 a pair. That shoe was designed and assembled in Michigan and Massachusetts. The Rhode Island lab will aim to leverage that liquid technology for future shoe lines.
A handful of brands are tinkering with new manufacturing processes, including both Under Armour UA -0.42% and New Balance, each of which have announced 3D-printed running shoes earlier this year. Those shoe launches often come at high price points and limited production runs.
McInnis explains that Reebok didn't want to go in that direction because 3D printing today is too slow and too expensive. "Liquid drawing is our idea of taking 3D printing to a different place," he says. His hope is that the Rhode Island lab can create entire lines of shoes that will scale far beyond a few hundred pairs in limited-time offers that only appeal to die-hard sneakerheads.
Interestingly, Reebok is following sibling Adidas in bringing some manufacturing to the U.S. Earlier this year, Adidas said it would open a new shoemaking factory in the Atlanta region. Under Armour has alluded it too could make such a bold move.
All of this movement again returns back to the American consumer. Brands think they'll have an edge if they can more rapidly respond to trends by having manufacturing in markets that serve the target customers.
"It isn't just about the U.S., it is local-for-local globally," McInnis says.
https://www.themadeinamericamovement.com/wp-content/uploads/2016/10/10-24-16-Reebok-coming-back-to-USA.jpg
485
840
The Made in America Movement Team
https://www.themadeinamericamovement.com/wp-content/uploads/2017/08/Made-in-America-Movement-Logo_340x156.png
The Made in America Movement Team
2016-10-24 09:54:25
2023-09-22 15:52:54
Reebok Will Start Making Shoes in U.S. Again