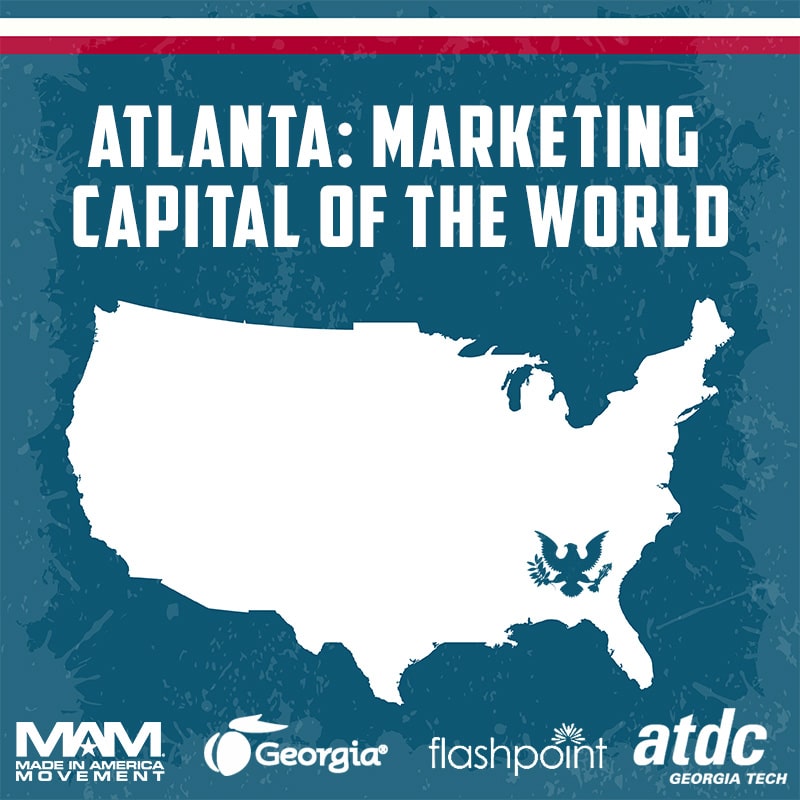 Atlanta: Marketing Capital of the World
Are you up to date on all of the latest technology? We all try but most people are not, so if you answered "no", you're in good company.
A secret affecting all companies
The world is changing faster and faster. It's an incredible time to be alive, although many of us are trying to stay afloat as Tsunami Innovation comes faster and faster. Here's a secret about building and running companies. It's happening there too, and the group that's arguably being disrupted the most is the marketing. New technology is replacing manual work and opening up completely new possibilities to connect with customers.
Think about it how you spend the time that your parents used to watch TV or even read. Not only has there been a fundamental shift of billions of dollars in advertising from cable channels to digital streaming services like Hulu and Netflix, there has been a massive shift to social networks and other digital parts of our connected lives. Plus, consumers have become ever more sensitive to being "told" and "sold" and now require brands to think about experience, useful content and authentic connections.
Most companies have adopted the first few waves of new marketing technology. Where did that marketing technology come from? Who is creating the next wave of disruptive technology for marketers? Keep reading below to learn how Atlanta has quickly become the World's Capital for Marketing Technology.
How Georgia Tech in Atlanta and the State of Georgia Intentionally Created History
While Atlanta is home to 15 of the Fortune 500 companies including Coke, Home Depot, and UPS, along with hundreds of smaller consumer companies, most people do not think about the region as a "consumer" city. It's known for its high growth technology.
Atlanta has become one of the top technology hubs in the world and the numbers show it. There has been more than $80 billion of value generated from more than 100 acquisitions and IPOs of Atlanta tech companies. It's also where the top names in the venture capital world are investing in the future. A sampling of the growth includes:
AirWatch acquired by VMware for $1.4 billion
ISS had an IPO and was then acquired by IBM for $1.3 billion
SecureWorks acquired by Dell for $612 million
Scientific Atlanta acquired by Cisco for $6.9 billion
Radiant Systems acquired by NCR for $1.2 billion
Vitrue acquired by Oracle for more than $300 million
Pardot acquired by ExactTarget for about $100 million (then by SalesForce.com)
Silverpop acquired IBM for $270 million
Recent investments from Richard Branson, Kleiner Perkins, Google Ventures, Andreessen Horowitz, Rincon Venture Partners, Tim Draper and much more.
Ten years ago if you asked the venture capital firms in Silicon Valley and on the East Coast what Atlanta was known for almost unanimously answered FinTech (financial related technology), healthcare technology and security technology. Ten years before that only one of those industries would have been named. The other two were created by Georgia Institute of Technology and the state of Georgia intentionally creating an ecosystem and supporting entrepreneurs building disruptive technology.
The Advanced Technology Development Center (ATDC) at Georgia Tech is credited for supporting the creation of those new industries. Forbes ranked ATDC one of the Top 12 Incubator Changing the World. They've had more than 150 graduates that have raised more than $2 billion in capital. "Nationally, 90% of technology startups fail. More than 90% of the ATDC's Signature graduates are successful five years after their graduation.
Today, if you ask those investing in the future what Atlanta is known for, they'll add MarTech (marketing related technology) to the list of industries. There have been some incredible companies in the area – Vitrue, SilverPop, WhatCounts, MailChimp, Pardot, BLiNQ Media. Atlanta now has the highest density of marketing technology in the country. MarTech may not be the size of the other three industries in terms of jobs created in Atlanta but it's catching up.
Watching the Future of Marketing Technology Today
FinTech, healthcare, and security are well-established industries today, and companies like NCR, First Data, IBM, Equifax, Wachovia, Emory, WellStar Health Systems and others investing in their growth. Georgia Tech and the state have continued their support of the startup ecosystem with the creation of Flashpoint at Georgia Tech in 2011.
The list of new disruptive marketing tech companies founded and headquartered in Atlanta has two consistent themes. Most of them are ATDC Signature companies or alumni of Flashpoint, and several of the companies were selected for both.
ATDC Signature and Flashpoint

Sideqik: The first influencer marketing platform in the world. It's used by thousands of marketers to find, verify, manage, and activate influencers. Tip: Sign up for their Weekly Marketing Scoop to stay at the top of your game with the latest marketing news, tips, trends and best practices.
Springbot: Offers an all-in-one marketing optimization for eCommerce stores.
Synapp.io: Provides a digital marketing solution that ensures your e-mail marketing programs aren't shut down due to poor list maintenance.

ATDC Signature
What's next?
Georgia Tech was at the center for creating two of the largest three industries in Atlanta today, and it looks like they're taking that role again with marketing technology. From the list of recent acquisitions in the space and list above, it's easy to see why more than $350 million per year of venture capital flowing into the Atlanta.
We love seeing the growth in technology built in America.
https://www.themadeinamericamovement.com/wp-content/uploads/2015/10/Atlanta-Marketing-Capital-of-the-World.jpg
800
800
MAM Team
https://www.themadeinamericamovement.com/wp-content/uploads/2017/08/Made-in-America-Movement-Logo_340x156.png
MAM Team
2015-10-01 14:04:49
2017-09-06 11:21:04
Atlanta: Marketing Capital of the World