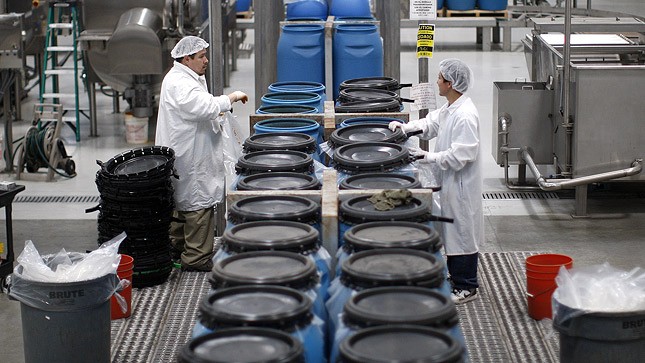 Manufacturing Day Highlights Opportunities to Bolster US Manufacturing
"American manufacturing is back!" breathlessly exclaim the ebullient cheerleaders in locales such as Forbes and the Boston Consulting Group. But while U.S. manufacturing may have bounced back slightly from Great Recession-lows, the reality is that America's manufacturing recovery remains tenuous. On this National Manufacturing Day, policymakers can and should be doing much more to stimulate the growth and competitiveness of America's manufacturing economy.
For the truth is that America's manufacturing economy has experienced a sustained decline over the past decade-and-a-half. U.S. manufacturing employment shrank by 30.7 percent between 2000 and 2013 — a rate of manufacturing job loss worse even than what America experienced during the Great Depression — resulting in a net loss of 5.2 million good-paying American jobs. Moreover, a country's manufacturing workforce should be expected to increase on par with growth in the overall labor force. So, given that overall U.S. employment grew 2.4 percent from 2003 to 2013, the comparative decline of manufacturing jobs over this period has actually been 32.3 percent.
At the same time, the assumption that the United States has only lost jobs in low-value-added, low-wage manufacturing industries is mistaken. In fact, as late as 1997, America ran a modest trade surplus in advanced-technology goods — products such as airplanes, medical devices, computers and semiconductors — but it has recorded trade deficits in this category every year since. In fact, since 1997, U.S. imports of advanced-technology goods have exceeded exports thereof by 29 percent. And while some might argue that it's inevitable that a country's share of gross domestic product (GDP) contributed by manufacturing declines as it moves toward a "post-industrial" knowledge-based economy (despite this not being the case for competitors such as Germany), what's not inevitable is that a country's share of total global manufacturing value-added should crater from 29 percent in 2001 to just 17 percent in 2012. But that's exactly what happened to America's manufacturing economy.
Still, relentless apologists reject the notion of American manufacturing decline, rationalizing away losses in output and jobs as simply a function of the free market, purporting them to be a reflection of U.S. economic health, not weakness. For example, apologists explain away job losses by claiming they have come as the result of superior American manufacturing productivity. Yet U.S. manufacturing lost 11 times more jobs in the 2000s than in the 1990s, despite the fact that manufacturing productivity growth was comparable in both decades. This means other forces were at play, as the the Information Technology and Innovation Foundation (ITIF) has written, such as the loss of America's global manufacturing competitiveness — itself a result of a combination of unfair trade practices used by countries such as China and an erosion of America's own industrial commons, precipitated in part through rampant short-termism and in part through underinvestment in skills, research and infrastructure.
In short, America's manufacturing sector has been underperforming its potential. But there's no good reason why America can't become an industrial powerhouse again, or why the manufacturing sector can't support another 2 to 3 million more American jobs and increase its contribution to GDP from its 11 percent share today closer to Japan's 19 percent share, or even Germany's 22 percent share. But to power sustained American industrial renewal, it will take a coordinated set of policies around the "4Ts": technology, tax, trade and talent.
Members of Congress from both sides of the aisle have proposed important pieces of legislation that get at the 4Ts and make significant contributions toward bolstering America's manufacturing competitiveness. Such legislation aims at improving skills; supporting research and development into advanced manufacturing products and processes; speeding technology commercialization; facilitating access to capital; ensuring a fair global playing field; and better promoting regional manufacturing growth. For example, Democrats in the House have proposed an extensive array of "Make it in America" legislation, as have their colleagues in the Senate with their "Manufacturing Jobs for America" policy agenda.
Likewise, Republican members have called for legislation to improve the tax, trade and regulatory environment for American manufacturing. Much of this legislation has been introduced on a bipartisan basi, such as the "manufacturing universities" legislation that would help universities strengthen their engineering programs and meet the growing demands of 21st-century manufacturing; an "innovation box," which would apply lower tax rates to income derived from intellectual property; and an American Manufacturing Competitiveness Act that would require the development of a national manufacturing strategy and implement trade reforms to ensure that U.S. manufacturers compete on a level global playing field.
Members of Congress from both parties will be attending Manufacturing Day events in districts across the country today. When they're back in Washington, they should channel their attention to advancing legislation that can make a substantial impact in bolstering America's manufacturing ecosystem.
https://www.themadeinamericamovement.com/wp-content/uploads/2015/10/10-02-15-MFG-Dat-The-Hill.jpg
363
645
The Made in America Movement Team
https://www.themadeinamericamovement.com/wp-content/uploads/2017/08/Made-in-America-Movement-Logo_340x156.png
The Made in America Movement Team
2015-10-02 15:37:00
2015-10-22 17:14:57
Manufacturing Day Highlights Opportunities to Bolster US Manufacturing