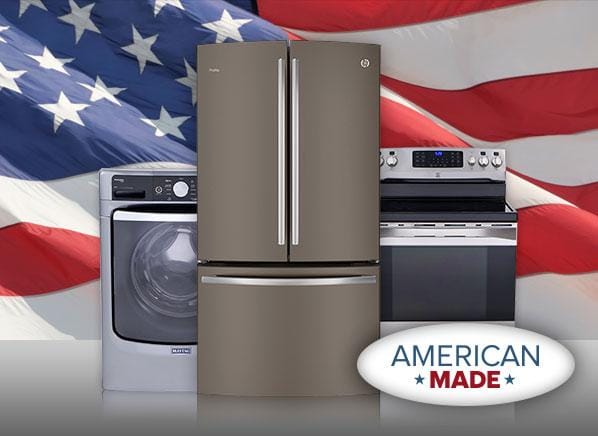 Consumer Reports: Best American Made Appliances
The thousands of products that pass through Consumer Reports test labs each year come from all corners of the globe. There are washing machines and water heaters from Mexico, TVs and refrigerators from South Korea, dishwashers and vacuums from Germany. We see lots of appliances that are made right here in the U.S. too, of course. Every country has winners and losers when it comes to quality and performance.
Here, we focus on the best American made appliances, large and small, available now. Especially with so much recent reshoring, the U.S. is competitive in these categories, so you have plenty of choices. You may have to spend a bit more, however, since in many cases, appliance manufacturers have brought production of premium lines home , while continuing to outsource lower-priced models.
Refrigerators
Among all bottom-freezers and built-ins we've tested, roughly 40 make our recommended list, including these 10 American-made models. (Most top-freezers and side-by-sides are manufactured overseas.)
Dishwashers
In this category, KitchenAid is the safest bet because all its dishwashers are manufactured in Findlay, Ohio. Bosch and Kenmore mix of domestic and foreign production, but the models within the link below are made in the U.S.
Wall Ovens
Michigan-based Whirlpool (which also owns Maytag and KitchenAid) makes many of the best performing wall ovens on the market. GE's innovative French-door oven is also a recommended model.
Ranges
Looking for a great American-made range? Many electric models score highly in our tests, including the top induction model from Kenmore. The best pro-style ranges are made in KitchenAid's factory in Cleveland, Tenn.
Washers
About a third of our washing machine picks are American-made. No dryers produced in the U.S. make the cut in our current Ratings.
Freezers
About half of our recommended freezers are made in the U.S. , including both upright and chest configurations.
Small Appliances
American made appliances are hard to come by. Indeed, no recommended toaster, coffeemaker, or food processor is made here. But the mixer and blender choices below are all top-rated.
Gas Grills
The vast majority of gas grills are manufactured in China. But all Vermont Castings grills are made in central Vermont, and Weber's Summit and Genesis lines are made in Palatine, Ill.
https://www.themadeinamericamovement.com/wp-content/uploads/2015/06/06-23-15-Consumer-Reports-American-Made-Appliances.jpg
436
598
The Made in America Movement Team
https://www.themadeinamericamovement.com/wp-content/uploads/2017/08/Made-in-America-Movement-Logo_340x156.png
The Made in America Movement Team
2015-06-23 11:25:27
2015-06-23 11:25:27
Consumer Reports: Best American Made Appliances