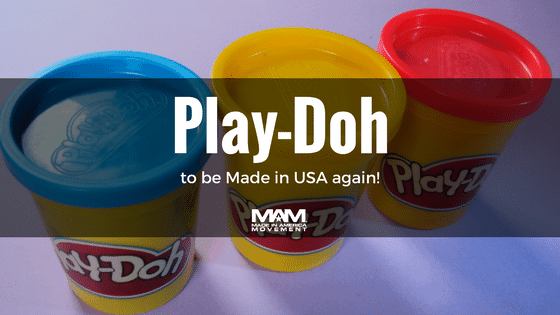 Play-Doh Will Be Made in The USA For The First Time in a Decade
Play-Doh will soon be squeezed out of a factory in the U.S. again, as Hasbro Inc. brings manufacturing of the popular moldable clay back to America for the first time in years.
Hasbro said it is working with a manufacturing partner to make Play-Doh at a facility in East Longmeadow, Mass., starting in the second half of 2018. Although the preschool clay was invented in Cincinnati in the 1950s, it hasn't been made in the U.S. since 2004.
The shift is a rare move in an industry heavily dependent on overseas factories and comes as toy companies reassess their manufacturing footprint, given President Donald Trump's push to adopt tax and trade policies that favor domestic production.
Hasbro, which had revenue of $5 billion last year, doesn't own any U.S. factories and outsources all of its manufacturing. In fact, it sold the East Longmeadow facility, which makes board games such as Monopoly and Clue as well as Magic: The Gathering playing cards, in 2015 to Belgium-based Cartamundi NV.
Hasbro uses factories in China and Turkey to make Play-Doh sold around the globe, and it will continue to import some Play-Doh to sell in the U.S.
Hasbro said the addition of the U.S.-based manufacturing line wasn't in response to the election of Mr. Trump. The Pawtucket, R.I., company said it wanted to supplement existing production after a five-year stretch where global Play-Doh sales have increased on average 20% annually.
"We're not replacing volume, we're adding volume," Hasbro Chief Executive Brian Goldner said in an interview this week. While some costs may be higher for Play-Doh made in the U.S. than overseas, the difference will likely be evened out by a lower shipping rate, Mr. Goldner said.
Hasbro said Cartamundi plans to hire an additional 20 employees to support Play-Doh production in East Longmeadow, bringing the total number of workers at the facility to 480, including temporary staff. Cartamundi didn't respond to a request for comment.
Originally used as a compound to clean wallpaper, Play-Doh was reimagined as a children's toy in 1956 by Joe McVicker, who created Rainbow Crafts Co. to sell a concoction of mainly flour, water and salt.
Hasbro picked up Play-Doh as part of its acquisition of Tonka Corp. in 1991 and it is now one of its core brands, alongside Nerf blasters and My Little Pony dolls. More than 3 billion cans of Play-Doh have been sold since its introduction. Hasbro says it currently produces more than 500 million cans each year.
Companies are exploring new places to make toys as the Trump administration and Congress weigh a dramatic overhaul of U.S. tax policy. One proposal from House Republicans would prevent companies from deducting the cost of imports when calculating their taxes, while exempting proceeds from exports. That plan has been under attack from retailers, senators and oil refiners. Mr. Trump has offered ambivalent positions on the border-adjustment idea, but he has consistently said he wants policies that favor domestic manufacturing.
Such a change would have serious implications for the $25 billion U.S. toy industry, which has long made the vast majority of its product overseas. The research firm IBISWorld estimates that 98.5% of all toys sold in the U.S. last year were made elsewhere.
Toy companies are assessing the different scenarios. Mattel Inc. executives said last month that if the government imposes a major tax on imported products, the company would have to adjust its manufacturing footprint. Mattel closed its last U.S. production site—a Fisher-Price factory in Murray, Ky.—in 2002.
"Shorter term, there's not much we can do about that," said Kevin Farr, Mattel's finance chief, on an earnings conference call. "Longer term, I think we would react to it."
Most companies aren't making changes to plans just yet. "You've got to wait and see what is going to happen," said Skip Kodak, president of Lego A/S's North American business, in an interview. The Danish company produces some of the plastic bricks it sells in the U.S. at a factory in Monterrey, Mexico.
Hasbro's move also comes amid a broader plan to cut its reliance on manufacturing in China, where rising labor costs have forced companies to explore other low-cost manufacturing hubs. The company eventually wants to manufacture a third of its goods outside of China, compared with 22% currently.
With an increasingly global business, Hasbro wants to be able to diversify its operations and make products closer to where they are sold. "We need more capability and we want to put some of that capability closer to market," Mr. Goldner said.
Hasbro declined to say whether it planned to shift production of any other products to the U.S. "We regularly review our global sourcing strategy and make adjustments," a spokeswoman said.
https://www.themadeinamericamovement.com/wp-content/uploads/2017/03/03-16-17-Play-Doh-MIA-again-MAM.png
315
560
The Made in America Movement Team
https://www.themadeinamericamovement.com/wp-content/uploads/2017/08/Made-in-America-Movement-Logo_340x156.png
The Made in America Movement Team
2017-03-16 10:10:37
2023-09-22 15:53:07
Play-Doh Will Be Made in The USA For The First Time in a Decade