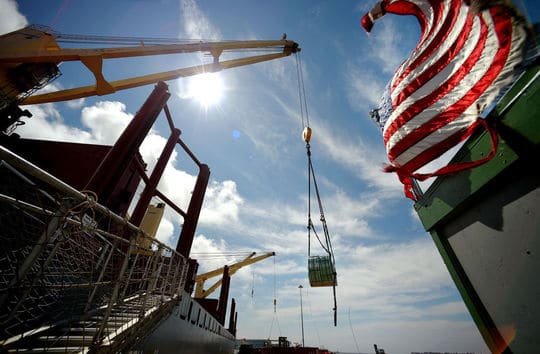 Dumping Crackdown: New Law Cracks down on Steel Dumpers
President Barack Obama signed a customs bill that contains added protections for the domestic steel industry, whose advocates hailed it as a "good news day" and even a "great day." The new law will crack down on steel dumping. 
"Duplicitous foreign countries and foreign companies have been circumventing our trade laws dumping illegal steel into our markets for far too long," said U.S. Rep. Pete Visclosky, D-Merrillville, who serves on the Congressional Steel Caucus. "I was proud to support the Trade Facilitation and Trade Enforcement Act of 2015 in the House of Representatives and I am pleased that President Obama has now signed it into law. The improved tools that it provides the Customs and Border Protection Agency will greatly assist their efforts to prevent illegal steel imports from crossing our borders and further protect hard-working American steelworkers and their families."
Visclosky said he and the Steel Caucus will work to see that the Trade Facilitation and Trade Enforcement Act of 2015 is enforced. It empowers U.S. Customs and Border Protection to initiate investigations into steel dumping and those who duck tariffs on steel imports, such as by misrepresenting the country it came from.
A flood of imports has caused an unprecedented crisis for U.S. steelmakers, who announced 12,000 layoffs last year. ArcelorMittal and U.S. Steel, two of Northwest Indiana's largest employers, lost a combined $9.4 billion as imports seized a record 29 percent market share, which hurt sales and depressed prices.
"The steel industry is in crisis, and we need to know that our laws are being vigorously enforced to fight back against importers who try to cheat at our rules," American Iron and Steel Institute President Thomas Gibson said. "The ENFORCE Act will finally address the growing and injurious practice engaged in by foreign competitors who try to dodge U.S. laws — often by shipping the product through a third country and/or mis-classifying the true origin of imports coming in."
U.S. steelmakers and their workers are suffering partly because of "trade schemes" that let illegally subsidized steel flow in, Gibson said.
"This law will now provide the U.S. government the ability to investigate these (dumping) schemes and, therefore, enable the steel industry to seek remedies and help preserve American jobs that have been lost due to these and other unfair practices," he said. "We appreciate the administration's commitment to work with Congress and enact this crucial legislation, and look forward to working closely with them to ensure thorough implementation of these new tools."
The bill will help American workers, but more is needed, Alliance for American Manufacturing President Scott Paul said.
"The playing field is now a little more level for American workers and businesses who are victims of unfair trade practices like foreign dumping and predatory subsidies," Paul said. "This is a step forward, but the bill missed the opportunity to address currency manipulation, which continues to cause American job loss."
https://www.themadeinamericamovement.com/wp-content/uploads/2016/02/02-25-16-Dumping-Crackdown-Called-a-Great-Day-for-Steel.jpg
354
540
The Made in America Movement Team
https://www.themadeinamericamovement.com/wp-content/uploads/2017/08/Made-in-America-Movement-Logo_340x156.png
The Made in America Movement Team
2016-02-25 10:09:39
2016-02-25 10:09:39
Dumping Crackdown: New Law Cracks down on Steel Dumpers