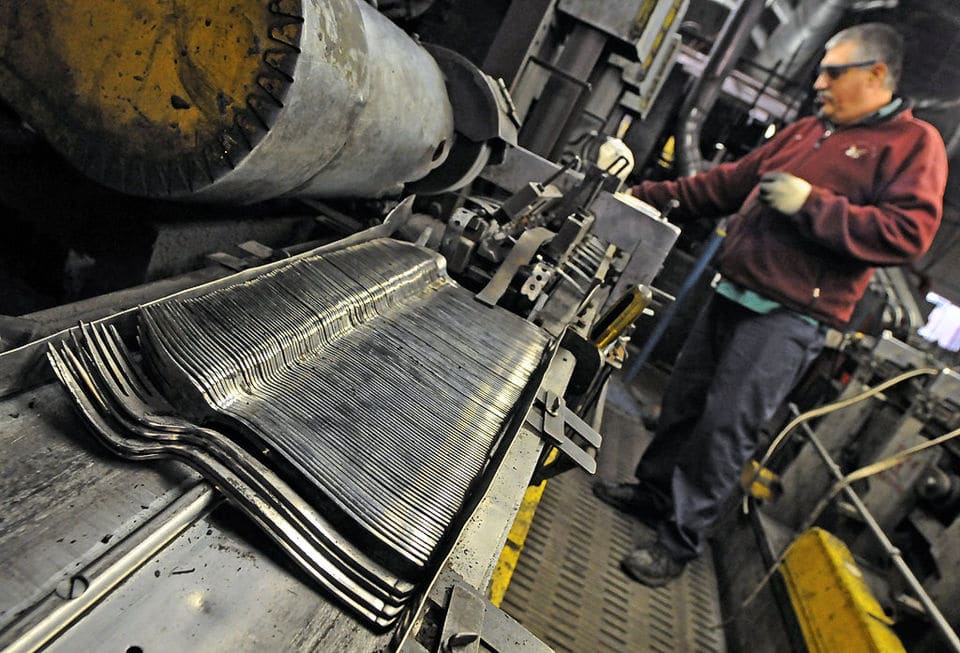 Sherrill Manufacturing, America's Remaining Flatware Maker, Emerges From Bankruptcy
Sherrill, NY – Bob James wasn't ready to give it up after nearly 30 years of making countless forks, spoons and knives at the same factory in this small Central New York community known as The Silver City.
He survived the plant's transition from Oneida Ltd. to Sherrill Manufacturing Inc. in 2005. But when the factory's new owner filed for reorganization under Chapter 11 of U.S. Bankruptcy Law in 2010 and temporarily ceased production, James wondered whether the end was near for tableware making in Sherrill, where Oneida was founded by a utopian organization, the Oneida Community, in 1880.
"I thought that would be it, yes," said James, 54, of nearby Canastota. "But I was hoping it would make it. I've been here since 1981. It's like family."
Against the odds, his wish has come true. Sherrill Manufacturing, the USA's last maker of tableware, emerged from bankruptcy Nov. 6, having paid all of the $4 million it owed to its secured creditors and with a plan to pay all of the remaining $2 million it owes to unsecured creditors. Among those unsecured creditors is the state of New York, which loaned the company $1 million in 2008.
The company is manufacturing again, though with far fewer workers than the 120 it employed before its bankruptcy filing in 2010. It now has 20 full-time employees, with several part-timers supplementing its workforce when needed to fill orders for its stainless steel tableware.
To raise the $4 million it used to pay off its secured lenders, Sherrill sold off excess manufacturing equipment and surplus inventory. It also sold its entire 1 million-square-foot manufacturing plant on East Seneca Street in Sherrill to a real estate investment firm from Florida, ONX3, and leased back 240,000 square feet of it. ONX3 is looking for other companies to lease the unused space at the sprawling manufacturing complex, which dates to the early 1900s.
The company also has adopted a new business model. Instead of focusing on making tableware for other companies' brands, Sherrill Manufacturing has launched its own brand, Liberty Tabletop. It is selling directly to the public via its flag-decorated website. It also sells its products on Amazon.com and through online retailers that specialize in made-in-the-USA goods.
Gregory Owens and Matthew Roberts, the two former Oneida Ltd. executives who founded Sherrill Manufacturing, said web sales will hit the $800,000 level this year and they expect them to rise 50 percent a year going forward.
They're also hoping to sell to major department store chains by the end of next year. That's a move that is made possible by the company's emergence from bankruptcy, since department stores would be reluctant to do business with a supplier that's still in Chapter 11.
The company is appealing to a niche market – people who want high-quality tableware made in America. It has no plans to compete with Asian factories pumping out low-quality tableware at bargain-basement prices.
"Our goal isn't to be the largest flatware maker in the world," said Owens, 50. "We're focused on people who want to buy products made in the U.S. We think people are increasingly aware of the need for U.S. manufacturing jobs and quality standards."
In addition, the company produces polished stainless steel shells for a company called Coffee Joulies. The shells, designed to be placed in a cup of coffee, are filled with a special material that absorbs heat when the coffee is too hot and slowly releases it to keep the coffee at the right drinking temperature.
Owens said his and Roberts' goal is to bring the company's annual sales back to the $10 million level they were at before business soured in the midst of the Great Recession. If they're successful at that, workforce levels may even return to the levels they were at before the bankruptcy filing, he said.
Saving tableware manufacturing in Sherrill has been a goal of Owens and Roberts since they bought the manufacturing plant and all its equipment from Oneida Ltd. for $1 million on March 22, 2005, and reopened it the next day as Sherrill Manufacturing.
At its peak in the 1990s, Oneida Ltd. produced 3.5 million forks, spoons and knives a week and employed 2,500 people. But competition from low-wage Asian manufacturers – first in Japan and then China – drove tableware prices down, making it difficult for Oneida to turn a profit. In the early 2000s, the company began buying its tableware from factories in Mexico and Asia, transforming itself from a manufacturer to a reseller.
Oneida announced in 2004 that it would close its factory in Sherrill in early 2005, eliminating the remaining 500 jobs at the plant. That's when Owens and Roberts stepped in. They approached Oneida CEO Peter Kallet about buying the factory that, while old, contained very modern manufacturing equipment designed by Oneida's engineers. Kallet agreed to sell it to them.
Owens and Roberts received a $300,000 grant from Empire State Development Corp., the state's economic development office, to make the purchase.
"We bought everything, right down to the last can of WD-40," said Owens.
Their plan was to make stainless steel flatware that was difficult for Asian manufacturers to make – products with detailed patterns and those that have been treated to look like antiques.
"It's very difficult to stain stainless steel," said Roberts. "And we're very good at that."
For the first three years, business was good. Employment even grew to 160 people for a while in 2007, a year in which sales reached $10 million.
Sherrill had a three-year contract to produce such specialized flatware for Oneida Ltd. The contract was extended in 2008 for two more years. Under the extension agreement, Sherrill was allowed to also make tableware for Oneida's competitors, including Libbey and Ginkgo.
But sales dropped dramatically after the U.S. economy plunged in late 2008 into the worst recession of the post-World War II era. By 2010, Sherrill's flatware sales had fallen more than 50 percent as consumers slashed their spending. The company's sales totaled $4 million that year – 60 percent less than in 2007.
Making matters worse, the company's contract with Oneida expired in 2010 and it had to begin making principal payments on bank loans that it previously had to make only interest payments on.
Owens said the company lost several million dollars and had no way to pay off its $6 million in debts. He and Roberts said they considered going out of business but decided to try instead to reorganize the company under the protection from creditors afforded by bankruptcy law.
"Greg and I could have thrown the keys on the desk and put our resumes together," said Roberts, 49, who joined Oneida Ltd. in 1991 and became its vice president of manufacturing. "But I grew up here. My grandfather worked here and so did my mother-in-law and two brothers-in-law."
To their surprise, the company's creditors agreed to their plan to resume manufacturing, this time as a maker of its own brand of tableware, rather than liquidating the entire company.
"They understood that our ability to pay them depended on our survival," said Owens.
"We're honest people," added Roberts. "We didn't try to hide anything. We had a dream of getting to that spot, selling our own product."
It's a spot that the company's employees – many of which have worked at the factory since its Oneida Ltd. days — are pleased to see.
"It means a lot," said Jose Alvarez, 61, who began work at the factory in 1973 and is Sherrill's operations manager. "Because of their dream of keeping manufacturing alive in the area, we have our jobs."
Worker's Job Saved by Company's Reorganization: Sherrill Manufacturing employee Jose Alvarez talks about how the company's reorganization helped save his job.[p][/p]
Disclaimer: Sherrill Manufacturing & Liberty Tabletops are EAGLE Members of The Made in America Movement.
https://www.themadeinamericamovement.com/wp-content/uploads/2015/09/09-25-15-Philly.com-Liberty-Table-Top-5.jpg
653
960
The Made in America Movement Team
https://www.themadeinamericamovement.com/wp-content/uploads/2017/08/Made-in-America-Movement-Logo_340x156.png
The Made in America Movement Team
2015-09-29 07:49:00
2015-10-22 17:18:08
Sherrill Manufacturing, America's Remaining Flatware Maker, Emerges From Bankruptcy