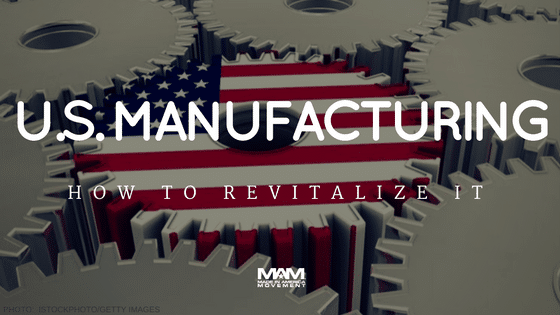 How to Revitalize U.S. Manufacturing
Manufacturing – Nine policies that could spark new growth in factory jobs and the economic benefits they bring.
After a long decline, manufacturing is returning to the U.S. Now it may be time for U.S. policy makers to give it an extra boost.
The U.S. shed 5.7 million manufacturing jobs from 2000 to 2010—more than a third of the manufacturing workforce—as companies abandoned plants and workers in favor of low-cost foreign countries. But in recent years, manufacturing employment has grown slightly as the auto industry rebounded and domestic plants became more cost-competitive with those of other countries where manufacturing expenses have escalated because of higher wages.
Now researchers, politicians and business leaders are coming forward with strategies to accelerate job gains and investment in manufacturing. Their ideas range from pruning regulations that raise the cost and effort of running a manufacturing operation to imposing a value-added tax on imports to beefing up training programs so companies have an easier time finding skilled workers.
Reviving the manufacturing sector won't be easy—but, these advocates argue, it's crucial. Manufacturing is one of the best generators of wealth for an economy, requiring processes, materials and work skills that create employment and profits at each step in an assembly. Countries that don't make anything eventually start to lose their edge in research and product development.
"Manufacturing and design drive each other," says Steven Schmid, an aerospace and mechanical engineering professor at the University of Notre Dame. "If you lose one, you'll lose the other, too."
The U.S.'s reliance on foreign-made goods provides a conduit for trillions of dollars to leave the country. The U.S. trade deficit—the difference between what is imported and what the U.S. exports—amounted to $500 billion, or about 3% of total U.S. GDP last year.
That money is used by foreign investors to purchase assets in the U.S., such as real estate or stocks, or to lend to Americans who are increasingly willing to become debt-saddled consumers. Left unchecked, the trade deficit will continue to soak up the country's wealth and manufacturing know-how, with little more than IOUs to show for it.
Here's a look at some of the proposed strategies for getting U.S. manufacturing back on track.
Make exports more valuable
Under a plan promoted by investor Warren Buffett, companies that export goods from the U.S. would accumulate certificates equal to the value of their exports. But companies that wanted to import goods would have to purchase certificates from exporters.
The certificates, the thinking goes, would create two desired reactions. U.S. exporters, with a cash cushion from the sale of their certificates, could offer U.S.-made goods to foreign customers at lower prices, making them more competitive and shrinking the trade deficit over time. Meanwhile, foreign-made items imported into the U.S. would become more expensive to reflect the cost of import certificates, making U.S.-made goods more cost competitive with cheap imports.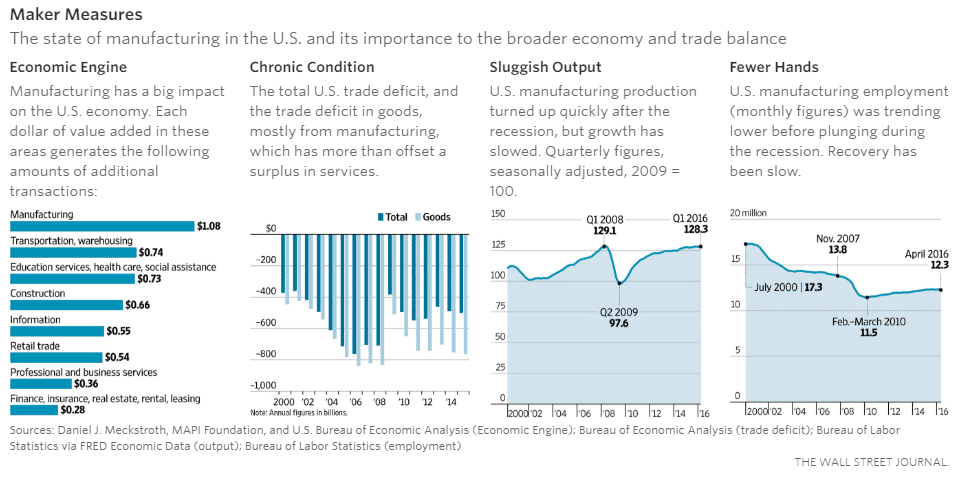 As exports increase, though, more certificates would flow into the market, and their cost for importers would fall. The price could eventually slip to zero if a trade surplus was achieved.
The appeal of this approach: It's a more decisive way to knock down the trade deficit than waiting for U.S. exports to become more desirable over time, perhaps from a weaker dollar. And unlike standard tariffs, which typically penalize a specific product from a particular country, the certificates provide a direct and immediate benefit to U.S. companies that export.
The downside, initially at least, is that Americans would face higher prices for imported consumer items. So, the plan would likely be a tough sell in Washington.
Impose a value-added tax
A similar idea for lowering the trade deficit is imposing a value-added tax. The tax, which is used by more than 130 countries, is applied to each step along a production chain as a product or material increases in value or is consumed. How does this help domestic manufacturing? Almost all countries with VATs waive them on exports but impose them on imports, at an average rate of about 17%.
"Right now we're the sucker, because everybody else is charging the tax on [U.S.-made goods] coming into their countries, but we don't charge it on their stuff coming to the U.S.," says Harry Moser, president of the Reshoring Initiative. He figures a 17% tax on $2 trillion a year of imports could generate more than $300 billion a year in revenue. And a VAT would make imports more expensive, boosting the appeal of U.S.-made goods with consumers.
A VAT would need to be coupled with an elimination or reduction of existing taxes on businesses, including payroll taxes for Social Security and Medicare. Likewise, consumers would need tax relief to make up for the higher prices they would face for most purchases.
The rap on VAT, as with state sales taxes, is that it's a regressive tax on essential, everyday items, like clothing, that every buyer faces regardless of their ability to pay. The upside: A VAT would put the U.S. on the same kind of tax system used throughout the rest of the world. In theory, that would make our exports more attractively priced because they wouldn't be taxed twice—once in the U.S., as they are now, and then when they enter other countries.
Deal with an overvalued currency
The U.S. dollar's status as the world's reserve currency is killing demand for U.S.-made goods in global markets. Because foreign governments and foreign private investors prefer to use the greenback to pay off debt, invest in financial markets or purchase commodities, economists say, the demand for the dollar intrinsically keeps it 10% to 15% above the value of other currencies. That makes U.S.-manufactured goods more expensive in other countries, but imports are cheaper in the U.S., giving foreign governments an incentive to keep their own currencies below the dollar.
Lowering the value of the dollar is difficult, especially as long as foreign investors keep pumping their dollars into U.S. investments. John Hansen, a former economic adviser for the World Bank, has a solution that he says could keep a strong dollar from further swelling the trade deficit and discourage high-frequency, speculative trading by foreign investors in U.S. financial markets.
The idea: market-access charges. A base-rate charge of 0.5% could be applied on all foreign-originated inflows of money into U.S. investments. The rate would gradually climb to about 2%. Further increases would be linked to increases in the trade deficit, which is about 3% of U.S. GDP. If the deficit remains unchanged even with the fee, Mr. Hansen anticipates 0.25% increases in the fee every six months. When the deficit retreats, the fee would fall. The fee revenue could be used for government-funded research to help manufacturing.
Critics contend the fees would make U.S. capital markets more expensive for foreign investors, driving down trading volumes and prices. In turn, that would hurt U.S. investors.
Look at the true cost of offshoring
When companies decide to offshore production, they often simply seek the lowest initial price per unit. If they were required to take into account the hidden costs of foreign production, U.S.-made goods would become more cost-competitive.
Manufacturing overseas carries dozens of uncounted expenses and consequences. Companies often don't weigh costs for transportation, as well as expenses for dealing with reduced product reliability, undependable supply chains and the need to hold more inventory in case overseas deliveries are delayed. "Going to China doubles the amount of inventory held, and the hidden cost within that inventory is the risk" of products becoming obsolete before they're sold, says Fernando Assens, CEO of Argo Inc., a business consultancy in Chicago.
Advocates argue that the government should amend the federal Worker Adjustment and Retraining Notification Act, which requires companies conducting mass layoffs to provide workers 60 days' notice. If the layoffs are the result of companies' moving production overseas, companies should have to analyze the total cost of offshoring. While this wouldn't stop companies from moving, it would require them to provide an explanation of their expenses. Supporters say the requirement would raise awareness of the total costs of offshoring.
Purge duplicate regulations
When federal agencies impose new rules, they rarely repeal old ones or check to see if another agency has a similar or conflicting regulation. Over decades, this has resulted in layers of rules for environmental protection, workplace safety and financial reporting that are often redundant or outdated. The National Association of Manufacturers estimates that regulatory compliance costs manufacturers about $139 billion annually.
Executives say complying with federal mandates wouldn't be so onerous if federal agencies culled redundancies. Analysts say agencies are often hamstrung by statutory limits or are reluctant to disrupt their own operations for fear of having their budgets cut.
Legislation pending in Congress would create a special commission appointed by the president and congressional leaders that would comb through regulations looking for redundancies and reforms. Congress would eventually vote on the panel's recommendations for rules that need to be modified or repealed.
Look at more than jobs
State and federal governments typically view manufacturing as employment generators. But economic-development policies that place too much emphasis on boosting head counts risk missing the broader trend coursing through manufacturing even in low-cost locations: automation. Countries that give short shrift to robots and other manpower-reduction technologies won't be desirable destinations for manufacturing in the future.
Analysts say policy makers should do more to encourage investments in manufacturing technology and automation, even if it initially seems to undermine manufacturing-employment growth. U.S. incentives for investments in factory automation and research generally lag behind other countries' efforts.
From 1995 to 2014, U.S. companies' stocks of factory-floor production equipment per worker fell 30% to an average of $10,500, according to the Information Technology & Innovation Foundation. The U.S. National Robotics Initiative has spent $153 million on projects since 2012, or about 13% of the applications for funding submitted by researchers. A 2012 study ranked the U.S. 27th out of 42 countries in research-and-development tax credits.
Boosting tax breaks to the levels of other large, developed nations is crucial, advocates say. "There is evidence that these things work," says Robert Atkinson, president of the innovation foundation.
Turn community colleges into career factories
Despite low manufacturing payrolls in the past decade, companies continue to have difficulty finding welders, machinists and other skilled craft workers to replace retiring employees. While community colleges offer programs for skilled trades, businesses executives complain the course work is often too generalized to suit companies' needs. So companies must put new hires through on-the-job training and aren't able to quickly increase production through additional hiring.
Some companies are collaborating with community colleges to design job-training programs specifically for the companies' needs. The Labor Department has doled out about $2 billion in recent years for community colleges to design courses for job requirements. The department also is distributing $100 million in grants this year for apprenticeships for workplace training of employees.
A plan pending in Congress would double down on those efforts by authorizing the creation of 25 "manufacturing universities." The Commerce Department's National Institute of Standards and Technology would award selected schools $20 million over four years to implement plans for improving manufacturing in their states. The universities would emphasize manufacturing in their research, engineering and business curriculum, forge partnerships with companies and increase student internships with manufacturers. The bill has strong bipartisan support, interest from universities and support from business groups.
Spend more on manufacturing R&D
Training workers isn't enough, advocates say. The government also needs to spend more on applied research to solve specific problems in manufacturing and bringing new products to market. Most government funding for research is directed at developing new ideas and theories. As a result, early research breakthroughs that often occur in the U.S. are turned into new products such as flat-screen TVs and lithium-ion batteries in other countries.
The fledgling National Network for Manufacturing Innovation is the U.S.'s best attempt so far at closing the gaps in homegrown applied research. The Obama administration wants to start 15 regional institutes that combine the research capabilities of universities and corporations on developing solutions and new technologies for specific industries, including 3-D manufacturing, lightweight metals, composite materials and textiles.
Eight of the 15 institutes have opened, with the bulk of the funding coming from corporate participants. A ninth one will likely be announced soon. Early reports have been encouraging, though actual research successes will likely take several years. Nevertheless, questions remain about long-term support. The federal government has committed about $600 million over five years to the institutes started so far. Funding for future ones could become a casualty of the budget standoff in Congress.
Create regional centers of expertise
The U.S. won't be able to produce high-tech, high-margin products if it continues to cede the ability to perform more basic manufacturing work, advocates argue. The U.S. has already relinquished whole industries such as garment manufacturing and consumer electronics to other countries.
One proposed solution is to create regional centers of expertise. In this approach, a region looks to leverage an existing set of skills or an industrial legacy, such as machining or casting metal. Even though these manufacturing hubs, which are often in the Rust Belt, fell on hard times in the 1970s and 1980s, they still have considerable manufacturing talent and expertise that can form the foundation for manufacturing innovations and new businesses.
These centers typically start with an intermediary group—a chamber of commerce or a regional development agency—that assembles businesses, schools and government agencies into a network that can work together to attract new businesses, nurture innovations and, in general, improve the competitiveness of businesses. "Cities need to get better at what they're good at," says Bruce Katz, a Brookings Institution vice president and urban-affairs scholar. "We're not fully leveraging our potential right now."
SOURCE: WSJ
https://www.themadeinamericamovement.com/wp-content/uploads/2016/08/08-03-16-BLOG-Title-U.S.-MANUFACTURING.png
315
560
The Made in America Movement Team
https://www.themadeinamericamovement.com/wp-content/uploads/2017/08/Made-in-America-Movement-Logo_340x156.png
The Made in America Movement Team
2016-08-03 15:11:33
2020-09-23 08:44:35
How to Revitalize U.S. Manufacturing