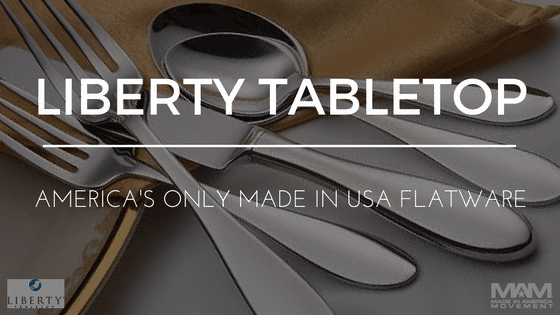 Liberty Tabletop: America's Only Flatware Company
Sherrill Manufacturing is the only company left in the United States making flatware. Our company prides itself on producing high-quality products at different price points that fit all budgets and represent a great value to our customers.
There are many reasons, some obvious and some subtle, to purchase products made in the United States whenever possible. As supporters of "Made in U.S.A." we believe that preserving manufacturing jobs is critical to maintaining a strong economy and economic independence. In addition to employment, there are many other reasons to purchase American-made goods, including environmental issues, social concerns, and health and safety considerations. As a company, we choose to work with businesses and suppliers in the United States, and we encourage supporting our local economy.
Many people often equate the idea of purchasing "Made in U.S.A." products and certain political views. For us, "Made in U.S.A." is a movement that is widely supported by people from all spectrums of society for many different reasons. As you browse our website, you'll see that the overarching theme is how we make products that are both high quality and support our local – and national – economy. It's our hope that you'll not only feel better about your purchase with us, but you'll also let others know why our product is of superior quality and the importance of The Made in America Movement to our economy.
LIBERTY TABLETOP FLATWARE FOR YOUR HOME
Liberty Tabletop Satin Annapolis 20 Piece Flatware Set 18/10
Oneida Mooncrest 45-Piece Flatware Set, Service for 8
Liberty Tabletop Annapolis 45 Piece Flatware Set Service for 8
ABOUT LIBERTY TABLETOP

We are Sherrill Manufacturing and our brand is Liberty Tabletop, a family owned and operated business co-owned by Matt Roberts and Greg Owens.  Created with pride in our Sherrill, N.Y. factory, which has been producing quality flatware for more than a century, Liberty Tabletop offers a variety of patterns designed to satisfy almost any taste. Now the only manufacturer of flatware in the United States of America, Liberty Tabletop creates high quality flatware at a competitive price. All of our items are produced using the finest quality 18-10 chromium/nickel stainless steel. This offers incredible luster and enhanced resistance to staining over less expensive stainless grades like 18-0. What's more, the steel that our flatware is produced with is also  made in the U.S.A. and meets all ASTM standards. Our steel is tested for lead and other toxic trace elements to ensure they are not present.  This protects the health and safety of our customers and our workforce.  No mystery metal in our product!
When you choose us, you're choosing a company that believes in growing our national economy, providing career jobs to people in our community and preserving the craft of flatware manufacturing and tool making. Liberty Tabletop is also socially conscientious – we know that foreign companies don't follow the same rigorous standards as we do here in the United States, and often resort to child labor, prison labor, abuse of workers and unsafe conditions for workers in terms of health and safety. We're a part of the movement of people who are not willing to support such activities with our spending, and we're as good as our word – we use products in our manufacturing made in the United States, and we hire firms (accounting, legal, marketing) that are local, so we can keep the dollars flowing in our local economy.  All of this helps drive the American economy in a safe, ethical and environmentally friendly way.
At Liberty Tabletop, it's all about the people – we recognize our most valuable assets are our employees, as well as our satisfied customers. We believe when you choose to purchase your flatware from us, you will be amazed by the quality, delighted with the price, and fully satisfied with a product you can enjoy now – and for years to come. Let us provide you with heirloom flatware you can be proud to pass down to the next generation.
LIBERTY TABLETOP FEATURED ON NBC NEWS
https://www.themadeinamericamovement.com/wp-content/uploads/2016/08/Blog-Liberty-Tabletop-MADE-IN-USA.png
315
560
The Made in America Movement Team
https://www.themadeinamericamovement.com/wp-content/uploads/2017/08/Made-in-America-Movement-Logo_340x156.png
The Made in America Movement Team
2016-08-04 09:29:24
2016-08-04 09:53:11
Liberty Tabletop: America's Only Flatware Company