7 Key Facts to Keep in Mind about Walmart's U.S. Manufacturing Summit
It's been two and a half years since Walmart announced its so-called "U.S. manufacturing initiative", which means it's time for another PR-heavy, Walmart manufacturing "summit," this one in Bentonville, Arkansas on July 7th and 8th.  Undoubtedly, Walmart will use the summit to deliver feel-good talking points to the media, so this seems like a good time to review some facts about Walmart's impact on the U.S. manufacturing sector, past, present and future.Here are seven things we hope you'll keep in mind when reporting on Walmart and American manufacturing:
We should be skeptical about "Assembled in the USA" claims from Walmart and their suppliers.
 Just last week, the non-profit Truth in Advertising released a report which found more than 100 instances "of false and deceptive made in the USA representations" on Walmart's website.
"It's incredibly disingenuous for Walmart to be promoting their manufacturing initiative to stock $250 billion American-made products while at the same time they are in violation of FTC labeling standards for what qualifies as made in the USA," said Michelle Amazeen, assistant professor of advertising at New Jersey's Rider University.
And it doesn't just come down to issues of mislabeling on Walmart's website. Last year, the Alliance for American manufacturing complained to the Federal Trade Commission in response to Walmart selling almost entirely Chinese-made TVs in stores labeled "Assembled in America."
The complaint alleges that "the Chinese-made TVs arrive to Element's South Carolina assembly line in boxes adorned with a waving American flag and the slogan 'America Matters' on the front and the phrase 'Assembled in the USA' on top. Element's employees unscrew a plastic panel, install a Chinese-made motherboard, close the panel, and return the TVs to their patriotic packaging."
The Pittsburg Post-Gazette reported that the FTC agreed not to pursue an investigation "after Element changed its website to distinguish U.S.-assembled TVs, which featured screen shots of patriotic images like the Statue of Liberty, from those made elsewhere."[1]
Walmart helped destroy America's manufacturing sector to begin with. 
A 2007 study by the Economic Policy Institute found that Walmart's imports to the US from China alone led to the elimination of nearly 200,000 US jobs, primarily in the manufacturing sector.  Duke Professor Gary Gereffi has described Walmart and China as "a joint venture. And both are determined to dominate the U.S. economy as much as they can."[2]
As the world's largest retailer, Walmart puts enormous pressure on suppliers to cut costs.  This has often meant moving to China.  As Demos reported, "companies that used to manufacture products in the United States, from Levi's jeans to Master Lock, were pressured to shut their U.S. factories and moved manufacturing abroad to meet Walmart's demand for low prices."  In turn, Walmart's business model accelerated the use of offshore suppliers by its competitors, contributing to a greater loss of American manufacturing jobs.[3]
Walmart's purported commitment to increase purchasing from U.S. manufacturers is negligible.
Walmart has said that they would purchase an additional $250 billion in US sourced goods as a result of the initiative.  And, this certainly sounds like a large increase. But, according to analysis on Sourcewatch, this increase could simply be the result of the company's continued growth, with no substantial change in sourcing practices.
According to the analysis on Sourcewatch:
Combined sales at Walmart US and Sam's Club have grown at just below 2.9% over the past three years, and the company has said that two-thirds of its purchasing currently goes to American goods. If both of those factors as well as the company's gross margin remain the same over the next decade, Walmart would be expected to spend approximately $262 billion more on American goods anyway, so this new "commitment" should actually be considered a baseline on top of which any additional domestic sourcing should be added.
The chart below is from Sourcewatch: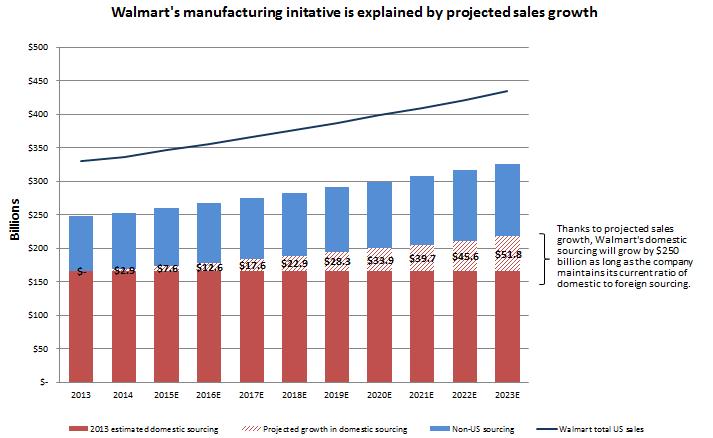 The company had touted a study (never made public) that projected that Walmart's commitment would create 1 million US jobs over ten years.  Two and half years after the company's announcement, it appears that only a tiny fraction of this number has actually been realized.[4]
Walmart is the nation's largest importer again and imports are up significantly.
Last month, the Journal of Commerce released a new list of America's top importers and you-know-who tops the list once again.
Walmart is #1 by a longshot.  With almost 50% more imports than the number two company on the list—Target—Walmart even managed to increase its imports from last year.  In fact, Walmart's imports have increased by more than 6% since last year.  This is the largest single year increase in Walmart imports since 2005. By comparison, Target's imports increased less than 2%.  This should be a little embarrassing for a company that has talked as much as it has about bringing manufacturing back to the United States.
Walmart does its best to limit what the public knows about its imports by petitioning the U.S. Customs service to conceal information about the company's shipments.  As a result, it's very likely that the Journal of Commerce actually undercounts imports tied to Walmart.  This is also likely because many of the other top importers on the Journal of Commerce list (from Samsung Electronics to Dole Foods) send many of their imports straight to Walmart stores.
Walmart is using its manufacturing initiative to distract from the quality of its retail jobs.
One reason Walmart likely launched this new manufacturing initiative is that the company needs a break from the regular stream of bad PR it gets for being one of the nation's largest low-wage employers.  Despite the company's recently announced wage increases, Americans for Tax Fairness recently found that hundreds of thousands of Walmart employees are likely to earn so little that they will continue to qualify for public assistance programs.
Black Friday used to be an annual highlight for Walmart, but has instead become a national day of protest thanks to Walmart workers.  With another Black Friday approaching, it's no wonder that Walmart would prefer to focus public attention on a questionable initiative about improving jobs in a sector that some polls show Americans believe is "the most important job sector, in terms of strengthening the economy."
Taxpayers are often forced to subsidize the manufacturing projects touted by Walmart.
In addition to the myriad other ways in which taxpayers subsidize Walmart, many of the projects that Walmart touts as Made in the USA success stories impose significant costs on taxpayers.
Element Electronics, with its factory in South Carolina, is one of Walmart's poster-children for re-shoring.  The Element factory opened with a large, taxpayer-funded incentive deal from the state and county, including corporate income tax credits, job training, and property tax rebates. According to a cost benefit analysis prepared for the county, the Element incentives cost taxpayers $14.8 million over 15 years.
Singapore-based Walmart supplier Giti Tires received an estimated $40 million in tax incentives for opening a tire plant in South Carolina.  Other Walmart poster-children, including Kent bikes and Ferrara Candy also received subsidies for expanding production in the United States.
Walmart could start with on-shoring some tax haven money.
Unfortunately, manufacturing jobs aren't the only thing Walmart is shipping overseas.
Walmart has built a vast, undisclosed network of 78 subsidiaries and branches in 15 overseas tax havens, which may be used to minimize foreign taxes where it has retail operations and to avoid U.S. tax on those foreign earnings, according to a report released last month by Americans for Tax Fairness.  These secretive subsidiaries have remained largely invisible, in part because Walmart fails to list them in its annual 10-K filings with the U.S. Securities and Exchange Commission (SEC).
The company's preferred tax haven is Luxembourg, dubbed a "magical fairyland" for corporations looking to shelter profits from taxation.
———————————–
FOOTNOTES
[1] Len Boselovic, Walmart Imports Still Far Exceed U.S. Goods. Pittsburgh Post-Gazette, June 15, 2015.
[2] Hedrick Smith and Rick Young, "Is Walmart Good for America?," PBS Frontline, air date, November 16, 2004.
[3] Amy Traub, "Not Made in America: Top 10 Ways Walmart Destroys U.S. Manufacturing Jobs," Demos, July 2, 2012.
[4] http://cdn.corporate.walmart.com/9d/1d/b3cf7afd438886a9a18b20257864/us-manufacturing-announcements-list.pdf
https://www.themadeinamericamovement.com/wp-content/uploads/2015/07/07-20-15-Walmart-MFG-Summit.png
206
469
The Made in America Movement Team
https://www.themadeinamericamovement.com/wp-content/uploads/2017/08/Made-in-America-Movement-Logo_340x156.png
The Made in America Movement Team
2015-07-20 14:48:29
2015-07-20 14:48:29
7 Key Facts to Keep in Mind about Walmart's U.S. Manufacturing Summit